Found October 25, 2012 on isportsweb.com:
The Dallas Cowboys season may be over. After hearing news that star linebacker and the team's leading tackler Sean Lee is out for the season with a toe injury, many questions remain about how this defense can perform. Lee suffered his injury in last Sunday's win against the Carolina Panthers. With him gone, there is a huge hole to fill at linebacker, and a huge void in the defense. To counter that injury, the Cowboys went and signed Ernie Sims, a veteran linebacker with previous experience as a Colt and Eagle. They also signed former Redskins and Packers safety Charlie Peprah, in the hopes that an added member of the secondary can help take some of the pressure off of a slowly-depleting and bealeaguered defense. Sean Lee is done for the year, and maybe too, are the Cowboys. But will it be enough? The answer, quite simply, is no. The Cowboys are done. They were done at the beginning of the season with the tough schedule and the poor coaching. But Lee's injury is the final nail in the inevitable coffin that is the Dallas Cowboys' season. Without Lee as their biggest playmaker, the defense will struggle with a secondary that has only shown us that they are being overpaid for their performance, and a front line that can't put pressure on any QB save Eli Manning in Week 1. At this point, it might be safe to say that the Week 1 win over the Giants was more of the Cowboys catching them napping and not totally prepared for the season. Since that game, the Cowboys have been 2-3 against relatively mediocre competition (except maybe the Ravens and Bears, since I am not sold on the Seahawks being a good team), and the Giants have been 5-1, with their lone loss to the Eagles, and having faced tougher competition to this point. Couple that with the fact that the Cowboys have never beaten the Giants in Arlington, and then they have two tough road tests against an undefeated Falcons team, and a pretty good Eagles team, the Cowboys could be done for. It looks as though if the Cowboys are going to have any chance at all, they need to do one of two things, or maybe even both. The first thing is Jason Garrett needs to let the offense do its thing. His playcalling has been ultra-conservative the past few games, and it's time to release the hounds. Put the game in Romo's hands, and take what comes, whether it's game-ending INTs or game-winning drives. At this point, that's what the Cowboys have to do since they can no longer rely on their defense. Also, because of the running back situation with DeMarco Murray out and Felix Jones questionable, it's time for Romo to take control of this team. And this can work if Garrett doesn't make bone-headed coaching decisions. Putting the game in Romo's hands worked against Baltimore. It was Garrett who mismanaged the clock at the end of that game, not Romo. Romo actually put together two 4th quarter drives that looked incredible and had the Cowboys in position to win that game. By letting Romo loose, sure the INTs will happen, but at least the Cowboys stand a chance. The other thing the Cowboys can do is switch to a 4-3 defense for the rest of the year. Now I am against employing a totally new defense midway through the system when players are used to one scheme and one set of defensive play calls. But by utilizing a 4-3 defense, they will beef up their front line, as it will remove one linebacker (most likely Lee's replacement, Dan Connor), and add a defensive tackle (Josh Brent). But this is not as as solid of a way out of this mess as the first option. The reason being that Ernie Sims is capable enough to be the repleacement for Sean Lee in the current 3-4 scheme, keeping Dan Connor on the sidelines anyway. It'll be interesting to see how things shake up, and maybe the defense can prove all of us wrong with a stout win over the Giants on Sunday. But i'm not expecting it. Neither should anyone else. Until there is actually something to be excited about with this team, the TV ratings for this team will continue to drop by more than the record-breaking 18% drop that has already occurred. And as the Cowboys become unwatchable, they will continue to be mried in mediocrity and make the same mistakes they always make and do the same bad habits that they always do. And this Sean Lee injury has nnly made things worse.
Original Story:
http://feedproxy.google.com/~r/isport...
THE BACKYARD
BEST OF MAXIM
RELATED ARTICLES
Jerry Jpnes always makes it clear that he feels his Dallas Cowboys are Super Bowl contenders. The Cowboys are 3-3 and right in the middle of the heated NFC East divisional race. With a big match-up this week against the rival New York Giants, you would typically expect Jerry to be his usual confident self. After losing Linebacker Sean Lee for the season, it seems  Jones might...
IRVING An MRI on the right big toe of Dallas Cowboys defensive leader Sean Lee may have revealed torn ligaments, leading to the possibility of season-ending surgery for the budding inside linebacker star. On Sunday, after returning home from Carolina where his Cowboys had won 19-14, I asked Lee about his prognosis. He was wearing sneakers instead of dress shoes while exiting the...
Dallas Cowboys linebacker Sean Lee is facing surgery on his right big toe. According to several reports Tuesday night, including one on the team's own website, Lee has ligament damage in his toe that will require surgery and could end his season. Lee, the team's leading tackler with 58 stops, got hurt in the second half of Sunday's win at Carolina. He was on crutches...
Dallas Cowboys leading tackler Sean Lee has been placed on injured reserve and will miss the rest of the season because of a right big toe injury. Coach Jason Garrett said Wednesday that Lee will have surgery in the ''next week or so.'' Garrett says an MRI showed ligament damage that will require the surgery and end hopes of Lee possibly being able to return in four...
According to Kimberly Jones of the NFL Network, Jets head coach Rex Ryan says that his brother Rob Ryan was "literally crying on the phone" when he found out that … Continue reading »
IRVING, Texas It's not an easy thing to lose your leading tackler and defensive leader, but the Cowboys were doing their best to keep a positive attitude Wednesday. After learning that inside linebacker Sean Lee would miss the rest of the season with a toe injury, the Cowboys' mood at their Valley Ranch practice facility was somber yet determined. "In this business...
Sean Lee is set to undergo season-ending surgery to repair a torn tendon in his big toe next week, which is a major blow to the Dallas Cowboys defensively. Lee is one of the most important players the Cowboys have on defense and easily their best tackler. Dallas ranks 15th this season in rushing yards [...]
Tweet After news broke Tuesday night that Dallas Cowboys LB Sean Lee was lost for the season due to a toe injury, the Cowboys are moving quickly to add some depth in Lee's absence by signing free agent Ernie Sims. Sims played last season with the Indianapolis Colts, appearing in 13 games with four starts [...]
He'll have season ending surgery on his toe. That about says it all. Go Cowboys. Related posts: Cowboys Blow Lead, Can't Recover in Season Opener Cowboys Season Ends With a Thud Cowboys Fate Comes Down To Final Game
Miles Austin caught a touchdown in the Madden simulation of Sunday's game, but Dallas still fell to the Giants. There should not be any question that Jerry Jones is a Sean Lee fan. Jerry was not willing to consider this team as anything less than a Super Bowl contender until the Cowboys lost Lee for the season. Jerry now says the team is "going to have to adjust for him" and...
Just the other day, New York Jets head coach Rex Ryan said his  brother Rob Ryan was crying on the phone after the Cowboys found out they lost linebacker Sean … Continue reading »
Cowboys News

Delivered to your inbox

You'll also receive Yardbarker's daily Top 10, featuring the best sports stories from around the web. Customize your newsletter to get articles on your favorite sports and teams. And the best part? It's free!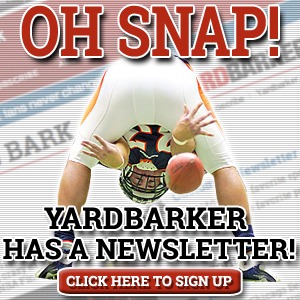 Latest Rumors
Best of Yardbarker

Today's Best Stuff

For Bloggers

Join the Yardbarker Network for more promotion, traffic, and money.

Company Info

Help

What is Yardbarker?

Yardbarker is the largest network of sports blogs and pro athlete blogs on the web. This site is the hub of the Yardbarker Network, where our editors and algorithms curate the best sports content from our network and beyond.