Posted December 10, 2012 on AP on Fox
PLAYERS:
Demarcus Dobbs
,
Jerry Brown
,
Josh Brent
,
Jim Schwartz
,
Rashean Mathis
,
Michael Vick
,
Jovan Belcher
TEAMS:
San Francisco 49ers
,
Dallas Cowboys
,
Detroit Lions
,
Jacksonville Jaguars
,
Philadelphia Eagles
,
Kansas City Chiefs
San Francisco 49ers defensive end Demarcus Dobbs walked away from a one-vehicle accident on his 25th birthday last month and was arrested on suspicion of driving under the influence. Less than two weeks later, with the NFL rocked by the car crash that killed Dallas Cowboys player Jerry Brown and left his teammate, Josh Brent, facing a manslaughter charge, Dobbs swears he'll find another way home whenever he does too much partying. ''I'm never going to put myself in that situation ever again,'' he said. This is, of course, exactly what the NFL, its teams and the players' union wants to hear amid fresh questions about whether all the warnings and safety nets -- because players in most of the major sports leagues arguably have more than the general public -- will ever be enough to prevent accidents and deaths. ''There's a lot of pressure being in the NFL ... but it's no excuse for bad decisions,'' Detroit coach Jim Schwartz said. ''Players have a lot of options, tools at their disposal, that they need to take advantage of, but it comes down to individuals making good decisions.'' Brown's death on Saturday and the arrest of defensive tackle Josh Brent after police say he caused the fatal wreck by speeding and driving drunk put the NFL Players Association's safe ride program back in the spotlight. It was revamped three years ago after concerns that enough players weren't using it. Union spokesman Carl Francis said the program is a strong point of emphasis, and every player's membership card includes the contact information. And CEO John Glavin of Florida-based Corporate Security Solutions Inc., which runs the program, said he is happy with how the union gets the word out on the program. He also stressed the confidentiality of the program, saying the company doesn't even tell the union when players call for rides. Jacksonville cornerback CB Rashean Mathis, the team's union representative, said players rarely, if ever, use the program. ''Confidentiality is the problem,'' Mathis said. ''Guys are going to go out and have fun. We're just like the regular guy that works a 9-to-5 job. On a Friday night, he goes out and has some beer. It's not the best-case scenario, but it happens in life.'' To use the program, players can either work in advance to set up a full night with a driver or make a call for a ride home. The brochure says most response times are less than an hour. The program is available all year, and Glavin said his company also serves the NBA and NHL. In Major League Baseball, designated drivers are available to players and fans through the teams, and the players have access to a confidential program that will take them wherever they need to go. In the NFL, some teams rely solely on the NFLPA's program, while others have an additional system. In Cincinnati, the Bengals pay a company to make two drivers available when an employee calls. One drives the caller home, and the other follows in the employee's vehicle. Glavin said some players hesitate to use that kind of program because they don't want others driving their expensive vehicles. Either way, the program hinges on a player making the first move. ''We can't make them make the phone call,'' Glavin said. Last summer, the NFL held its 15th annual rookie orientation, which includes a number of life skills sessions. For the first time, separate sessions were held for the AFC and NFC to make the groups smaller, and current and former players were brought in as speakers, including Philadelphia quarterback Michael Vick and Cincinnati cornerback Adam Jones. Both have had high-profile legal problems, with Vick spending time in prison in a dogfighting case. The NFL has sessions on issues ranging from guns to alcohol and drug use at other times of the years, and all teams have counselors who work with players, league spokesman Dan Masonson said. League owners are gathering in the Dallas area Wednesday. The agenda was set to focus in part on player safety through the addition of leg padding, but it's likely to change. A week before Brown's death, Kansas City Chiefs linebacker Jovan Belcher fatally shot his girlfriend before driving to the team's stadium and shooting himself in front of his coach and general manager. ''I am sure the events of the past two weeks will be discussed at the league meeting,'' league spokesman Greg Aiello said. ''We are always looking to do more.'' Several coaches said Monday they were talking again about issues of safety and good decisions after Brown's death. They also acknowledged there was only so much they could do, as did Mathis. ''We're not immune from life because we're athletes,'' Mathis said. ''We're not, but there are smarter choices.''
Original Story:
http://msn.foxsports.com/nfl/story/Pl...
THE BACKYARD
BEST OF MAXIM
RELATED ARTICLES
Jerry Brown died in a car crash early Saturday morning when the vehicle his friend and teammate Josh Brent was driving hit a curb and flipped. Brent was arrested and is being charged with intoxicated manslaughter. What makes the story even more sad is that Brown indicated in a recent Facebook post that was on his way to becoming a father. He also talked about no longer enjoying the...
Defensive tackle Demarcus Dobbs was placed on the injured reserve list by the San Francisco 49ers, the team announced Tuesday. Dobbs has seven tackles in 12 games this season.
Dallas Cowboys nose tackle Josh Brent walked out of jail Sunday after posting $500,000 bond. He's a free man for now, after being charged with intoxication manslaughter following the death of Cowboys' teammate Jerry Brown, who was a passenger in his car that wrecked. "Jerry Brown was my very best friend and I'm just trying to deal with his death right now," said a...
On the night Jerry Brown was killed in a car crash, he and teammate Josh Brent were among several Dallas Cowboys at the club Privae, according to a USA Today report. The Texas Alcoholic Beverage Commission and Irving police are investigating the club to see if alcohol was "served to somebody who was intoxicated, which is illegal in Texas," TABC spokeswoman Carolyn Beck...
After tragedy struck the Dallas Cowboys on Friday night, the Cowboys capped off their come from behind victory over the Cincinnati Bengals, 20-19, by celebrating with Jerry Brown's jersey.Brown passed away Friday night in a car accident after his teammate Josh Brent was in a car accident after driving drunk.  Brown was in the passenger seat.According to USA Today, the Cowboys...
Several Dallas Cowboys players reportedly were out partying at a club the night of the fatal car crash that killed practice squad player Jerry Brown. FOX Sports Southwest says Brown and Josh Brent (pictured), who was driving the car, joined about a dozen teammates at Dallas club Privae on Friday. Comedian Shawn Wayans was performing that night. Dallas media members Richie Whitt and...
The games go on. For the second straight weekend, tragedy rocked the regularly scheduled world of the NFL. It left families, friends, teammates and coaching staffs grieving over yet another senseless loss of life. It also left the league facing questions not only about efforts to safeguard players on the field but whether it's doing enough to help them stay out of harm's...
Cowboys Nose Tackle, Josh Brent released a statement about the death of his friend and teammate, Jerry Brown. Brent and Brown were involved in a fiery wreck early Saturday morning allegedly caused by Brent's drunk driving. When policed arrived at the scene Brent was dragging Brown from the burning car.  Police found Brown unresponsive and he [...]
Cowboys and Bengals players pray after Sunday's game in honor of fallen Cowboys LB Jerry Brown Jr. For the second week in a row another young life was taken because of a horrible decision. Last week it was Kasandra Perkins whose life was taken away by Chiefs LB Jovan Belcher. On Saturday we learned that Dallas Cowboys practice squad LB Jerry Brown Jr. was killed in an automobile...
CINCINNATI -- For the Cincinnati Bengals, Sunday was opportunity wasted. For the Dallas Cowboys, it was emotion captured. And because the Cowboys were able to deal with the emotions of a gut-wrenching weekend that saw one of their practice squad players killed in an auto accident and another teammate charged with intoxication manslaughter, they were able to deal with the Bengals...
DALLAS (AP) -- Dallas Cowboys defensive tackle Josh Brent is attending the memorial for teammate Jerry Brown, who died in a car accident that led to intoxication manslaughter charges against Brent. Brent and team owner Jerry Jones were among those arriving at the service for Brown on a chilly Tuesday at Oak Cliff Bible Fellowship in Dallas. Cowboys coach Jason Garrett says the...
Dallas Cowboys defensive tackle Josh Brent has officially been charged with intoxication manslaughter following an early Saturday morning single-car crash that killed teammate Jerry Brown. Brent was driving his car at a high rate of speed when he lost control and flipped the vehicle, according to Irving (TX.) police. The crash occurred about 2:20 am CT, several hours before the...
NFL News

Delivered to your inbox

You'll also receive Yardbarker's daily Top 10, featuring the best sports stories from around the web. Customize your newsletter to get articles on your favorite sports and teams. And the best part? It's free!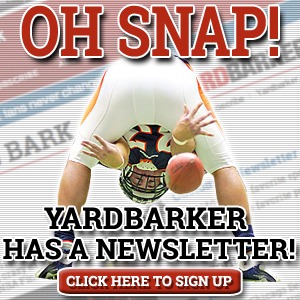 Latest Rumors
The Backyard

Today's Best Stuff

For Bloggers

Join the Yardbarker Network for more promotion, traffic, and money.

Company Info

Help

What is Yardbarker?

Yardbarker is the largest network of sports blogs and pro athlete blogs on the web. This site is the hub of the Yardbarker Network, where our editors and algorithms curate the best sports content from our network and beyond.