Found April 23, 2012 on Larry Brown Sports:
Via Larry Brown Sports:




Deion Sanders is involved in a divorce with his wife, Pilar, that has become nasty at times. Pilar has made some damaging accusations about her soon-to-be ex-husband, and Deion has shot back. But things got really bad between them recently if the following two tweets sent from Deion's account on Monday afternoon are true:
Pray for me and my kids now! They just witnessed their mother and a friend jump me in my room. She's going to jail n I'm pressing charges!

— DeionSanders (@DeionSanders) April 23, 2012
I'm sad my boys witnessed this mess but I warned the police department here that she was gone try n harm me and my boys. This is on my mama!

— DeionSanders (@DeionSanders) April 23, 2012
Sanders then tweeted the above picture of he and his kids filling out a police report.
If you're wondering why he would take this information public, it's probably because he's looking to gain a favorable judgment in his divorce. He's also sacrificing some public embarrassment for himself and his family over the incident.

Also from Larry Brown Sports:

Dontrelle Willis goes AWOL from Orioles

Brian Dawkins announces retirement on Twitter

Terrence Jones signs a pregnant woman's stomach
Original Story:
http://larrybrownsports.com/gossip/de...
THE BACKYARD
BEST OF MAXIM
RELATED ARTICLES
The wife of pro football Hall of Famer Deion Sanders has been arrested outside Dallas on a misdemeanor charge of assault. An inmate listing on Collin County's website early Tuesday shows that Pilar Sanders was arrested Monday and booked into the county jail on the family violence charge. Deion Sanders had tweeted on Monday night that his children ''just witnessed their...
If you're still debating whether to watch the NFL Network's coverage of tomorrow's draft or ESPN's coverage (why you're considering ESPN if the NFLN is an option is beyond me), maybe the following will help you make your final decision. An NFL Network spokesman told Pro Football Talk Deion Sanders will still appear on Thursday's NFL Network draft telecast as...
A divorce attorney for the estranged wife of Deion Sanders has called her recent arrest following accusations that she attacked the Hall of Fame cornerback ''a complete setup.'' Pilar Sanders was arrested April 23 at the couple's home in Prosper, north of Dallas. Deion Sanders filed for divorce in December, but the pair still shared the home until the woman&...
Ready for the next chapter in the Deion and Pilar Sanders divorce drama? Pilar Sanders was released from jail on Tuesday and a 60-day temporary restraining order has been issued barring her from returning to the Dallas-area home the two share. The twist, Deion has also been charged with misdemeanor simple assault. Police issued a [...]
Filling out police reports   Since the inception of F.A.T. Tweets, there's been some pretty legendary livetweets. There was Darnell Dockett's infamous livetweet of a traffic stop, and, on a completely separate occasion, his livetweet of a pedicure. Roy Williams livetweeted a traffic stop of his own. Even Joe Namath has gotten in on the livetweet action. But all of these fall...
Late last night we brought you word that Deion Sanders took to Twitter to announce that he had been jumped by his wife Pilar and her friend and that he was pressing charges.Well, it seems that Deion was true to his word and Pilar was arrested last night on assault family violence charges.The charges are a misdemeanor and her bail was set at $264.00. At the moment, Pilar is still...
Many current and former professional athletes use Twitter to update their fans on what's going on in their lives. However, using it to describe a fight with ones spouse shouldn't be one of them. Former NFL and MLB star Deion Sanders logged onto Twitter and gave a play-by-play of a physical altercation with his wife, Pilar, and one of her friends Monday night. According to...
Deion Sanders, the best cover corner football has ever seen, filed a police report Monday night after his ex-wife and her friend attached him in his bedroom. He then hit the twitter-sphere for the prayers and support of his fans in this trying and emotional time:
Nope, Deion's kids aren't doing their homework. They're filling out police reports for a domestic violence incident that took place earlier today between Prime Time and his soon-to-be ex-wife Pilar. Blah, blah, blah. Yes, we take domestic violence seriously, but can't we at least use this post to ask you guys who makes those sweet chairs? Is it too much to ask? Cup holders...
Unless you were living under a rock, you heard yesterday of Deion Sanders' domestic assault. I mean, he livetweeted the entire thing, right up to the twitpic of his kids filling out police reports. Today the mugshot of Sanders' ex-wife surfaced, prompting Cardinals DT Darnell Dockett to tweet his approval if it.   Hmmmm! Cute ass mug shot! twitter.com/ddockett/statu… —...
Emotions are running high because of the Deion and Pilar altercation. I am pretty sure once Deion Sanders Jr calms down he will take back what he said. As men we are in a no win situation. If Deion Sanders Jr or Sr put their hands on Pilar they would be in jail right now, so Deion Sr did the right thing is in restraining himself. Junior needs to slow his roll just a little...
NFL News

Delivered to your inbox

You'll also receive Yardbarker's daily Top 10, featuring the best sports stories from around the web. Customize your newsletter to get articles on your favorite sports and teams. And the best part? It's free!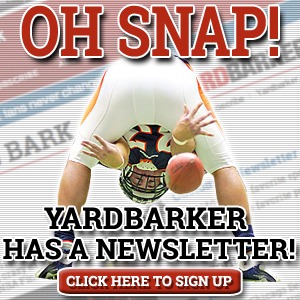 Latest Rumors
Best of Yardbarker

Today's Best Stuff

For Bloggers

Join the Yardbarker Network for more promotion, traffic, and money.

Company Info

Help

What is Yardbarker?

Yardbarker is the largest network of sports blogs and pro athlete blogs on the web. This site is the hub of the Yardbarker Network, where our editors and algorithms curate the best sports content from our network and beyond.