Found April 05, 2013 on Tireball.com:
The Dallas Cowboys re-signed Tony Romo to a massive contract and now fans are wanting the quarterback to prove his worth. So too is defensive end DeMarcus Ware. "I feel like everybody is deserving to whatever is given to him, but at the end of the day, to me it's put up or shut up," Ware said in an interview on Sirius XM NFL Radio, via the Dallas Morning News. "I'm just being straight-up honest with you. Get out there and be productive, and that's with any player. Whatever they get, they're deserving of it. You just got to get out there and play and I know he can be and will be the quarterback that is going to be the quarterback that is going to take us to the next level." Ware did not comment much about the Cowboys offseason moves. "I feel like there's always room for improvement, wherever it is, but at the end of the day, when it's time to work it's time to work. And you've got to work with what you've got."
Original Story:
http://tireball.com/nfl/2013/04/05/de...
THE BACKYARD
BEST OF MAXIM
RELATED ARTICLES
Dallas Cowboys linebacker DeMarcus Ware told SiriusXM NFL Radio that Tony Romo deserves his new contract, but it's time for him to back it up on the field. "I feel like you know everybody is deserving of whatever is given to them," Ware said, per ESPNDallas.com. "But at the end of the day, to me, it's put up or shut up. I'm just being straight up honest with you. Get...
When the Cowboys announced last week that they and Tony Romo agreed on a six-year contract extension with $55 million in guaranteed money, the world shat white-hot searing ridicule all over them. And while it's true that Romo doesn't suck nearly as much as his staunchest haters will tell you, he has definitely earned his reputation of coming apart in huge moments. It's gotten...
During an interview with NBC's Pro Football Talk, Dallas Cowboys linebacker DeMarcus Ware insisted that they will be better than 8-8 after two straight seasons with that exact record. "We will not be .500," Ware said, per ProFootballTalk.com.  "We will not be .500 like the last two years we've been, I can tell you that." After missing the playoffs the past three years...
When Tony Romo signed a huge contract extension last week (to the tune of six years and $108 Million, $55 Million guaranteed and a $25 Million signing bonus), everyone had their own opinion on whether he was deserving of such a big deal or not. The latest person to have his voice be heard is actually a teammate, and not a small-time player at that. On Sirius XM radio on Thursday...
Tony Romo signed a massive contract extension worth $108 million with the Dallas Cowboys last week. Considering he has only one playoff win in seven seasons as a starting quarterback, many people (see: McNabb, Donovan) feel that Jerry Jones gave Romo way more money than he is worth. None of that matters when the Cowboys kick off their 2013 season, and linebacker DeMarcus Ware reminded...
Tweet Just a week ago, Tony Romo was given a six-year contract extension that could potentially be worth $108 million and promises him $55 million in guaranteed money. Donovan McNabb, a former Eagle and rival, was one of the first people to speak out on the issue, saying that he thought Romo hadn't warranted being [...]
Unsurprisingly, Tony Romo's recent six-year, $108 million mega contract extension brought about familiar criticism. Romo became the richest player in Dallas' illustrious history, but many fans and media types questioned if he was worth that kind of money. Phil Simms seems to think so. In an appearance on SiriusXM Radio Tuesday, the former Giants quarterback defended the current...
If having Tony Romo as his quarterback was a strong enough relationship to once famously bring him to tears, then Terrell Owens' head just might explode if he ever got the chance to play with Tom Brady. And after pictures surfaced on Thursday of a practice session that Owens, Brady and new Patriots wide receiver Danny Amendola at the USC practice facility, could a Brady-to-Owens...
In the NFL world of big contracts and high expectations, teams often find themselves locked into a deal where they are wildly overpaying a player for the current performance.Sometimes those teams make the decision to try and re-work the deal or even cut the player all together. Other times a player has too much guaranteed money to make such a move.When a guy like Joe Flacco gets...
This week, Juice This looks at why Joe Flacco is overpaid (uh, no, we mean, why Aaron Rodgers is underpaid) and why Tony Romo owes me about half of that $130-plus million he just got. And if so many players are coming out about coming out, then why has the most-vocal of the coming-out voices, in essence, been silenced? Also, catching up with ZZZZ's and the latest Tim Tebow controversy...
Cowboys News

Delivered to your inbox

You'll also receive Yardbarker's daily Top 10, featuring the best sports stories from around the web. Customize your newsletter to get articles on your favorite sports and teams. And the best part? It's free!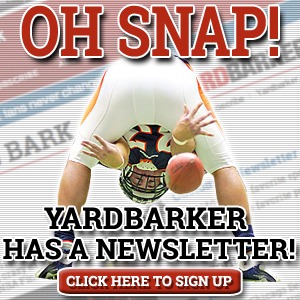 Latest Rumors
The Backyard

Today's Best Stuff

For Bloggers

Join the Yardbarker Network for more promotion, traffic, and money.

Company Info

Help

What is Yardbarker?

Yardbarker is the largest network of sports blogs and pro athlete blogs on the web. This site is the hub of the Yardbarker Network, where our editors and algorithms curate the best sports content from our network and beyond.