Found September 07, 2013 on isportsweb.com:
Not quite yet. Although the game was incredible feat getting a little revenge on the Super Bowl champions, which entailed the 49-27 score, the most the Baltimore  Ravens have ever given up in a game, there were a lot of "rookie" mistakes that still need to be resolved before the Broncos can be considered a Super Bowl caliber team, although they are one of the top contenders this season. What is one that obviously comes to mind is Danny Trevanthan prematurely dropping the ball before entering the endzone. He got what looked like an intense talking to by defensive coordinator Jack Del Rio after that play which is warranted. They also need to have a stronger running game in order to be that champion team. 2.8 yards per rush is not going to give Manning the breaks that he needs and passing all game will make the offense very predictable. It was good to see rookie Montee Ball getting a few successful plays so hopefully his skills will continue to increase as he increases his experience. Aside from all those mistakes, Peyton Manning still tied the NFL record for seven touchdown passes in a single game which is unheard of in this era of football considering the last time this happened was in 1969 and also was the first quarterback ever to have at least 3 games with 6+ touchdown passes. Duke Ihenacho (Photo Credit: Denver Broncos) Also aside from those mistakes the Broncos still don't even have their starting defensive roster with Champ Bailey's injury and Von Miller being suspended. They were able to get two interceptions off the Ravens as well as linebacker Shaun Phillips having 2.5 sacks. Duke Ihenacho was the leading tackle with 12. The Broncos have players that step up when they are needed and if the team can achieve what they did without our starters then just wait until they are on the field. Wes Welker and Julius Thomas scoring two touchdowns each proved how invaluable they are to the team. They are a combination that Manning didn't have last season (being that they are using third year J.Thomas in another way). Now with those records and what was accomplished Thursday aside from a few mistakes it is hard to negate that the Denver Broncos have a realistic potential to win a Super Bowl championship this year.
Original Story:
http://feedproxy.google.com/~r/isport...
THE BACKYARD
BEST OF MAXIM
RELATED ARTICLES
If you missed the NFL season opener Thursday night between the Denver Broncos and the Baltimore Ravens you missed a barn burner--at least from Denver's side of things. The Broncos defense played well enough against the Flacco Attack, but the real show came whenever Peyton Manning was on the field. Hoopgifs.com The wily veteran showed just why he is one of the greatest...
Peyton Manning tied an NFL record with seven touchdown passes against the Super Bowl champion Baltimore Ravens on Thursday night. Peyton Manning and the Denver Broncos waited eight long months, then another 33 minutes, to get the season started.
The NFL 2013 season kicked off Thursday night with the world champion Baltimore Ravens facing off against the Denver Broncos at Mile High Stadium. The game entered halftime with the Ravens up but, the second half was all about the legend that is Peyton Manning.  Manning tied a 40-year-old NFL record with 462 passing yards, throwing seven touchdowns with no interceptions. The last...
Here are four fantasy revelations from the Broncos' 49-27 thumping of the Ravens on Thursday, which included an NFL-record-tying performance from Peyton Manning. 1. Even in hindsight, it's hard to feel guilty about Manning's No. 8 ranking for the week Of his nine previous season openers, Manning (462 yards passing, seven TDs vs. Baltimore) had thrown for 2,529 yards...
Peyton Manning made his historic seven-TD pass performance look so effortless Thursday night. The reality is that his performance merely highlighted the vast chasm that separates the elite NFL teams from those also-rans anchored down with primitive passing attacks.
Peyton Manning and the Denver Broncos waited eight long months, then another 33 minutes, to get the season started. A record-tying seven touchdown passes - something no one had done in 44 years - made it worth the while. Connecting with his most prized addition, Wes Welker, and former college basketball player Julius Thomas and Demaryius Thomas for two TDs each, Manning directed...
The Turn On The Jets Staff give their picks for the 2013 NFL Season, including division winners, wild cards, Super Bowl champ and award winners.  Joe Caporoso AFC Division Champs/Wild Cards* New England Houston Cincinnati Denver Kansas City* Indianapolis* NFC Division Champs/Wild Cards* Washington Green Bay New Orleans San Francisco Seattle* Atlanta* Super Bowl Denver over...
 There were so many ridiculous performances this week. Obviously Peyton Mannings NFL record-tying seven touchdowns, but we had a handful of preseason sleepers actually come through with monster performances.Quarterback Champs:Peyton Manning- 27/42, 462 yards, 7 TDs, 0 INT- 46.2 fantasy pointsUNREAL. Just read the stats. He's in his 15th year in the league. The guy is 37 and he's...
Lights, action, cameras …roll'em it is the start of the NFL football season and it's partner …TV could not be happier. Yes TV and the NFL are partners in the business sense of the word. NFL ratings are the highest that TV gets esecially prime time and of course the SuperBowl. Thursday night started the NFL regular season with it opening game in Denver with Peyton Manning...
It's Friday, so you should be in a good mood, given that you have a great weekend ahead of you filled with college and pro football. Speaking of football, this Peyton Manning guy for the Broncos is pretty damn good. He threw SEVEN touchdowns yesterday. Fun fact: Last year the Ravens allowed their seventh passing touchdown in week ten, this year they allowed seven in one game as...
On Monday, Browns head coach Rob Chudzinski spoke to the media about the team's opening game against the Dolphins. In context, he was being asked about the players' mentality given the history of losing opening day games and the seasons that seemed to slip away following them. "This is a new time and a new team. Anything else is just noise out there." For fans of the team...
Despite getting blown out by Peyton Manning and the Denver Broncos, the Baltimore Ravens suffered a lot more than a 47-29 loss. Ravens' star player and Super Bowl XLVII "hero" Jacoby Jones suffered an apparent MCL sprain after accidentally colliding with teammate Brynden Trawick while trying to catch a punt early in the second quarter. BREAKING: @CliftonBrownCSN confirms Ravens...
Broncos News

Delivered to your inbox

You'll also receive Yardbarker's daily Top 10, featuring the best sports stories from around the web. Customize your newsletter to get articles on your favorite sports and teams. And the best part? It's free!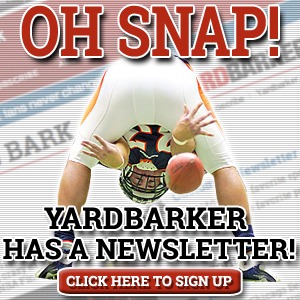 Latest Rumors
Best of Yardbarker

Today's Best Stuff

For Bloggers

Join the Yardbarker Network for more promotion, traffic, and money.

Company Info

Help

What is Yardbarker?

Yardbarker is the largest network of sports blogs and pro athlete blogs on the web. This site is the hub of the Yardbarker Network, where our editors and algorithms curate the best sports content from our network and beyond.