Found December 04, 2011 on CJ Sports NFL Talk:
By: Rich Bergeron
'
We've seen a crotch kick, an arm stomp, late hits, helmet to helmet launches, and even Jets Coach Rex Ryan cursing at spectators. Flags are flying on NFL fields from coast to coast this year for questionable hits, and the old highlight reel collisions are no longer legal. Players are still getting hurt, and many are playing hurt. From Cowboy QB Tony Romo taking the field with broken ribs to Ben Roethlisberger playing with a broken thumb to Eagle Michael Vick playing with injuries until he could do it no more, quarterbacks continue to take punishment and keep charging. Linemen continue to collide with each other every down of every game, and some come out of the jumble broken and bruised. They get up and play another down anyway. It's in their blood as gridiron players. Others aren't so lucky.
Obvious and frequent injuries and comprehensive studies relating to serious brain injury from prolonged and repeated head trauma caused the NFL to take a solid stand against the vicious hits in recent years, hits that would often make the Sportscenter Top 10 in days of old. Fans and experts can agree it's worth trying to make the game safe and the game likely won't change all that much if players learn not to purposely smash helmets. The problem seems to lie in the enforcement methods. If you are heavily fining one class of players in the NFL (defenders) much more than another (receivers and running backs), there's a flaw in the system. Penalties are enough in many respects. A personal foul carries a penalty of 15 yards and an automatic first down for the opposing team if you're a defender hit with the flag. Chipping into a guy's paycheck for what are many times purely accidental situations, is just plain unfair.
Heads collide unintentionally all the time in the NFL. Players get plenty of concussions from plays where flags are never thrown. It's a fast game, and it's a great idea to make an effort to make football safer, but there are certainly better ways to address the issue. If you can't use the same technique to encourage college football players to avoid the same type of brutal head-to-head hits, it shouldn't be applied at the pro level. You can't fine a college player for a vicious hit.
If it's a serious enough hit, and it's clearly intentional, maybe a fine applies, but so many flagged and fine-inspiring hits are purely circumstantial. The stomps, the punches, the late hits out of bounds, and other such blatantly ugly and ill-intended hits should certainly invoke discipline, but not the wrong-place, wrong-time good plays gone bad. It so often seems the flag only gets thrown when a player's injured or slow to get up.
Receivers get called for pass interference, but rarely, if ever, are they hit with personal fouls when they catch the ball, lower their heads, and plow head first through a defender. Running backs aren't fined for steamrolling over people. So, why is it that defenders have to bear the brunt of the punishment for playing the game with some intensity, speed, and ferocity?
Save the fines for the players who clearly deserve it, for incidents like Albert Haynesworth's face stomp, Suh's recent arm stomp, and classless stuff that cheapens the game and isn't debatable as to the intent and design of the behavior. When two players are coming at each other at such high speeds, how do you regulate how they're going to come into contact with each other when there are so many random variables involved?
There have been many improvements and crackdowns on certain issues this year in the post-lockout NFL. The automatic review of all scoring plays seems to make a ton of sense and doesn't slow down the game all that much. The kickoff being moved is not really hurting many teams as they learn to adapt to it. The only real problem is equating injury with intent to hurt every time a player goes down and a personal foul flag is thrown. It may not be such a bad situation if players on both sides of the ball were treated equally, but they're not. As the season cruises toward the playoffs, some of the most significant plays could involve penalties for these now illegal hits that players used to practice and try to perfect just to make it on TV. Now they see their paychecks docked for those same hits. The NFL needs to take a second look at how they handle flagging for personal fouls, look at alternate ways to regulate and/or protect players better from helmet to helmet hits, and leave the fines the the most serious and egregious offenses.
Original Story:
http://cjsportsnflblog.com/2011/12/de...
THE BACKYARD
BEST OF MAXIM
RELATED ARTICLES
Here is New York Jets head coach Rex Ryan speaking to the team after Sunday's victory over the Washington Redskins.<img ... [visit site to read more]Jets Rex Ryan locker room victory speech (VIDEO) - The Jet Press - The Jet Press - A New York Jets Fan Site - News, Blogs, Opinion and more.
No sacks…great o-line play…Aaron Mayhem getting to Rex Grossman…sound like a victory to me. Hear Rex's take in the link.
On any injury updates from the game… I think with Joe (McKnight), I'm not sure what the MRI showed, I know he had one and was on his way back. Again, it sounded like a hyper-extended elbow. We'll see how it is. Obviously, if you're a running back, you have to be able to grip the football and protect it. So that's something. Jason Taylor played with a hyper-extended elbow...
Back in October as Rex Ryan's New York Jets were preparing to face off against the San Diego Chargers, Ryan made a statement to the press that he would probably have a "couple of rings" by now if he had inherited the talent that Norv Turner had when Turner was hired as San Diego's coach. Rex quickly retracted the statement then promptly coached his team to a victory over...
With the 2011 season on the line in Washington, Rex Ryan unveiled off all things, the Wildcat formation. Doing so with speedster Jeremy Kerley and Shonn Greene at the helm. The results were a success at times, other times not so much. Looking deeper into the message this surprising ploy may have sent, the bigger question is whether or not this wrinkle was a game day stunt or permanent...
The Wildcat formation made a surprise return to the Jets' gameplan on Sunday against the Redskins, a playbook wrinkle coach Rex Ryan took credit for on Tuesday.
Even though the win was nice and kept the team alive, Rex not happy in the closing moments of the game when Shonn Greene's final score exposed players unnecessarily to injuries. "That was something that I was a little bit upset with because for the simple fact that we had to go back and play defense and cover a kick," Ryan said. "Sometimes I've seen guys get injured in...
IT ISN'T EASY being Rex Ryan, a natural innovator who has tried to do things differently now for three seasons. That's the catch, of course. After three years, what's new to do?
Picture this scenario for the New York Jets: at about 7 PM this Sunday night, they sit at 8-5 and in complete control of their own playoff destiny. If they win out, they will be in. No scoreboard watching. No worrying about another team giving them help. It isn't that far fetched. The New York Jets host the Kansas City Chiefs at 1 PM, in a game that they should win. Considering...
LANDOVER, Md. - In his own colorful way, Rex Ryan expressed his latest thoughts on the New York Jets' playoff...
No official word on McKnight's hyper-extended elbow
FLORHAM PARK–Yet another comeback win. Everyone should be getting used to those by now. And, it builds character. OK, I made that last part up. The biggest news to come out of yesterday's game is that Rex Ryan said today the Jim Leonhard will now be the team's primary punt returner. He praised Jeremy Kerley, and talked about how hard he's worked. "He catches 200 passes...
NFL News

Delivered to your inbox

You'll also receive Yardbarker's daily Top 10, featuring the best sports stories from around the web. Customize your newsletter to get articles on your favorite sports and teams. And the best part? It's free!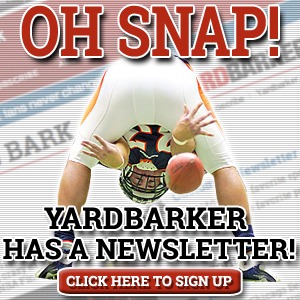 Latest Rumors
The Backyard

Today's Best Stuff

For Bloggers

Join the Yardbarker Network for more promotion, traffic, and money.

Company Info

Help

What is Yardbarker?

Yardbarker is the largest network of sports blogs and pro athlete blogs on the web. This site is the hub of the Yardbarker Network, where our editors and algorithms curate the best sports content from our network and beyond.