Found January 03, 2013 on Down and Distance:
Normally, I see these stories and read them because they are uplifting. However, normally these type of feel good stories come with media attention, cameras and press. Now, I do not want to sounds like a cold hearted, pessimist who only thinks teams bring in people with life threatening diseases or conditions to look good, but it is true that the media is often asked to attend these types of events. However, last weekend, media attention was not something the Detroit Lions wanted when they brought Chandler McBride, a life long Lions fan, to practice. During the summer, Chandler was paralyzed from the chest down after a swimming accident in which he broke his neck. The former football player could not play this year because of the accident. Chandler was given the chance to attend a Lions practice and game, after Bill Keenist, the Lions' senior vice president of communications heard about his story this summer. Keenist visited Chandler at the C.S. Mott children's hospital in Ann Arbor, Michigan. According to Keenist, he has been so inspired by Chandler's upbeat spirit that he has been "profoundly better" since meeting Chandler and his mother. Keenist got Jim Schwartz and the Detroit Lions to invite Chandler to a practice and then a game last Sunday. I will let Jeff Seidel of the Detroit Free Press explain what happened once Chandler arrived at the practice. Chandler sat there, watching intently, amazed how an NFL walk-through was so similar to the ones that he did while playing his junior year at Three Rivers High School. And then, everybody stopped and Lions coach Jim Schwartz screamed: "Chandler! Chandler!" The adrenaline started to flow. "I about stood up but, naturally, couldn't," Chandler said. "I about crapped my pants." Lions running back Mikel Leshoure came running across the field, went up to Chandler and pushed him across the field in the wheelchair. Right into the huddle. "It was awesome," Chandler said. "It was unreal. It's been a long time since I've been in a football huddle." Quarterback Matthew Stafford called the play. It was a simulated game situation — fourth-and-goal — and Chandler was getting the ball. "I looked at the linemen and said, 'Guys, please block for me,' " Chandler said. " 'They got some big guys over there.' " And the linemen cracked up. They set the formation. Wide receiver Calvin Johnson to the right. A fullback in front. And Leshoure set up Chandler at halfback. Hut. Hut. Stafford handed Chandler the ball, and he rolled into the end zone – touchdown! – and Chandler's heart was racing, and he couldn't stop smiling, and his mom, Monica McBride, was trying to stop shaking, while holding a camera. The practice was done and the players gathered around Chandler and he broke them down: "Lions on three. One, two, three. Lions!" McBride went on to stay at the same hotel and on the same floor as the Detroit Lions players and then attended Sunday's game against the Chicago Bears. How was this different from any other feel good story? Well, the Detroit Lions did not publish this story to the media. There were no cameras there, except for the camera of Chandler's mother. You will most likely not see this story on ESPN's Sportscenter. The story only was only delivered to the press because Chandler's mother, Monica posted pictures to her Facebook. Check out some of those pictures below: The post Detroit Lions give quadriplegic one more chance to score appeared first on DOWN & DISTANCE.
Original Story:
http://sports-kings.com/downanddistan...
THE BACKYARD
BEST OF MAXIM
RELATED ARTICLES
With a 4-12 season in the books, Lions GM Martin Mayhew has opened up on various topics regarding the Detroit Lions. His future with the team This past Monday according to Anwar Richardson of Mive.com, Martin Mayhew had a sit down with the Ford family where they voiced their displeasure over the disappointing results of the season. However the Fords also informed Mayhew that they...
First and foremost, it means that the Detroit Lions own the fifth pick in the 2013 NFL Draft. Unfortunately, it also means that Detroit has taken a monstrous step backward in 2012.  A year removed from a 10-6 season that ended in the playoffs, the Lions now find themselves drafting in an all-to-familiar position. How did 4-12 happen?  Who is to blame for the 2012 season?  How...
ALLEN PARK, Mich. -- Detroit Lions general manager Martin Mayhew regrets that he failed to have a backup plan in place this season in case running back Jahvid Best wasn't cleared to play. As a result, the Lions lacked the type of playmaker in the backfield who could produce explosive running plays. "Probably the biggest mistake that I made last year was counting on Jahvid...
As the Lions finished off an extremely disappointing season following a year in which the team went to the playoffs, plenty of blame is to go around and rightly so. Everyone from head coach Jim Schwartz to general manager Martin Mayhew deserves some share of the blame and obviously it's going to be debated as to who exactly gets more of it. In addition to the blame game, a common...
Chandler McBride of Three Rivers (MI) High School was a two-sport standout before his athletic career was instantly taken from him after he severed his spinal cord this past summer diving into the shallow end of a friend's pool.  The six-foot, 190 tight end/defensive end became paralyzed from the chest down. And while his high school career was supposed to end this year, the Detroit...
Detroit Lions general manager Martin Mayhew says as far as he knows, both he and coach Jim Schwartz will be back next season. Mayhew adds he's spoken with ownership and discussed his plans going forward. The Lions lost their final eight games and finished 4-12. Mayhew spoke with reporters for about 45 minutes Wednesday night. He says he's taking a wait-and-see approach...
Lions fans had hoped to capitalize on the momentum of a 10-6 season and a playoff berth in 2011. Instead, a tumultuous off-season , full of arrests and player misconduct set the tone for what would come. The Lions finished the 2012 season 4-12 , including an unacceptable 0-6 record against their NFC North division rivals. The frustrating part of it all , was that when the Lions were...
PONTIAC, Mich. (AP) Crews renovating the Pontiac Silverdome have deflated the roof ahead of the start of work to return the former home of the Detroit Lions to use. Silverdome events coordinator Alex Loewy says stadium owner Triple Investment Group LLC will begin renovations this spring and summer. He says work will include a new roof with solar panels. Loewy tells The Oakland...
Jim Schwartz is 1-0 in Senior Bowl games as a head coach, his last win coming in 2010. For the second time in Jim Schwartz's head coaching career, he and his staff will get the opportunity to coach some of the  top college prospects ahead of this year's NFL draft in the Senior Bowl. Last time Schwartz and his motley crew of Gunther Cunningham and Scott Linehan coached the Senior...
Team needs and impending free agents for the Detroit Lions.
NFL News

Delivered to your inbox

You'll also receive Yardbarker's daily Top 10, featuring the best sports stories from around the web. Customize your newsletter to get articles on your favorite sports and teams. And the best part? It's free!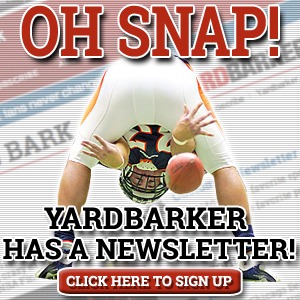 Latest Rumors
Best of Yardbarker

Today's Best Stuff

For Bloggers

Join the Yardbarker Network for more promotion, traffic, and money.

Company Info

Help

What is Yardbarker?

Yardbarker is the largest network of sports blogs and pro athlete blogs on the web. This site is the hub of the Yardbarker Network, where our editors and algorithms curate the best sports content from our network and beyond.