Found August 30, 2013 on BlackSportsOnline:
Terrelle Pryor had it, right there in his grasp. After showing flashes of being able to lead the Raiders during the regular season, Pryor bombed last night during the Raiders final preseason game against the Seahawks. That sound you just heard was Pryor's opportunity to start for the Raiders crashing down in flames.  Pryor went 3-8 for 31 yards, and an  interception, and seemed uninspired according to Around The League. Head coach Dennis Allen reportedly told the media that he knows who his starter is,  but would wait "until the appropriate time" to make the announcement, according to the Bay Area News Group. Soon after making that statement, Allen gave a report on Matt Flynn, saying he would be back at practice and could play if he's the choice. Pryor for his part blamed his inconsistent play Thursday night on a lack of chemistry with the starting receivers. "I didn't have some of my guys, guys I was working with all week," Pryor said. "I'll get better. It's crunch time now." Pryor was asked what he thought about his prospects for starting, and did his best to avoid lobbying for the job. "I don't really want to get into that," Pryor said. "It's going to be coach's call and whatever he thinks is best for the team. It's all about the team, and if it's me leading, I'll lead to the best of my ability and we'll get things done. If it's Matt leading, then we'll get things done too and I'll support him."
Original Story:
http://blacksportsonline.com/home/201...
THE BACKYARD
BEST OF MAXIM
RELATED ARTICLES
The other day I was watching SportsCenter and to my surprise they actually had a segment on the Oakland Raiders. I am usually skeptical of anything ESPN does on the Raiders because anytime they mention the Raiders or their fans it is in a condescending tone. However, they spent the segment interviewing quarterback Terrelle Pryor and showing some of his highlights from the preseason...
Greg Olson created an offensive package this offseason to get Raiders backup quarterback Terrelle Pryor on the field. He didn't want such athleticism to lay fallow not on a team in desperate need of offensive talent. It started small with a read option play here a designed run there. The offensive coordinator considered it an accent piece to his offense something to convert a...
Raiders QB Terrelle Pryor is assured a roster spot going into the last preseason game of the year. A roster spot is exactly what several players around the league are playing for, however for Pryor that is not enough. He is working to start. "Every day, I'm trying to get one percent better, and I won't stop until I get to my goal," Pryor said. "My goal is to be a starting...
After last night's poor performance by quarterback Terrelle Pryor,  Raiders head coach Dennis Allen isn't ready to name a starter yet. Allen said he'll withhold an announcement of the starting quarterback "until the appropriate time," and when asked if he might wait until the season opener, said, "We'll see." Flynn, Allen said, is expected to be back at practice...
Terrelle Pryor didn't need to be a perfect 10 to win the starting quarterback job Thursday night probably just a 7. But Pryor was a 9.9 as in his quarterback rating after throwing an interception and finishing 3-for-8 for 31 yards against the Seahawks. He did run for 48 yards on three carries in his half of play one the Raiders finished trailing 16-6 in an eventual 22-6 loss...
If this story seems all too familiar for Matt Flynn, well, it is. While Flynn sits on the bench and rests a sore elbow Thursday night, Terrelle Pryor will get his opportunity to earn the Oakland Raiders' starting quarterback job when they close out the preseason against the Seattle Seahawks. It's almost the exact scenario as a year ago when Flynn entered training camp with...
Tonight is the Raiders' final preseason game.  While usually the fourth preseason game holds very little importance, that isn't the case for this young and unproven Raiders team.  This game is very important for several players, and I'm going to look at a few of them here. Terrelle Pryor This one is a no-brainer.  Due to Flynn's poor performance this preseason...
Tarvaris Jackson led Seattle on three first-half scoring drives, and Terrelle Pryor struggled through his worst performance of the preseason with a chance at earning Oakland's starting quarterback job in the Seahawks' 22-6 preseason victory. Jackson led the Seahawks to a trio of field goals from Steven Hauschka, including kicks of 51 and 56 yards. Jackson got the bulk of...
Nothing that happened during the preseason damaged the notion that the Seattle Seahawks are Super Bowl contenders. And nothing the Oakland Raiders did persuaded anyone into thinking they won't finish near the bottom of the league. The Seahawks wrapped up a perfect preseason Thursday night with a 22-6 victory over Oakland, where Seattle's starters made a brief cameo appearance...
In the past few months our "Fake Football, Real Questions" series has focused on helping you make tough decisons between similarly ranked players. Now that training camp is in full swing and preseason games are underway, you're going to see opinions on player value and ADP fluctuate wildly as film is studied, news is leaked, and injuries abound. Staying on top of the latest...
Raiders coach Dennis Allen said Friday that he still hasn't told Matt Flynn or Terrelle Pryor who will be the starting quarterback but he did anoint rookie Menelik Watson as the starting left tackle. Speaking to media by conference call Allen declined to get into specifics regarding the roster cutdown or position battles choosing to wait until the 53-man roster is assembled...
Raiders coach Dennis Allen hasn't told Terrelle Pryor or Matt Flynn who won the starting quarterback job - "sooner rather than later" he promised - but he has their blind side taken care of. Allen said he "would anticipate" rookie Menelik Watson starting at left tackle in the season-opener on Sept. 8 after being "impressed" by how Watson looked...
Raiders News

Delivered to your inbox

You'll also receive Yardbarker's daily Top 10, featuring the best sports stories from around the web. Customize your newsletter to get articles on your favorite sports and teams. And the best part? It's free!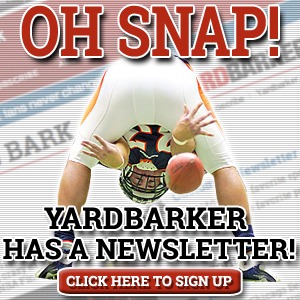 Latest Rumors
The Backyard

Today's Best Stuff

For Bloggers

Join the Yardbarker Network for more promotion, traffic, and money.

Company Info

Help

What is Yardbarker?

Yardbarker is the largest network of sports blogs and pro athlete blogs on the web. This site is the hub of the Yardbarker Network, where our editors and algorithms curate the best sports content from our network and beyond.