Found June 24, 2012 on Redskins Hog Heaven:
Well here's a minor tempest worthy of a slow Sunday afternoon. Kim Khardashian asked a lot of predatory questions about Washington Redskins quarterback draftee Robert Griffin III.TV  producer Jack Burditt told the story on the Rich Eisen Podcast on the NFL Network.Khardashian's celebrity radar spied Griffin III on Draft Day at an airing of 30 Rock and picked up that he was someone worth knowing. She pumped Burditt for info about Griffin's contract and team. Burditt had to explain who the "Redskins" are. (Khardashian admitted she does not follow football.)Redskins delight in bashing Tony Romo, blaming the appealing eye-candy that hangs out with him for his post-season fails with Dallas. Trust me, Dallas' playoff problems have more to do with Cowboys players than Jessica Simpson. Khardashian lurking at Redskins Park is a circus train RG3 should miss. New players will hear about distractions at the NFL Rookie Symposium, though the league will not mention the K...
Original Story:
http://www.redskinshogheaven.com/2012...
THE BACKYARD
BEST OF MAXIM
RELATED ARTICLES
Yesterday in our NFL Daily Digest, we discussed the unfortunate situation that landed at the doorstep of Redskins QB Robert Griffin III. To read this feature please click the link below.
When they make the Robert Griffin III life movie, it is certain that he will be played by Andre Benjamin, who is now most known for his Schick commercial.  The resemblance is remarkable and the fact that they both can be called 3G solidifies the notion.  Coffee Black will become QB Red. I just coined the nickname 3G…..twice.    
Robert Griffin III has yet to take a snap in the NFL, but he's already dealing with NFL problems. According to KWTX, former Baylor basketball player Richard Khamir Hurd was arrested in Waco on Friday for attempting to extort former Baylor quarterback Robert Griffin III. Khamir is currently being held in the McLennan County Jail awaiting his initial appearance in federal magistrate's...
Knowing that the second-overall draft pick belonged to a team well-committed to their own quarterback, Baylor's Robert Griffin III said that he entered the pre-NFL Draft days assuming he would become a member of the Cleveland Browns. Via Fox Sports Ohio's Zac Jackson, Griffin did the not-so-difficult mental accounting to see who had the most assets at their disposal and assumed...
Redskins rookie quarterback Robert Griffin III said the arrest of a former Baylor basketball player for allegedly trying to extort money from the Heisman Trophy winner is a good lesson for NFL rookies. ''There's vultures out there, people looking to climb on top of all your money,'' Griffin said Tuesday, taking a break from teaching football skills to kids during...
TAKE YOUR PICK
Andrew Luck and Robert Griffin III were taken 1-2 in the NFL draft, but Brett Favre knows who he would pick between the two QBs.
A former Baylor basketball player is facing federal extortion charges for allegedly threatening to release ''derogatory information'' about Heisman Trophy winner Robert Griffin III. Richard Khamir Hurd's bond was set at $25,000 after his first appearance Monday in federal court in Waco, Texas. A person familiar with the situation told The Associated Press that...
For one reason or another, some people actually think there should have been a debate over who to take number one overall. In April, the Indianapolis Colts made Stanford Quarterback Andrew Luck the number one overall pick. The Washington Redskins went on to pay a king's ransom to move up from the sixth pick to the second pick in order to take Robert Griffin III. Personally, I think...
Robert Griffin III was the only rookie quarterback to show up for Day One of the NFL Rookie Symposium. (The others weren't required to show.) So they missed Michael Vick and Adam (Pacman) Jones talk about life's lessons learned. "You are not bigger than the game," Vick told the audience. It's easier to get into trouble than to get out of trouble, said Vick...
Welcome to Fantasy Football Preview 2012.  Each week I will evaluate individual players, strategies, and philosophy leading up to your 2012 Fantasy Football League Draft.  And no, it is never too soon to talk Fantasy Football - mainly because it is summer time in Phoenix and I would melt if I stepped outside.  Standard scoring league formats only.  Subscribe via email ...
NFL News

Delivered to your inbox

You'll also receive Yardbarker's daily Top 10, featuring the best sports stories from around the web. Customize your newsletter to get articles on your favorite sports and teams. And the best part? It's free!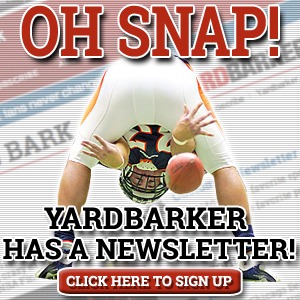 Latest Rumors
Best of Yardbarker

Today's Best Stuff

For Bloggers

Join the Yardbarker Network for more promotion, traffic, and money.

Company Info

Help

What is Yardbarker?

Yardbarker is the largest network of sports blogs and pro athlete blogs on the web. This site is the hub of the Yardbarker Network, where our editors and algorithms curate the best sports content from our network and beyond.