Welcome to another installment of Down and Distance's Top 5 Fantasy TE's. We're heading into week 12 and it's nitty gritty time, time to roll into your Fantasy Football Playoffs! Did pretty good last week with the exception of Gronkowski getting hurt, he did produce though but we won't be including him until his return (Obviously). Another mistake was not including Vernon Davis, but I didn't expect the Bears defense to look Geriatric, either! Let's hope for a good week 12! All points listed (if any) will be pulled from a standard ESPN scoring system.   5. Aaron Hernandez, Patriots (Kim Klement-US-PRESSWIRE) As mentioned in the intro, Gronkowski is out for the time being. The Patriots base their offense off of the Tight End position, so they'll be relying on Hernandez as their top target. It will open the game up for other pass-catchers, but look for big points from Hernandez in the red zone. Pats TE's have the most points in the red zone at the position than any other team in the league and Hernandez is a guy that can "get up and get it". He's missed some time, but he'll be back to take advantage of the opportunity on Thanksgiving night.   4. Jimmy Graham, Saints (AP Photo/Bill Haber) Graham only put up eight points last week to my surprise. I thought against that Raiders defense he'd be able to do whatever he pleased. Onto this weeks match-up against the 49ers. Yes, their defense is incredible, so it might be a bit hard to classify him as a must-start, but taking a look at the defense and the pressure they'll be sending to Brees, he'll be wanting to get the ball out faster than usual. With that said, QB's tend to lean on the guy they can trust the most when the pressure is on, and for Brees, that is Graham. I won't guarantee a 20 point day, but they'll have more connections this week than they did last.   3. Jason Witten, Cowboys (AP Photo) The Browns made a game out of their match-up last week against the Cowboys, and Witten wasn't the main attraction I thought he'd be, but he was targeted eight times which shows that Romo is still getting him the ball throughout the game. This week the Cowboys will play on Thursday (adjust accordingly) against a Redskins team that saw their backup Safety go down for the season with a knee injury. So they'll be starting the backup's backup against Witten and the Cowboys with the rest of their secondary. That alone will dent the 'Skins defense, because someone will have to be picking up slack on the field, so Romo and Witten can attack the weakest links of the defense. I expect a solid day from Witten on Thanksgiving Day.   2. Vernon Davis, 49ers (AP Photo) Davis might be under some scrutiny with Jim Harbaugh for his comments about the 49ers offense with and without Alex Smith, saying that with Kaepernick he felt as if the "handcuffs" were taken off of him as he caught six passes for 83 yards and a touchdown, a season high for Davis. But nevermind that here. I'm assuming that Smith will start for the 49ers this week, and I think Smith reverts back to Davis being his security blanket. Think back to last years Playoff game against the Saints where Alex Smith absolutely balled-out. He had a career day and looked like an All-Pro QB because he frequented Davis. That is exactly what the 49ers need again this week against the Saints, who continue to give up yards week in and week out. The Saints look like one of the hottest teams in the league right now with five wins in the last six games, but let's be honest – the only legitimate team they beat were the Falcons. The other games were against bad teams, and when they faced the Broncos they were beaten to shreds. The 49ers should do the same this weekend, and Davis should be a big part of the gameplan.   1. Tony Gonzalez, Falcons (Christopher Hanewinckel-US PRESSWIRE) Gonzalez was awfully quiet last week against the Cardinals, but when Matty Ice throws five interceptions, it's hard to amount to much. They got the job done and got the win, but nobody really had the stats for fantasy football. Fast forward to this week against the Bucs. The Falcons want to come out and make up for what they put on film last week, and the Bucs are a good team to return to. I'm not saying the Bucs are a horrible team, but they definitely have their flaws that Ryan and company will bring to light. In the red zone Gonzo is one of the better match-ups this weekend, and hopefully he makes up for last weekend's performance. I don't think Matty Ice will be throwing five picks this week, either.   Sleeper: Brandon Meyers, Raiders – The Raiders travel to Cincinnatti for the return of Carson Palmer. Once again, unlikely to have Darren McFadden and Mike Goodson. Carson will continue to lean on Meyers and he'll add to the stats that have him leading the Raiders in receptions. He's been a crucial part to the little offensive production the Raiders have had lately, and that should continue against the Bengals. The post Down the Seam: Top 5 Fantasy TE's for Week 12 appeared first on DOWN & DISTANCE.
Original Story:
http://sports-kings.com/downanddistan...
MORE FROM YARDBARKER
NFL News

Delivered to your inbox

You'll also receive Yardbarker's daily Top 10, featuring the best sports stories from around the web. Customize your newsletter to get articles on your favorite sports and teams. And the best part? It's free!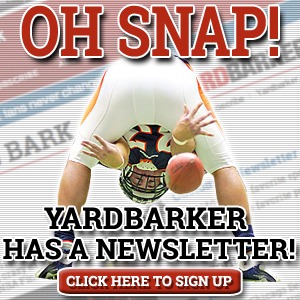 Latest Rumors
Best of Yardbarker

Today's Best Stuff

For Bloggers

Join the Yardbarker Network for more promotion, traffic, and money.

Company Info

Help

What is Yardbarker?

Yardbarker is the largest network of sports blogs and pro athlete blogs on the web. This site is the hub of the Yardbarker Network, where our editors and algorithms curate the best sports content from our network and beyond.