Posted January 30, 2013 on AP on Fox
Jack and Jackie Harbaugh are spending Super Bowl week celebrating the good fortune of having two sons at the pinnacle of pro football. Once the Super Bowl between John Harbaugh's Baltimore Ravens and Jim Harbaugh's San Francisco 49ers has ended this Sunday night, the parents know their first priority will be expressing sympathy to the coach who didn't get to hoist the Lombardi Trophy. ''The one thing that I do think about is after the game. There is going to be one winner and there is going to be one that is going to be totally disappointed. My thoughts go to that one that will not experience the thrill of victory,'' Jack Harbaugh said. ''That's where our thoughts will be.'' Harbaugh explained that he and Jackie had a ''dry run'' on how to handle the postgame last season when the Niners lost at Baltimore on Thanksgiving night. After leaving an office in the stadium where they watched the game - in private and emotionless - the first locker room they walked past was that of the Ravens. ''We've all experienced that excitement of victory-guys jumping up and down, the smile on John's face. They were just ecstatic. ... Then you realize that you're not needed here,'' Jack said. ''You walk across the hall, and you went into the 49ers locker room and you walked and you saw the players walking about - that look in their eyes, that look of not being successful and coming up short. We opened up a couple doors and finally saw Jim all by himself in this room, just a table and a chair. He was still in his coaching outfit. His head down in his hands and you looked into his eyes and you realized that this where you're needed as a parent. ''Every single parent can identify with that,'' he continued. ''On Sunday night, we're going to experience both of those great emotions. Our thoughts will be with the one that comes up a little short.'' Now comes the second act in New Orleans, which happens to be the home of another set of parents who can relate to watching NFL games involving two of their sons on opposing teams: the Mannings. As it turns out, Jack Harbaugh said, Archie Manning called before the Niners-Ravens Thursday night tilt last season to offer some advice. ''The advice was this, `This will be over on Friday. I promise you it will be over on Friday,''' Harbaugh recalled. ''Sure enough it was great advice and that's exactly how it happened.'' The elder Harbaugh was a longtime coach himself, and a former assistant of Bo Schembechler at Michigan, where Jim quarterback before a playing career in the NFL, followed by a college coaching career and then his NFL head coaching debut just last season in San Francisco. Jack credited Jackie for taking their sons to Michigan practices when they were young so they could learn about what their father did during long days at work. And he was thrilled that they wanted to play and later coach football. Now that has put them in the spotlight in the Big Easy, where the Harbaugh parents were fittingly at ease as they sat - talk show style - in lounge chairs in front of a large crowd of international media. Jack opened the news conference by loudly asking, rhetorically, ''Who has it better than us?'' Then he and Jackie both exclaimed, ''Nobody!'' It appeared well rehearsed because it has long been a family motto. But when it comes to navigating the rest of Super Bowl week, they acknowledged they were neophytes, and didn't have much of a plan beyond spending time with relatives and friends. They didn't even know where they were sitting for the game. They added that both sons have simply urged them to make sure they enjoy the experience. When asked if the knowledge that one son will lose will diminish their enjoyment of the game, Jackie Harbaugh said, ''I don't think so because we will see both of them after the game. We're going to hug both of them and tell them how proud we are of them.''
Original Story:
http://msn.foxsports.com/nfl/story/Dr...
THE BACKYARD
BEST OF MAXIM
RELATED ARTICLES
In advance of the much-hyped Harbowl (or "Super Browl", if you will), Reddit brings us this absolute gem from the Harbaugh brothers' childhood. Check out young John and Jim decked out in their Baskin Robbins little league unis, with the elder John towering over the befuddled looking Jim: (via reddit) And after some incredible interweb sleuthing, we uncovered a few more classic...
Mark Kac was a Polish-born mathematician, best remembered for a paper he wrote in 1966 entitled "Can One Hear the Shape of a Drum?" I have not read it. That little bit of info I know only from his bio which had no record of him loving American football, the NFL or any team in particular. He is dead, or I would ask. I bring Kac up only because he had a theory that best...
John Harbaugh: Almost game time. Jim Harbaugh: Mmhmmm. John: The talking is finally done. Time to play this thing. Jim: Oh, I'm ready. John: I was ready before I got to New Orleans. Jim: I was born ready. John: I was born ready. And I was born first, so I'm more ready. Jim: The people and creatures I was in previous lives were ready. We carried out our various existences just...
NEW ORLEANS -- John Harbaugh and his younger brother Jim shared a bedroom growing up, but they can't split the Lombardi Trophy. One will experience the elation of winning Super Bowl XLVII, the other deflated by defeat. "In any game, that's always something you think about. Jim has pointed this out before, it's not really about how we're going to feel,&quot...
Not much setting up needed for this one. World Wide Interweb has tracked down and compiled some photos of San Francisco 49ers players (and their head coach, Jim Harbaugh) and Baltimore Ravens players (and their coach, John Harbaugh) as they were when they were much, much younger, long before these men were preparing to play in all likelihood the biggest game of their lives on the...
It's been reported that over $1 billion dollars is bet on the Super Bowl, including millions on simply prop bets. They are very entertaining and can range from mildly ridiculous to very ridiculous. Here just a few of them, and, if I were a betting man, which way I would lean. (Odds courtesy of hogshaven.com.) Will any player get a penalty for excessive celebration in the game...
After one of the most memorable regular seasons in recent memory, the 49ers have finally made it to the Super Bowl for the first time since 1995.John Harbaugh has only been the head honcho in San Francisco for two seasons, but he's already made back-to-back NFC Championship appearances, and is heading to his first Super Bowl this Sunday.Harbaugh was lucky to be surrounded by...
Super Bowl fever is in full force and rightfully so as this years matchup most likely will be the most gambled single sporting event of all time. Although, I can say I am a bit worn out and emotionally perplexed after religiously betting NFL games week to week, my spirit is picking up and I am ready for one more run; hopefully I end the season on a high note. After doing some minor...
StraitPinkie looks at some of the better/more interesting props available for this years Super Bowl. If you don't have a bookie to take your action or don't understand money lines, no worries this is for entertainment purposes not financially advice…bet an adult beverage drink (aka shot) with you game watching pals. If you decide to go my way, please make sure to have a D.D...
NFL News

Delivered to your inbox

You'll also receive Yardbarker's daily Top 10, featuring the best sports stories from around the web. Customize your newsletter to get articles on your favorite sports and teams. And the best part? It's free!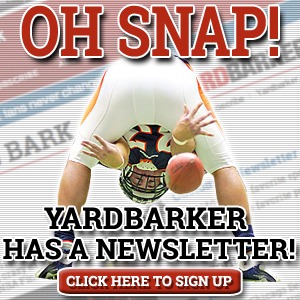 Latest Rumors
The Backyard

Today's Best Stuff

For Bloggers

Join the Yardbarker Network for more promotion, traffic, and money.

Company Info

Help

What is Yardbarker?

Yardbarker is the largest network of sports blogs and pro athlete blogs on the web. This site is the hub of the Yardbarker Network, where our editors and algorithms curate the best sports content from our network and beyond.