Found November 18, 2012 on GCobb.com:
Categories: BREAKING NEWS Eagles General News NewsThe Eagles were totally embarrassed by a bad Washington Redskins team.  Getting beaten 31-6 by such a bad team means, the Eagles team right now can't be considered a legitimate NFL football team. I know Reid and Mornhinweg were hoping Nick Foles would be able to help get the offense going against a mediocre at best [...](Read more...)
Original Story:
http://gcobb.com/2012/11/18/eagles-ar...
THE BACKYARD
BEST OF MAXIM
RELATED ARTICLES
For Eagles, Foles Not the Answer Either By SBRForum.com There's only so many things that a head coach can change about his team before he has to go, and the Philadelphia Eagles look like they've hit that point. The men from the City of Brotherly Love have lost six games in a row and now have failed to cover five in a row. They have changed defensive coordinators and have changed...
The remainder of the 2012 Philadelphia Eagles season should be all about whether or not Nick Foles is the future of this franchise.  Assuming he plays for the rest of the season, there are some things we can look for in order to determine if he is, in fact, the future. If there is to be anymore excitement generated by the Eagles, it will be due to the play of Foles and how it energizes...
All eyes will be on Nick Foles come Sunday at FedEx Field. Photo via New York Daily News. We all know that football is a team sport and that to get a win, all phases of the game must come together to propel a group to victory. But come Sunday, it's going to be all about the quarterbacks. When the Philadelphia Eagles face the Washington Redskins at FedEx field on Sunday afternoon...
The Philadelphia Eagles said that the injury suffered by quarterback Michael Vick was "significant," following his concussion that took place in last week's loss. It now appears as if that designation was exaggerated by the Eagles, simply to make things look better in case Nick Foles had a big game on Sunday against the Washington Redskins. If Foles had come in and played a...
Will Nick Foles be able to perform with the weight of the Eagles franchise on his back? Michael Vick is still feeling the effects of a substantial concussion, and will not be ready for Sunday, and may not be ready to play for quite some time. That leaves the Philadelphia Eagles at 3-6 with their rookie QB Nick Foles set to take over the reins. I'm sure Foles will try to say something...
Philadelphia Eagles quarterback Michael Vick is still experiencing symptoms from last week's concussion, including fogginess, headaches, fatigue and heavy eyes. He's obviously out for Sunday's game and Nick Foles will start in his place. Vick has been advised to spend the weekend in the dark. No video, no noise and no exercising. While he's out of commission, Vick can't...
LANDOVER, Md. - Washington had lost eight straight games to rookie quarterbacks over seven seasons before Sunday, and Philadelphia had jumped ahead of the Redskins by wide margins the past two years at FedEx Field. However, those Redskins teams didn't have Robert Griffin III. Washington's rookie quarterback led the Redskins to a surprisingly easy 31-6 victory over the visiting...
The Eagles were anything but a picture of confidence as they prepared to walk onto FedEx Field on Sunday. Image via the Philadelphia Eagles. The Philadelphia Eagles may not win another game in 2012. It's not a statement made to be alarmist. It's one that may well be the reality. I'll still be watching/suffering through ever single game. But there are no longer any expectations...
Many Philadelphia Eagles fans have been clamoring for rookie QB Nick Foles to start a game in place of veteran QB Michael Vick. Those fans got their wish on Sunday and the results were disastrous.  The Eagles were defeated by their divisional opponent, the Washington Redskins 31-6 on Sunday afternoon and the question now needs to be asked- will head coach Andy Reid last through...
Let the smart phans take it from here on Eagles Game Day Week 11... they know what's on the line for the Eagles down at Fed Ex Field today in a 1 P.M. start against the Redskins. It's basically NFC East elimination day for the loser.           Throw out all the stats. Turnover and takeaway ratios based on the past are now meaningless. It...
We Can Do Better Than This. Next Monday night, the 2-8 Panthers come to town to face the 3-7 Eagles, in what is very likely to be the last home night game (please, Lord, some small favors is all that we ask) in front of a true national audience for several years. The Panthers have no road fans to speak of, we are assured that there will be no Nick Foles Uprising to distract anyone...
NFL News

Delivered to your inbox

You'll also receive Yardbarker's daily Top 10, featuring the best sports stories from around the web. Customize your newsletter to get articles on your favorite sports and teams. And the best part? It's free!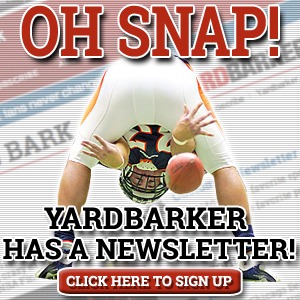 Latest Rumors
Best of Yardbarker

Today's Best Stuff

For Bloggers

Join the Yardbarker Network for more promotion, traffic, and money.

Company Info

Help

What is Yardbarker?

Yardbarker is the largest network of sports blogs and pro athlete blogs on the web. This site is the hub of the Yardbarker Network, where our editors and algorithms curate the best sports content from our network and beyond.