Found January 15, 2013 on Grits Blitz:
Editor Note: the wild playoff win this weekend over the Seattle Seahawks inspired long-time Altanta Falcons fan Alex Webster to write about the great Falcons win: I have been a Falcons fan since the early 70's when my dad would take me to see them perpetually lose in the old Atlanta Fulton County baseball stadium. You had to be a long time Falcon fan watching the Falcons/Seahawks last Sunday to experience the full scope of the emotional swing from the pride we felt at the end of the first half (which lasted until Atlanta began to blow their 27-7 fourth quarter lead) to the lump in the throat when Atlanta fell behind for the first time in the game with only 31 seconds left, then back again. By the end of the first half I had this cocky feeling that the Falcons were finally going to earn the respect that has eluded this team in most of the NFL world despite their regular season record. It looked to be a sure bet that the Falcons were going to finally exorcize the demons that have afflicted them during the playoffs ever since Mike Smith and Matt Ryan rode in with their shining armor that, until now, would tarnish as soon as post season play began. This righteous feeling began to sour in the fourth quarter. When the Seahawks took the lead, Falcons fans everywhere were united by the collective sense of doom and the feeling of "oh no - here we go again" that was pervasive throughout the living rooms and sports bars all over Atlanta (not to mention inside the Georgia Dome). Thoughts of a new head coach began dancing in most Falcons fans heads. Then a bright glimmer of hope swept in as we watched Matty Ice demonstrate a newly acquired ability to live up to his regular season moniker in a playoff game by completing two passes in two plays to put the Falcons in FG range with eight seconds on the clock and watched Matt Bryant walk on to the field with a chance to win the game!  But then our hearts fell through the bottom of our feet when we watched the kick sail wide right (not even close actually). But wait - it seems that Pete Carroll in his infinite wisdom, followed the traditional "ice the kicker" logic and called a timeout right before the snap. Replays show him debating whether he should do so - talking on the headset and discussing it - which resulted in waiting till the last second. So Bryant got a practice kick then a second chance (after correcting his timing and trajectory) at being the hero instead of the goat. Euphoria!!!!! Nothing short. Our hearts jumped off the ground below our feet and back into our chest where it swelled so big it then burst out of our chest with joy. Many Atlanta fans then achieved a new personal best vertical leap. Tears of despair became tears of joy. I can't recall any time in my life when I felt so low only to be catapulted so high into the air emotionally in a matter of less than a two minute span of time. It was an experience shared by many hundreds of thousands of long time Falcons fans. That monkey (can't win in playoffs) was hanging on till the bitter/joyous end and did NOT want to let go but it's finally off the Falcons backs! There is a God and he has finally shown mercy on the city of Atlanta! Relief! No more monkeys - no more demons. Look out 49ers!!!!
Original Story:
http://www.gritsblitz.com/2013-articl...
THE BACKYARD
BEST OF MAXIM
RELATED ARTICLES
Tony Gonzalez's mouth was saying one thing. His heart felt another. Gonzalez was telling "anyone who would listen" on the Atlanta Falcons sideline that all was not lost after the Seattle Seahawks had taken a one-point lead with 31 seconds remaining in Sunday's second-round playoff game. Gonzalez, though, was thinking that his 16-year NFL career would end without...
After blowing a twenty-point lead with less than thirty seconds remaining, the Atlanta Falcons trailed by one point against the Seattle Seahawks. The game looked to be over until quarterback Matt Ryan got the Falcons in field goal range to win the game with less than ten seconds to play. Check out kicker Matt Bryant who drained the 49-yard game winner to advance to the NFC...
Here are some Falcons-centric grades from the club's thrilling 30-28 win over the Seahawks in Sunday's NFC divisional playoff: Offense Quarterback Seahawks QB Russell Wilson may have set a single-game franchise playoff record for passing yards (385) -- while running for 60 yards and score -- but history will fondly remember Matt Ryan (250 yards passing, three TDs) for...
Matt Ryan won't have to answer that question anymore. Neither will Tony Gonzalez. They're both playoff winners. Finally. Ryan got over the postseason hump in his fifth season, guiding the Atlanta Falcons to an improbable comeback in the final half-minute for a 30-28 victory over the gritty Seattle Seahawks in an NFC divisional game Sunday. If Ryan was feeling relief...
After all the talk about Matt Ryan and the Atlanta Falcons inability to win a playoff game, they proved everyone wrong in dramatic fashion on Sunday. What started off looking like a blowout, then the Falcons choking away the lead in the fourth quarter and ended with a miraculous drive to tear the "playoff monkey" off their back. After blowing a 20-point lead in the fourth quarter...
Falcons:30 Seahawks:28 This was a must win game for the Atlanta Falcons, and a game played with house money for the Seahawks. Matt Ryan had one job: to silence his critics. While Russell Wilson's sole job was to continue to elevate his game, and continue to show why he's one of the most promising rookies in the game. The game got rolling early for the Falcons, who held dominance over...
In a game that Atlanta once led by 20 points, Atlantans were subjected to a monumental collapse by our beloved Falcons. The offense once again disappeared in the second half, and behind the play of Russell Wilson Seattle fought back into the ballgame after intercepting a horrific Matt Ryan pass. After the interception, Atlanta proceeded to go 3 & out while Seattle kept scoring...
ATLANTA -- Atlanta Falcons coach Mike Smith began his post-game press conference the only way he could -- he exhaled. It was a giant sigh of relief from a coach who minutes earlier had watched his team squander a three-score lead in the fourth quarter. It was a huge release of tension from a coach who had never won a playoff game, until Sunday. Matt Ryan threw three touchdown...
It's hard to believe that it doesn't happen more often, but the two top seeds in the NFC did their job; they protected home field and have advanced to meet each other for the right to head to New Orleans as the NFC representative in the Super Bowl. With a dominating performance over my preseason Super Bowl pick, the Niners demolished the Packers to head to Atlanta to take on...
The games aren't even over yet, so we might get some more heroics and bizarre plays in the Pats/Texans game, but the Falcons and Seahawks seemed determined to come up with a game that was even more epic than Denver's stunning collapse yesterday. Here's some observations: - Congrats to Matt Ryan. He sealed his "Matty Ice" nickname with two excellent passes starting at his...
The Seattle Seahawks took on The Atlanta Falcons Sunday at The "infamous" Georgia Dome in what ended in a heart-breaker for Seahawk fans. Early on in the game the Falcons took off by taking a 20-point lead into halftime.Not long after, rookie quarterback Russell Wilson led the Seahawks with a few fantastic looking drives to start the Seattle swarm.With just 31 seconds left...
FLOWERY BRANCH, Ga. (AP) -- Mike Smith provided quick evidence his attention has shifted from his first playoff win with the Atlanta Falcons. Smith was just starting his review of the Falcons' 30-28 win over Seattle in the NFC divisional playoffs Sunday when it became clear his thoughts were on this week's NFC championship game against the San Francisco 49ers. Smith...
NFL News

Delivered to your inbox

You'll also receive Yardbarker's daily Top 10, featuring the best sports stories from around the web. Customize your newsletter to get articles on your favorite sports and teams. And the best part? It's free!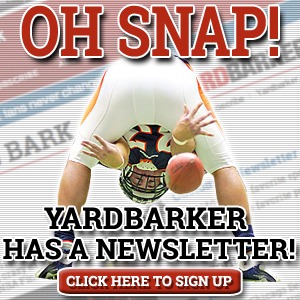 Latest Rumors
Best of Yardbarker

Today's Best Stuff

For Bloggers

Join the Yardbarker Network for more promotion, traffic, and money.

Company Info

Help

What is Yardbarker?

Yardbarker is the largest network of sports blogs and pro athlete blogs on the web. This site is the hub of the Yardbarker Network, where our editors and algorithms curate the best sports content from our network and beyond.