Found August 21, 2012 on Football Nation:
I completed the first of several fantasy football drafts last night and some of my competition is probably snickering into their fists right about now.Some of you reading this article may be chuckling shortly as well when you learn that I did indeed draft New York Jets quarterback Tim Tebow.Before you discount Tebow as a pick entirely, and probably my opinion as well, allow me to discuss the reasoning behind my selection.To begin with, I'll make it clear that I acquired Tebow with my final pick in a 10 team league, so I wasn't salivating over the opportunity to grab him days before my actual draft.I found myself in the unenviable 7th pick position and as many of you know, by the time that pick rolls around, most of the tier one quarterbacks are already gone.Nevertheless, I was fairly comfortable with my QB situation even in the late rounds. In any case, as the last round started, I felt secure enough with my other positions and was looking at both Tebow and Jets' starter...
Original Story:
http://www.footballnation.com/content...
THE BACKYARD
BEST OF MAXIM
RELATED ARTICLES
JET FUEL
The former Jets QB turned radio host has been highly critical of the current Jets QB, and on Thursday, the latter finally issued a response.
SportsCenter has thankfully dialed back their stalking of Tim Tebow and Jets camp in the past week.  (Maybe Tebow finally got that restraining order filed?)  But c'mon now, ESPN can't go cold turkey on dumb Tebow stories!  The latest breaking news comes from ESPN2's SportsNation with the incredibly significant topic of Tim Tebow throwing a football into a trash can...
As you're no doubt aware, Tim Tebow was home-schooled in Florida, but lobbied lawmakers to allow him to play football with kids that attended public schools.  The state legislature acceded, and Tebow went on to become a high school and college legend.  Now, the legislature in South Carolina has done the same thing.  The new [...]
Tim Tebow easily might be the most heavily publicized back up quarterback in NFL history. The Jets off-season pick up had his 25th birthday August 14th, and a pizzeria in Alabama created an interesting pizza to commemorate the day: Joe Carlucci, owner of Famous Joe's Pizzeria, is a huge Tebow and Jets fan. He decided [...]
Today, Tim Tebow told Boomer Esiason that he believes last year's performances validated him as an NFL quarterback (Credit: AP Photo) Former NFL quarterback Boomer Esiason is so skeptical of Tim Tebow's ability to play quarterback that Esiason thinks the Jets should cut Tebow. But today, when Tebow joined Esiason for a radio interview, Tebow said he believes he has already...
AP New York Jets quarterback Tim Tebow told Boomer and Carton on WFAN The Fan in New York via SportsRadioInterviews.com that he felt like leading the Broncos to the playoffs last year validated him as an NFL quarterback. "I don't think it was just that moment," said Tebow. "I think it was the six game winning streak, I think it was some of the come-from-behind wins, I think...
Ugh. I'm utterly sick of seeing the New York Jets and Tim Tebow being covered far too much on ESPN, so I had to suck it up to throw together this piece. What a surprise, huh? Analyst and former NFL quarterback Tim Hasselbeck says Tim Tebow has made little improvement. As if Hassy has any room to talk, but I digress. Reports out of Jets camp have said that Tebow has improved on...
AP According to Michael Hiestand of USA Today, former Jets quarterback and CBS analyst Boomer Esiason has now come out and stated that he doesn't believe Tim Tebow can even be an everyday back up quarterback in the NFL. "I don't believe Tebow can be your everyday backup quarterback," said Esiason. "Sanchez is clearly your starter, and (Greg) McElroy will be the backup....
Sweetheart and I aren't going NFL on you guys -we're sticking with college throughout the season. However, the New York Jets' situation needs our attention. Rex Ryan, Mark Sanchez, and Tim Tebow need to work together for this system of theirs to work. When I think of the 2012 New York Jets, I look back at Tim Tebow's 2006 Freshman year with the Florida Gators. Chris...
The newest members of the Philly Sports Live Face Mosh is New York Jets Quarterbacks Tim Tebow and Dirty Sanchez. If you ever in your sick mind wondered what the kids of Tim Tebow and Mark Sanchez would look like; well here is their baby! philly sports live
The regular season hasn't started but there are many people calling the Jets an utter failure. The team hasn't scored, the quarterbacks haven't thrown a touchdown pass, and Rex Ryan's team is 0-2 after being blown out by the defending Super Bowl champion New York Giants. The perception of the team can all change after Sunday's preseason game against the Carolina...
Jets News

Delivered to your inbox

You'll also receive Yardbarker's daily Top 10, featuring the best sports stories from around the web. Customize your newsletter to get articles on your favorite sports and teams. And the best part? It's free!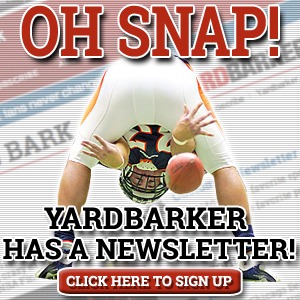 Latest Rumors
Best of Yardbarker

Today's Best Stuff

For Bloggers

Join the Yardbarker Network for more promotion, traffic, and money.

Company Info

Help

What is Yardbarker?

Yardbarker is the largest network of sports blogs and pro athlete blogs on the web. This site is the hub of the Yardbarker Network, where our editors and algorithms curate the best sports content from our network and beyond.