Found August 04, 2012 on PPR Fantasy Football: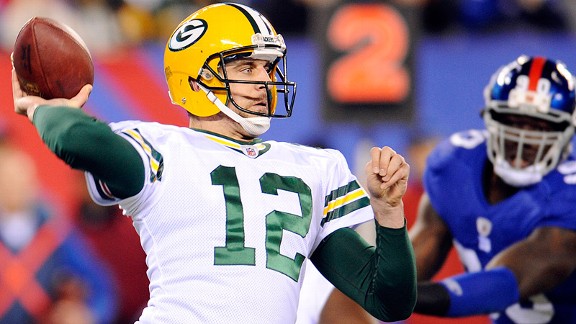 QB's like Aaron Rodgers are becoming more and more important in Fantasy Football.
The landscape of fantasy football is drastically changing.
Remember when there was a time it was a crime not to take a running back in the first round of your fantasy football draft? Oh how times have changed. With all the platoon running systems in the league and the amount of injuries we see in today's NFL, it's becoming more of a risk to take a ball carrier in the first round.
As we mentioned earlier, expect quarterbacks to be drafted earlier than ever this year as a result of their production the past few years.
After the top three running back options, there are a bunch of question marks. So you're going to need to select your , running backs wisely this year. The top three running backs this year are Arian Foster, Ray Rice and LeSean McCoy.
They will all get their points. It's the next tier of halfbacks where the questions set in. Ordinarily, Maurice Jones-Drew would be a member of the elite, but he hasn't appeared in training camp and we all know what happened last year with Chris Johnson when he did the same.
Then you come to the guys where questions are endless. Now that Marshawn Lynch cashed in with $17 million guaranteed, will he still be motivated and running in 'beast mode?' Will Michael Bush steal all of Matt Forte's touchdowns? Can Ryan Matthews ever stay healthy? How's Jamaal Charles' knee? Will Peyton Hillis steal points from him?
That's a lot of questions and we didn't even get into the Darren McFaddens and Adrian Petersons of the world.
It's as if the way you draft your fantasy football team has changed completely. You used to draft stud workhorses to run you to a championship, and have an adequate guy ready for their bye weeks. Now, you may want to stockpile multiple running backs as injury and matchups are always in the back of your mind.
For a draft strategy, be sure to have a sleeper–Ben Tate, BenJarvus Green-Ellis, etc.–in the back of your mind. Finding a gem in the mid-to-late rounds will better benefit your team than snagging a bunch of halfbacks early and scrambling to fill the rest of your roster later on.
Be sure to check out other great articles at Sports Media 101.
Original Story:
http://fantasyppr.com/2012/08/04/699/
THE BACKYARD
BEST OF MAXIM
AROUND THE WEB
RELATED ARTICLES
GREEN BAY, Wis. -- With the Packers' first preseason game just one week away, quarterback Aaron Rodgers on Thursday held his weekly press conference with the media. The NFL's reigning Most Valuable Player talked about watching players he's gotten to know get cut from the team, which wide receivers have impressed him the most and more.Five question-and-answer highlights...
Aaron Rodgers was sharp in limited work and the NFL's replacement officials weren't shy about making calls - even unpopular ones - in the Green Bay Packers' ''Family Night'' scrimmage on Friday. A crowd of 55,605 took in the sights at Lambeau Field, many of them getting their first look at the stadium's major ongoing construction project in the south...
Aaron Rodgers was incredibly sharp, unofficially going 7-of-9 for 151 yards, in leading a pair of scoring drives during the annual scrimmage, though he did not face the No. 1 defense. However, the backups struggled and there were too many pre-snap penalties.
The NFL quarterback ratings in Madden 13 are out. Green Bay Packer quarterback Aaron Rodgers is No. 1 with a 99 overall. The game also have plenty of love for New York Giants QB Eli Manning coming off a Super Bowl winning season with a 97 overall (4th on the game). Eli Manning's brother, Peyton Manning, is rated at a 93 overall for the Denver Broncos. All of the QBs in the top...
It's almost unfair at times. It's third-and-11. There's nobody open, the 2.5-second clock has gone off and Aaron Rodgers is running out of time. Then — zing! We take two slices out of Wednesday's practice to examine Rodgers' greatness. Plus, the rookie spotlight falls on Jerel Worthy.
Aaron Rodgers of the Green Bay Packers tops Philly Sports World's list of Top NFL QB's for the Fantasy football season in 2012. Philly Sports World proudly presents the first in our 6 part series to get you ready and up-to-date for the 2012 Fantasy Football season.  The key to winning your fantasy football league is to score more points than your opponents.  The base of any...
Do you feel them, Packer fans of Football Nation?  The green-eyed monsters watching, the envious eyes of all the fans of teams that did not make the top spot in the new AP NFL Pro 32 Power Rankings?   They watch, hoping for something disastrous like a torn ACL to Aaron Rodgers, muttering darkly about how stupid power rankings don't mean anything anyway.  The talk is especially...
The guys at EA Sports have just released their rankings for the top-10 QB's in the NFL according to their Madden 13 rankings and it's no surprise that Green Bay Packers QB Aaron Rodgers tops the list with an overall ranking of 99. On the heels of Rodgers in their rankings are New England Patriots QB Tom Brady and New Orleans Saints QB Drew Brees with 98 ratings. New York Giants...
[caption id="" align="alignnone" width="576"] QB's like Aaron Rodgers are becoming more and more important in Fantasy Football.[/caption] The landscape of fantasy football is drastically changing. Remember when there was a time it was a crime not to take a running back in the first round of your fantasy football draft? Oh how times have changed...
Let's see where they ranked the top 10 quarterbacks in Madden 13, the video game! 1. Aaron Rodgers-Overall 99 I totally agree with Aaron Rodgers being ranked 1st overall. Aaron Rodgers is the best quarterback in the game right now. Very smart and accurate, and let's not forget he can hit anyone no matter if its short or deep, he will hit his target. Aaron Rodgers can do it all...
Latest Rumors
The Backyard

Today's Best Stuff

For Bloggers

Join the Yardbarker Network for more promotion, traffic, and money.

Company Info

Help

What is Yardbarker?

Yardbarker is the largest network of sports blogs and pro athlete blogs on the web. This site is the hub of the Yardbarker Network, where our editors and algorithms curate the best sports content from our network and beyond.