Found September 22, 2012 on O-Posts:
If you chat with any seasoned Manchester City fan, they'll be able to give you an in-depth description of what are more commonly known among Blues as 'the dark days'.
As a sixteen-year-old, I may be somewhat unqualified to write this article, but, here it goes.
If you search 'Manchester City 2-2 Liverpool 1996′ into Google, you'll be presented with over 2 million results. Clawing back a two goal deficit to Liverpool may be considered to be no shame given City were fighting relegation, however.
"I am confident we will stay up, because we have prepared well and we are ready."
These were Alan Ball's words prior to that fateful match. Having gone two-nil down, to two own goals, City score two at the right end through Uwe Rosler and Kit Symons.
We were level on points with both Southampton and Coventry going into the game, but both had superior goal difference, so not even a win would guarantee City's safety.
The feeling was though that, in all likelihood, a win would have sufficed. And it would have done.
Word made its way to City's bench that Southampton were losing! If I were to attempt to paraphrase Alan Ball, ahem, "Whack it in the corner, boys! And don't let the f*cker out!"
If Southampton had lost, then of course a draw would have been enough for City, but comically, both they and Wimbledon drew blanks at The Dell. 0-0. Coventry also drew. City needed a win. They didn't get it. City were down.
It seems that despite all his preparations, Alan Ball had forgot to put "Buy a radio" on his 'to-do list'. Typical City.
Ball was sacked not long into City's 1996/97 campaign, only for his successor, Steve Coppell to resign just 33 days into the job. To this day few know why. After Phil Neal's sacking in the same year, the former Nottingham Forest boss, Frank Clark took his place in the hot seat, and led City to a fourteenth placed finish – in Division One.
Clark was sacked the following February, replaced by Joe Royle. Although, by that time, most of the damage had already been done. Losses to local rivals such as Stockport and Bury must have hit the Blues hard. Football is an escape from problems, but I don't think any quantity of cans could rid fans of the gutting feeling caused by these results. And the mockery in the media that often followed.
At home to QPR, in the penultimate game of the season, the score was 1-1 and the stage was set for what, in brutal honesty, was a 'majestic' goal. Jamie Pollock clipped the ball over a Rangers' player and headed the ball over the goalkeeper, into his own net. Although, Lee 'anticlimax' Bradbury levelled for the Blues, their fate was out of their own hands, and on the final day, despite winning 5-2 at Stoke, we were relegated.
This time to Division Two – the third tier of English football.
Eye-witness accounts and tales of the 1998/99 season are not for the faint-hearted with losses to the likes of Wycombe and Lincoln…and York. There is somewhat of an ongoing joke about 'York away' among older City fans. It's that when asked, most will jokingly, vehemently affirm "YES!" It's a light-hearted test of how Blue your blood is.
Even Noel Gallagher has since claimed to have been there. He said in an interview on Q Radio; "I was there. York away, Friday night." It was a Saturday, Noel.
Although, the official attendance was 7,527, really that figure is about 100 short. Truly dark days.
Man City during the 'dark days', in the third tier of English football.
However, on 30 May 1999, City were to play Gillingham at Wembley Stadium, with a place in the second tier of English football at stake. Two very late City goals took the tie to penalties, where Nicky Weaver was the hero, saving two penalties.
My earliest memory is indeed a memory of a football match. 7 May 2000 – last game of the season at Ewood Park. We were battling for promotion, and we achieved it, winning 4-1.
Goodness knows how, they absolutely peppered Weaver's goal in the second half, but we did. I can hazily recollect fans on 'the hill' and masses of Blues on the pitch come the final whistle. And I mean masses. Christ, there were a lot of fans that day: The Darwen End, Jack Walker Stand, and Blackburn End – all full of Blues.
Although, the season that followed we were again relegated.
Kevin Keegan then took over from Royle, and spiced things up a bit. With players like Ali Benarbia and Eyal Berkovic, we were playing some really nice stuff. The season climaxed with Stuart Pearce holding the Division One Champions trophy aloft.
Although, 'Pyscho' as he was affectionately known in English football, missed a penalty that would have brought up a ton for career goals, in his professional last game.
After a couple of pulsating years in the Premiership under Kev, Stuart Pearce took over and what followed were some of the dullest and most lifeless displays I've ever seen from a top-flight team, and we've all seen Steve Bruce's Wigan and Birmingham teams.
We had some good players: A pair of centre-backs capable of playing in some capacity for about 70% of other Premier League teams, and behind them the England international goalkeeper in David James. Yet, Pearce had the most defensive, long-ball reliant tactics I've seen; really, really awful stuff.
We did ok, I suppose, but this is a man who had spent six million pounds on a striker in Georgios Samaras, yet decided to keep him on the bench against 'Boro in 2006 when we were in search of a goal. Instead, he subbed on Nicky Weaver and thrust David James up front. Sure, James won us a penalty (that was missed), but that's just dumb luck.
These were my dark days. Horrible for me as I've no idea how older City fans coped during the nineties. A lot of lager? I suppose though, once you've selected a faith, it takes a lot to deter you from that faith. That's what supporting a football team is like, having faith.
Good things come to those who wait though. I needn't educate you all on our recent history: An FA Cup and League Title – Yaya Toure and Sergio Aguero. It's fantastic. That's why, on Tuesday night, no result, no number of goals conceded could have deterred me from the romanticism that football fives you.
From Bootham Crescent to the Bernabeu, against Franco's boys in Madrid – it's romanticism that no other medium can give you, not even literature and cinema can give you that feeling because – in the main – your disbelief in the stories has foundation. It may take moments to comprehend moments like Aguero's winner against QPR, or even Dzeko's goal on Tuesday, and I've heard Blues say that they found themselves on their knees, crying at that moment.
The good times.
But in the end, the scenes are real, the emotions are real.
There's no doubt that moments like Andrew Dawson's goal, and Steve Lomas in the corner flashed before the eyes of many City fans on Tuesday, but it's with good reason. In midweek Mourinho referenced the DNA of his team.
All of these moments, all of these emotions contribute to the DNA of a Manchester City fan: The humour, the loyalty, the frustration, the joy. They're all part of the DNA and they're all characteristics inherited by young Blues like myself.
Again, although these words may seem somewhat empty given my age, I can only thank older Blues for their commitment to City fourteen years ago. Because without those fans, the club wouldn't have the identity it holds today.
Written by Josef O'Brien
Follow him on Twitter @The_X_Offender
Please like O-Posts on Facebook
You can follow O-Posts on Twitter @OPosts
Original Story:
http://feedproxy.google.com/~r/O-post...
THE BACKYARD
BEST OF MAXIM
NFL News

Delivered to your inbox

You'll also receive Yardbarker's daily Top 10, featuring the best sports stories from around the web. Customize your newsletter to get articles on your favorite sports and teams. And the best part? It's free!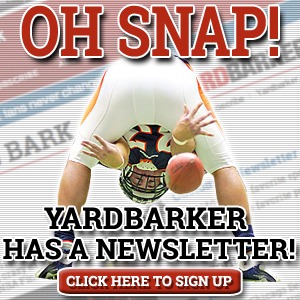 Latest Rumors
Best of Yardbarker

Today's Best Stuff

For Bloggers

Join the Yardbarker Network for more promotion, traffic, and money.

Company Info

Help

What is Yardbarker?

Yardbarker is the largest network of sports blogs and pro athlete blogs on the web. This site is the hub of the Yardbarker Network, where our editors and algorithms curate the best sports content from our network and beyond.