Found March 15, 2013 on Turn On The Jets:
The following article is written by Joe Caporoso and Chris Gross The primary purpose of this website is to provide coverage of the New York Jets that avoids the headline-chasing garbage that has diminished the quality of work done by credentialed writers surrounding the team. A secondary purpose is to call BS when we see poor excuses for journalism or when there is a clear media strategy in place motivating articles. Darrelle Revis' most recent contract standoff with the Jets has provided a flood of these articles, with TEAM REVIS (Neil Schwartz, Jon Feinsod, John Geiger and company) clearly being the sourcing on pieces like this by Jason Cole and Manish Mehta. "Source familiar with situation" = Revis' agents and people pushing to get him out of New York ASAP because they know Woody Johnson isn't going to make Revis the highest paid defensive player in football. The above articles are filled with quotes like – "If Revis isn't traded by Wednesday, John Idzik is an idiot"…"it is in the best interest for the Jets to get this done sooner rather than later" – Why? As this article spells out, there is no rush. It is in the best interest of the Jets to find the deal or strategy that makes the most sense for their organization regardless of the time frame. The urgency from these quotes is meant to force public pressure on the Jets to get Revis into a different organization more amenable to meeting his long term contract demands. You would swear at times TEAM REVIS is writing the articles themselves for people like Cole and Mehta or running their Twitter handles.         Multiple other sources (more credible ones like Chris Mortensen of ESPN) have confirmed Atlanta never had any interest in Revis and San Francisco's interest is overstated. Detroit? Was that just picking a cornerback needy team and throwing it against the wall? And of course Miami would love to get him, he is Darrelle 'freakin Revis, every team would "love to get him" – What is the news there? The media blitz by TEAM REVIS should be recognized by observers of the situation and articles basically written as press releases by them shouldn't be taken as realistic portrayals of what is going on. For the most part, the Jets have been refreshingly quiet on this issue and are just starting to push back in the media. Jason Cole caught our attention by being so firmly in the TEAM REVIS corner on this issue, Manish Mehta's actions continue an ugly year plus of offensively poorly sourced, agenda-based "journalism". But hey, at least it appears now Mehta is reading our site for his information. We are assuming his "sources" for his story on the Jets interest in Kevin Kolb in his March 14th article, is our article from March 4th saying the same thing. Feel free to use our names next time, Manish, it will be a nice change of pace to see a source with a name in a Daily News article. Anyway, last night we had an entertaining interaction further demonstrating Cole's bias on the Revis situation. Turn On The Jets referred an article by Chris over to Mehta, Schwartz, Feinsod, Florio, and Cole. The article was an observation of the Revis trade talks and contract situation. One of the points made here referenced the two Revis holdouts that have taken place within his short six year career as a primary reason as to why the New England Patriots, a team rumored to be a potential landing spot for Revis, would never trade for the All-Pro cornerback. To our great surprise (sarcasm intended), Cole disagreed with this notion. In fact, he even went on to claim a factual error, arguing Revis had held out just once in his career, rather than twice, a notion normally universally agreed upon by anyone with any knowledge of the situation. This struck us as odd. He couldn't have been referencing the HBO documented 2010 hold out. No one would dare argue that notion considering how publicized it was. So was he referring to his 2007 rookie hold out as the "non-holdout"? Some of our followers were very curious to know, as well, as they flooded Cole's mentions asking for an explanation. Lucky for everyone involved, Cole was kind enough to elaborate on that, revealing that he was, in fact, referring to 2007 as the non-holdout. As you can see by the tweet above, Cole's argument is that since Revis did not have a contract prior to his rookie season in 2007, it was not a hold out, but simply a "negotiation," despite reports of this exact instance deeming it a holdout here, here, here, here, here, here, and…okay, you get the point. It is well known and well documented that Darrelle Revis has staged two holdouts over the past six years. Yet, Cole was adamant in his claim that 2007 wasn't a hold out. After telling us we didn't know what they were arguing over, I kindly deferred Cole's argument as pictured below. Yet Cole would not give. Instead, he goes on to claim that the Jets were the side holding out. Yes. Cole claims that the team would not allow Revis to sign the contract because they weren't comfortable with the terms of it. You know, the terms that they drafted. So, rather than get their first round pick into training camp on time, the Jets were holding him out and wouldn't allow him to join the team. This was a first. Despite my article, the one that began this whole debate, clearly stating "Whether you blame the player, his agents, or the organization is irrelevant to this argument," Cole begins to get defensive and suggests we do our homework before blaming Revis. We were baffled by this. Apparently, so too was Mike Florio of Pro Football Talk who disputed Cole's claim. Cole counters Florio by telling him that Revis was not holding out for more money, but rather the Jets wanted a 6th year on the contract. He then takes a slight dig at Florio, curiously going on the defensive again, by claiming that Mike does not remember the details of the situation. Florio then counters by offering an apology to Cole, who he deems the "wise and knowledgeable keeper (of) the NFL truths." Cole, seemingly getting upset that nearly everyone who has a twitter is disputing his claim, goes on to tell Florio that he does "the same all the time." We are not exactly sure what Cole is referring to here, so we will leave that untouched. Florio, ending the brief debate with Cole, suggests that the Yahoo columnist is, in fact, twisting details to avoid addressing what the argument is about. Cole, seemingly ready to stick to his guns in arguing that a player without a contract can not be deemed as a player holding out, then gets a question from Twitter user PatriotsXLVIII. He refers Cole to a piece he wrote on the holdout of Michael Crabtree prior to signing to his rookie deal back in 2009, which can be found here. For someone arguing Cole's stance, the headline with his name and picture in the by line directly next to it, would certainly contradict that. Seriously, just go back and read his entire argument, then read nothing but the headline of that article without trying to laugh. Cole agrees that PatriotsXLVIII has made a fair point, as displayed in the tweet below. But Cole won't surrender just yet. He claims he was wrong back then, and that the situation with Revis and the Jets was different, because the Jets were persistent in wanting a 6th year. No one is disputing the details. But a hold out is a hold out. Before we could ask anything else, Cole suddenly concedes and let's us know he is heading to bed. Unfortunately, Cole took cover before having to explain why he is contradicting points he has made in the past. Here is an article written by Cole in September of 2010, nearly an exact year after his Crabtree piece, in which he does, in fact, report that Darrelle Revis held out prior to his rookie year in 2007. So, let's get this straight. According to Cole, it is a hold out in 2009 for Michael Crabtree when he doesn't sign his proposed rookie contract. In 2010, Revis's refusal to sign his rookie contract in 2007 was deemed, by Cole, to be a hold out, yet in 2013, it is not a hold out anymore? Cole reported on the 2009 holdout of Michael Crabtree prior to him ever having a contract. He reported on the 2010 holdout of Darrelle Revis, while referencing his 2007 rookie hold out, the one where he didn't have a contract, deeming 2010 as his second hold out when he wrote… "Whats strange is that the Jets should have anticipated that. The Jets knew agents Neil Schwartz and Jonathan Feinsod well enough to understand that this wasn't going to be easy if they didn't take a strong approach. It wasn't the first time considering Revis held out as a rookie in 2007." We know TEAM REVIS doesn't like us calling out their media strategy, but unlike John Geiger says this isn't our opinion, it is reality -
Original Story:
http://turnonthejets.com/2013/03/jaso...
THE BACKYARD
BEST OF MAXIM
RELATED ARTICLES
MAKE IT HAPPEN
A report says the Tampa Bay Buccaneers are working to acquire Darrelle Revis in a trade, but there is a hold up with the Jets.
Slowly but surely it seems reports are starting to agree that a deal between the Buccaneers and the Jets for Darrelle Revis will happen during the owners meetings next week. The initial report claiming it will happen also stated a deal was already in place. Friday, an article published in the New York Daily News apparently has a price tag on that said deal after the amount has been...
New York Jets Not Shopping Darrelle Revis? | PlayerPress.com - Sports Commentary, News, Rumors, Blogs, Photos, Videos by Pro Athletes and Fans He's going. He's staying. He's going. He's staying. Will someone just make up their collective mind already? Rumors continue to swirl about the fate of Darrelle Revis. After days of rumors that at least one worthy deal...
Saturday was pay day for Darrelle Revis. The cornerback didn't ink the mega-deal he so desires, but due to a clause in his contract, Revis was awarded a $1 million roster bonus Saturday afternoon. He won't actually receive the payment until later this year, ESPN.com's Rich Cimini reports, but the bonus will count against the Jets' salary cap. Rumors have flown regarding the...
Jets star cornerback Darrelle Revis, the subject of trade rumors, has earned a $1 million roster bonus as a result of a clause in his contract with New York. According to the clause, the bonus kicked in on Saturday since Revis remains on the Jets' roster - not traded or cut - at the end of the business day. There has been intense speculation during the past several weeks that...
The Tampa Bay Buccaneers want Darrelle Revis and the Jets want to get rid of him, so whats the hold up?  ESPN New York via Yahoo Sports is reporting that the Buccaneers refuse to part ways with this years first round pick, #13 overall. As we reported yesterday, they would be willing to part ways with their first round pick in 2014.  Reports suggest that Jets GM John Idzik would...
The Tampa Bay Buccaneers have emerged as the favorite to acquire New York Jets cornerback Darrelle Revis, and the team's management is now "fully on board" with a trade involving the All-Pro, according to Jason Cole of Yahoo! Sports. Cole notes that, at this point, the holdup is what the Jets are willing to accept in exchange for Revis. Tampa Bay doesn't want to surrender...
The Tampa Bay Buccaneers want Darrelle Revis and the Jets want to get rid of him, so whats the hold up?  ESPN New York via Yahoo Sports is reporting that the Buccaneers refuse to part ways with this years first round pick, #13 overall. As we reported yesterday, they would be willing to part ways with their first round pick in 2014.  Reports suggest that Jets GM John Idzik would...
4:00 p.m. came and went, and there was no activity on the Jets and Darrelle Revis front, so all indications are that the New York Jets paid Revis his $1 million roster bonus due to him according to Manish Mehta. Darrelle Revis is scheduled to earn a $1 million roster bonus from the Jets today (4 pm ET). #nyj — Manish Mehta(@MMehtaNYDN) March 16, 2013 Revis also is due to receive...
Yes that's right. The ongoing back and forth reports of the Jets trading Darrelle Revis to the Bucs will go on until the trade happens or not. And this write up is no different because there is a rebuttal to rebuttal. CBS Sports' Jason LaCanfora, as of 2:56pm, writes the following: Despite statements to the contrary by the Jets, trading star cornerback Darrelle Revis remains...
All 32 NFL teams are pouring over their options to begin the new league year. Of course when a store opens for business, there will be the early goldrush of teams looking to improve their chances of bringing a championship back to their city. These are the top 5 situations that made the second day of NFL free agency notable. Please click here to read this story. #5 Revis Island...
NFL News

Delivered to your inbox

You'll also receive Yardbarker's daily Top 10, featuring the best sports stories from around the web. Customize your newsletter to get articles on your favorite sports and teams. And the best part? It's free!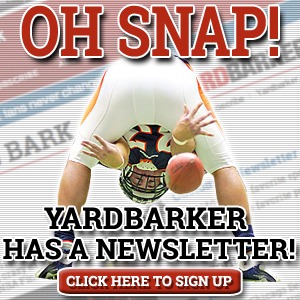 Latest Rumors
Best of Yardbarker

Today's Best Stuff

For Bloggers

Join the Yardbarker Network for more promotion, traffic, and money.

Company Info

Help

What is Yardbarker?

Yardbarker is the largest network of sports blogs and pro athlete blogs on the web. This site is the hub of the Yardbarker Network, where our editors and algorithms curate the best sports content from our network and beyond.