Found October 11, 2012 on Fox Sports Wisconsin:
GREEN BAY, Wis. -- The relationship between Packers quarterback Aaron Rodgers and tight end Jermichael Finley frequently boils down to one word: chemistry. In Finley's mind, chemistry between the two is often directly related to his personal statistics and those of the offense as a whole. With Green Bay's 2-3 record and an offense ranked 21st in the NFL in total yards and 18th in scoring, Finley believes his chemistry with Rodgers has a ways to go. "It's OK," Finley said Wednesday. "Not good enough at all. Something to be worked on, and try to work on it as much as I can, try to talk to him as much as I can, but like I said, it takes two people." Finley dislocated the AC joint in his right shoulder in Sunday's loss to the Colts, but he is still hoping to play this weekend when the Packers are in his home state to face the undefeated Houston Texans. Considering that he'll be playing injured if he's cleared for the game, Finley was asked whether he can take his game to the level he wants with his shoulder the way it is. "I can, (but) it takes two people to do that," Finley said. "And I need the quarterback on my side, and I need to catch the ball when he throws it to me. So it takes two things to get that going, the chemistry. I feel we need to get that going." This is far from the first time Finley has raised the issue of chemistry between he and the reigning NFL MVP. "I'm not blaming it on my offseason, but me and the QB didn't have chemistry," Finley said on June 1 following Green Bay's first OTA practice. "The routes were off sometimes, and that'll mess with your head when the ball comes." Later in that same interview, Finley added: "I couldn't get the chemistry with the QB." Finley, who signed a two-year, 15 million extension this offseason, is on pace for 134 fewer receiving yards than a year ago. Through five games, Finley has 22 catches for 198 yards with one touchdown and one fumble. According to ProFootballFocus.com, Finley also has five drops this season. "I think everybody's gotten lost in the (Rob) Gronkowski numbers and Jimmy Graham numbers, going for a K (1,000 yards) a year," Finley said of the standout tight ends from the New England Patriots and New Orleans Saints. "I mean, that's unheard of. Five years ago, you'd get in the Pro Bowl (as a tight end) at 500 yards. It's just gotten lost. "I think I'm doing fair. I think I'm doing well, doing what I'm supposed to do. I think I'm giving my all out on the field, for sure. I think I'm doing fair. I'm not doing the best I can do, of course, but hey, who said it was going to be a great year?" In an interview with FOXSportsWisconsin.com on Aug. 7, Finley had high aspirations to finish with a season as good or better than any tight end in the NFL. "With my ability and what I think I can do, I'd say (statistically finishing in the) top two, that's my goal," Finley said at the time. "Those guys (Gronkowski and Graham) did have that one hit this year when they were rolling and hot, and they had the chemistry going and their quarterback's trust. "(Tom Brady and Drew Brees) threw them the ball 20 times a game. You get the ball 20 times and you catch 10 of them, you should be doing something." Finley's agent, Blake Baratz, made headlines earlier this season when he posted on Twitter that Rodgers is not a great leader. Finley later disagreed with Baratz's comments but said his agent can say whatever he wants because it's just one person's opinion and it doesn't reflect his own beliefs about Rodgers. And though Finley speaks about chemistry regularly, he also defended his quarterback on Wednesday when asked whether he agreed with Rodgers' own assessment that the quarterback wasn't playing as well as he did last season. "I would say, first of all, that's a leader taking the blame on himself," Finley said. "That's what you're supposed to do as a player, like I would say it's on me. So you've got to check yourself. I think that's leadership. "I think he's playing good, but like I said, this is a team sport, and it's going to take all 11 of us on the field when he's on the field with us. I don't put it all on him. It's his receiving corps, we're dropping balls; it's his linemen not blocking for him. He's got a lot to think about. I would be scared, too, if I was getting hit like that." Follow Paul Imig on Twitter.
Original Story:
http://www.foxsportswisconsin.com/10/...
THE BACKYARD
BEST OF MAXIM
RELATED ARTICLES
Im sure all football fans can agree that Aaron Rodgers and the Green Bay Packers hasnt been looking like themselves and if you dont think so, Rodgers agrees that he himself hasnt been playing his best football. Our friends over at ProfootballZone.com has a snippet of Rodgers interview with 540 AM in Milwaukee via NFL.com: "I set the bar high and I expect to play at a higher level...
GREEN BAY, Wis. -- Now that the Packers have a 2-3 record and are struggling this season, the questions to quarterback Aaron Rodgers during his weekly meeting with the media were a bit more direct than usual. Rodgers addressed the offense's issues, his interceptions, playing the undefeated Houston Texans this weekend and much more.Five question-and-answer highlights:1. Why do...
At 2-3 are the Green Bay Packers in trouble?Last season the Packers survived off the arm of Aaron Rodgers who threw 45 touchdowns and only 3 interceptions. Thus far in 2012, Rodgers has only 10 touchdowns to 4 interceptions, which projects him to have approximately 32 touchdowns and 13 interceptions on the season. Those stats are not the stats a winning team can have when surviving...
Quarterback Aaron Rodgers talks about the state of his season; plus injury reports and much, much more from a newsworthy Wednesday at Lambeau Field.
GREEN BAY, Wis. -- Packers running back Cedric Benson has been placed on injured reserve after suffering a Lisfranc injury to his left foot Sunday. But unlike previous NFL seasons, Benson will have a chance to get back on the field later this year due to a new league rule that allows each team to designate one player for a possible return. With Benson being given that designation...
Jermichael Finley has little doubt about his playing status this weekend. ''I'm feeling good about Sunday,'' the Green Bay Packers tight end said Friday. The outlook for some of Finley's teammates is not so rosy. Green Bay (2-3), which has been rocked by injuries early in the season, will be missing another starter when it faces the unbeaten Texans (5-0...
Big ups to the guys at ProFootballMock.com. No sign of Brandon Weeden or Colt McCoy anywhere... Follow this link for the whole epic conversation.
GREEN BAY, Wis. -- There's defiance in their voices -- a sense of frustration that some of the blame is falling on them. The Packers' wide receivers believe they've done their part this season. They've watched the film of the first five games, and it all checks out. They see plenty of separation between themselves and the cornerbacks assigned to cover them. They look...
NFL News

Delivered to your inbox

You'll also receive Yardbarker's daily Top 10, featuring the best sports stories from around the web. Customize your newsletter to get articles on your favorite sports and teams. And the best part? It's free!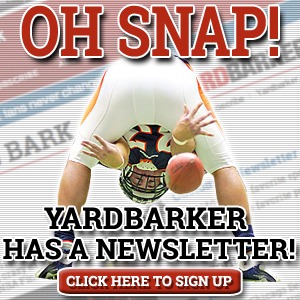 Latest Rumors
The Backyard

Today's Best Stuff

For Bloggers

Join the Yardbarker Network for more promotion, traffic, and money.

Company Info

Help

What is Yardbarker?

Yardbarker is the largest network of sports blogs and pro athlete blogs on the web. This site is the hub of the Yardbarker Network, where our editors and algorithms curate the best sports content from our network and beyond.