Found September 25, 2012 on Fox Sports Ohio:
PLAYERS:
Sam Shields
,
Nick Collins
,
Hank Poteat
,
Eric Mangini
,
Haloti Ngata
,
Mike Holmgren
,
Tom Heckert
,
Greg Little
,
Jordan Norwood
,
Josh Gordon
,
Mohamed Massaquoi
,
Michael Vick
,
Brad Childress
,
Joe Flacco
,
Sheldon Brown
TEAMS:
Green Bay Packers
,
Cleveland Browns
,
Baltimore Ravens
,
Philadelphia Eagles
,
Bowling Green Falcons
1) Nothing like a good controversy to take the focus off the local bad team. Midday Monday the Browns were struggling to explain another 0-3 start -- the fourth in the last five seasons -- and dropped passes and poor defense and all that stuff theyve been trying to explain for 13 years. But shortly after midnight Monday the focus became the scabs err replacement refs who botched the end of the Seattle-Green Bay game. One envisions the Browns staff gathering like the old 1972 Dolphins after the play, popping champagne because they realized the replacement refs might take some of the focus. 2) Bottom line on the replacement officials is the all-powerful and all-knowing NFL asked for this situation by not settling with the regular guys. It was only a matter of time until something stupid would cost some team a game. Lo and behold, it happened. Of course we should also realize that the NFLs financial situation makes it tough for them to actually pay the real refs. The league is buried so deep in cash it cant get its arm free to sign a new agreement. 3) One other point on that play: How anyone shrugs off Golden Tate shoving Packers safety Sam Shields and getting away with it is mind-boggling. The shove was blatant. Former Packers safety Nick Collins posted on Twitter that Tate put Shields at risk of serious injury, and he did. Yet the ref swallows a flag on an obvious shove that resulted in a guy being pushed forward with his head down and into the waist of another player. The league talks about player safety and this, that and the other thing and it hires fake refs who turn the other way to a dangerous play at a key moment of the game. That shove alone -- it was reminiscent of Hank Poteat knocking down the Lions receiver in Detroit on the last play of the game in the Eric Mangini days -- should have meant no catch, no TD and game over with the Packers winning. 4) Why do players get upset? Thursday night in Baltimore, Henry Zaborniak will be the field judge. Zaborniak is a local guy who went to Ohio Northern and Bowling Green. His present job: Director of Officiating for the Ohio High School Athletic Association. Zaborniak officiated games in the Big Ten for 15 years until he retired in 2011. Thats better than dragging a guy out of the Lingerie Football League, but the league is asking a guy whos running a high school officiating association to go from retirement to telling Haloti Ngata hes lined up wrong. 5) As for the Browns, when this season began, I felt that they would be an improved team but the record would not show it because the schedule was so tough. But the game against Buffalo was always considered -- for some reason -- winnable. Pete Prisco of CBSSports.com actually predicted that the Browns would win one game all season, and that victory would come over Buffalo. Well, that game has come and gone. And the Browns didnt just lose, they lost in very bad fashion, leaving everyone angry and frustrated and all that stuff. Things do change in the NFL from week to week, but it now appears that the belief for improvement is certainly shaken. As for the record well theres always 2019. 5.5) This is the point where uncertainty takes a toll. Jimmy Haslam will be named the teams new owner on Oct. 16, which puts the job of everyone in Berea in question. When the sale of the team was announced -- fittingly, for the Browns, on the first day of training camp -- it meant that changes were coming and the only way to avoid them was to win. The silver lining on the timing was this coaching staff had a chance to prove itself. But the Browns started 0-3 and though the games were close and winnable, the Browns found a way to lose them all. Of the last 113 teams to start 0-3, four made the playoffs. The Browns schedule makes the dream of joining that quartet longer than long. Coaches know this. So do GMs. And presidents. Nothing has been cemented, but Mike Holmgren may attend the meeting that leads to him losing his job in Cleveland. Tom Heckert knows a new owner probably wants his own GM, so it would be surprising if he werent casting around for next year already. And every assistant coach is working with one eye on his next job and one on this job. Losing increases the stress -- the head coach clearly is feeling it -- and usually when that happens the pressure is transferred to the players. Players start to resent it and fissures develop. Winning might fix that, but the Browns couldnt compete in a home game against Buffalo. This season is already starting to look like it could be epically bad. 6) Its impossible not to like Greg Little. Hes a straightforward guy. And he truly believes he is a huge playmaker on this team. His words. His drops are a constant source of aggravation, and his posing just made the situation worse. But when a guy is on the field for 61 of 63 offensive plays, then the coaching staff is not going to bench him the next week. In three games, Little has been on the field for 165 of the Browns 189 offensive plays -- or 87.3 percent. To think that hes suddenly going to disappear from the offense in lieu of Jordan Norwood and Josh Gordon in a short week when Mohamed Massaquoi might not play is to think Atlantis will next open a resort in Fargo. 7) To pretend that Joe Hadens absence is not affecting the secondary is also foolish. In the opener, the defense forced five turnovers. In the next two games, they forced two. In the first game, the Eagles scored 17 points. In the next two, the Bills scored 34 and 24. In the first game, Mike Vick threw two touchdown passes. In the next two, the Bengals and Bills threw six -- to six different receivers. Hadens absence has the Browns juggling three corners and moving safeties in and out of the lineup. A starter suddenly is inactive, and a rookie who barely played is in the rotation. All done, as Shurmur said, to find the right combination. He might need Danny Ocean to jump out of the movie screen to break that code. 8) On Tuesday, Shurmur told the media: Im not talking about lineup changes or injuries. Because, well, you know things have gone so well not talking about them so far. As for the injured, Massaquoi did not practice Monday or Tuesday, but offensive coordinator Brad Childress said he expected Massaquoi to play on Thursday. Gotta figure Childress was giving the Ravens one more thing to worry about as they prepare for the Browns offense. 9) Joe Flacco is in his fifth season. Hes 8-0 against the Browns, though he has yet to play the Browns in the playoffs. 10) Its easy to get sarcastic when a team struggles, and when a team struggles for 13 years its easy to get very sarcastic. Shurmur clearly does not want to lose. He spends countless hours working his you know what off to try to win. His methods might not be the same as everyones, but hes the head coach and he deserves the chance to do it his way. He is not trying to lose. Really, the one safe thing that can be said is nobody with the Browns wants to lose. But when things go as they have for so long, and when promise after promise comes along that is not met, it gets old. Methuselah old. When Shurmur said he wouldnt talk about lineup changes or injuries, you had to wonder why have the news conference? Defensive coordinator Dick Jauron said he didnt notice any Bills fans in Cleveland Browns Stadium, making him the only person in the continental 48 not to notice. And Jauron also said the defense is playing hard and playing fast. Offensive coordinator Brad Childress followed, and he said Shurmur told the team that RVs go on the road and plug into other peoples electricity and thats what the Browns would be doing in Baltimore, plugging into their electricity. Shurmur told the media, though, that he doesnt want his team thinking about playing on the road, that its not worth worrying about distractions. As he spoke, I thought of Jimmy Johnson wanting to go on the road and telling his team to take it as a challenge to silence the crowd. Shurmur was telling his team not to think about it. And talking RVs and electricity. Go figure. Just win a game. Like last week, there are bonus items in the blog, this time including a memorable quote from Sheldon Brown. For that, we kindly ask you you to go here, and please, drive carefully.
Original Story:
http://www.foxsportsohio.com/09/25/12...
THE BACKYARD
BEST OF MAXIM
RELATED ARTICLES
Guys like Greg Little who drop the ball yet do a dance while we're 0-3? I would sit his ass down and tell him, 'listen my friend, there's no I in team, but there's two I's in "idiot." Get the job done and stop the B.S.' – Fomer Cleveland Browns head coach Sam Rutigliano, in an interview on 92.3 The Fan, when asked what he would do with wide receiver Greg Little...
The task of beating a more talented divisional opponent won't be any easier for the Browns now that Mohamed Massaquoi has officially been ruled out of the game. Earlier this week the Browns seemed at least somewhat hopeful that Massaquoi would be available. Or maybe they wanted the Ravens to think they were hopeful. Either way, he is now out. Additionally, the Browns will have...
Week four of the 2012 NFL season begins Thursday Night with the Baltimore Ravens (2-1) hosting the Cleveland Browns (0-3) in a battle of AFC North rivals. The Cleveland Browns offense creates a golden opportunity for the struggling Ravens defense to get back on track this week. Cleveland has struggled on the offensive side of the ball thus far as only four teams have scored...
Getty Images Travis Benjamin caught two passes for 44 yards with a touchdown in the Browns' Week 3 loss to the Bills. Benjamin's first career touchdown was a pretty 22-yard strike where he burned Stephon Gilmore to the left corner of the endzone which had the Browns within three points in the third quarter. However, he continues to play behind Greg Little, Mo Massaquoi and...
We can pretty much guarantee that the Browns will be playing the Ravens under the watchful eye of replacement officials on Thursday night, but it seems there might be a chance that the regular officials will be on hand for this weekend's games. So we'll just have to see how badly NFL owners want to move away from the existing pension plans. [Related:Let's talk about money and NFL referees]
BEREA, Ohio (AP) -- Once he's handed the ball on Thursday night, Trent Richardson knows what's next. Hall of Fame-level contact. "Ray Lewis is going to come at me," the Browns rookie running back said, "and I'm going to come right back at him. That's football." Richardson, quarterback Brandon Weeden and Cleveland's other rookies are about to...
Fans around the league might not remember the Sunday game anymore, now that a wild Week 3 has been capped by one of the biggest referee mistakes in history. The Ravens pulled off a crazy last-minute upset, fueled by a grieving Torrey Smith, and may or may not have missed the field goal.After all those ups and downs, will they be able to show up for the divisional matchup against...
As it has been previously noted on this site, when you mix rowdy NFL fans and alcohol bad things are bound to happen. Check out this fan fight between the Buffalo Bills and the Cleveland Browns from last Sunday's game: (Courtesy of 104.5 The Team)
Cleveland Browns (0-3) at Baltimore Ravens (2-1)Thursday, 8:25 ET, NFL Network, Brad Nessler, Mike Mayock, Alex Flanagan Last Meeting: The Ravens won, 20-14, at home last Dec. 24 with QB Joe Flacco throwing a pair of touchdown passes. Streaking: The Ravens have won 12 straight home games and 20 of their last 21 at M&T Bank Stadium. The engine that can: Browns RB Trent...
The head coach discusses the Baltimore Ravens and briefly touches the subject of WR Greg Little.
NFL News

Delivered to your inbox

You'll also receive Yardbarker's daily Top 10, featuring the best sports stories from around the web. Customize your newsletter to get articles on your favorite sports and teams. And the best part? It's free!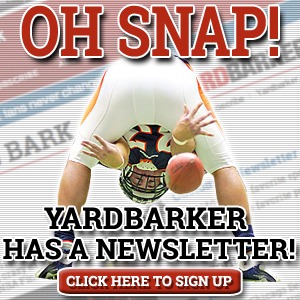 Latest Rumors
The Backyard

Today's Best Stuff

For Bloggers

Join the Yardbarker Network for more promotion, traffic, and money.

Company Info

Help

What is Yardbarker?

Yardbarker is the largest network of sports blogs and pro athlete blogs on the web. This site is the hub of the Yardbarker Network, where our editors and algorithms curate the best sports content from our network and beyond.