Found October 22, 2012 on Awful Announcing:
Sunday's Saints-Bucs game was one of the wildest encounters of the NFL season.  Drew Brees threw for over 300 yards and 4 TDs in the first half.  Jospeh Morgan did this.  Malcolm Jenkins chased down Vincent Jackson at the 1 yard line after a 95 yard reception.  And, Tampa Bay came from 35-21 down in the 4th Quarter to have one last chance at the 9 yard line with 5 seconds left to tie the game with a touchdown. The ensuing sequence has been the most talked about play from Week 7.  Tampa Bay receiver Mike Williams caught what appeared to be the tying touchdown in the back of the endzone after QB Josh Freeman scrambled out of the pocket.  However, a flag was thrown and the catch was ruled illegal touching as Williams had been pushed out of the back of the endzone by Saints CB Corey White.  Game over.  It's the first time I can remember seeing a game end on an illegal touching penalty on an apparent touchdown.  While not quite the jump ball, dual ruling, Hail Mary from Seattle, it was a bizarre way to end an NFL game. Much of the confusion over the illegal touching call came from Fox botching the ending.  John Lynch, a former Pro Bowl safety, tried to argue Williams re-established himself in bounds as an eligible receiver... which had absolutely no bearing on the illegal touching flag.  When the official call was finally made, both Lynch and Dick Stockton glossed over the call and Lynch's erroneous attempt at an explanation... You have to go to this link to watch the NFL's unembeddable video.  First, there was no illegal contact penalty on White because Freeman was out of the pocket.  Second, Williams can't go out of bounds (forcibly or not) and be the first person to touch the ball on a forward pass.  That's illegal touching and there's no doubt the correct call was made.*  The doubt came from the Fox booth and no subsequent explanation of what exactly happened until rules analyst Mike Pereira came on in the postgame to fully explain the call on the field. *This led to the amusing evolution of the conversation surrounding the play.  First came the outcry of another terrible "replacement ref" worthy game-ending call.  Then, when it was finally discovered the correct call was made, it was suddenly the fault of the rule(s) because a football game isn't supposed to end on something as weak as an illegal touching call and there's JUST SOMETHING WE HAVE TO BE ANGRY AT!!! llegal touching is a common enough rule that the analyst has to know there's no such thing as a receiver re-establishing himself in bounds and becoming an eligible receiver in this situation.  It's horrible timing for Lynch since this was on a potential game-tying touchdown on the last play of the game, but this does happen.  No analyst is going to bat 1.000 with the NFL rulebook.   The bigger problem was Lynch and Stockton not giving a full explanation of what happened after the initial confusion and correcting themselves.  Instead, after the official announcement, all we got from Stockton is "still ineligible apparently."  You don't say!  In an NFL broadcast, dealing with "apparently" isn't good enough. Still though, I can give both Stockton and Lynch some leeway.  As much as we poke fun at Stockton, this is one of the more unique ways for a game to end and it's clear he and Lynch were in need of some help.  Again, with the nuclear physics like complexity of the NFL rulebook, there are times when this will happen, especially with the added frenzy of this being the last play of the game. Fox, this is why you have this guy!  Remember him? Where was Mike Pereira seconds after the illegal touching call was made?  This is the one trump card Fox holds over every other network that broadcasts NFL games, and they didn't use it when it mattered most.  Instead, Pereira came on in the studio afterwards to walk viewers through the illegal touching flag.  Pereira needed to be on the air immediately after the play, heck, he should have done play by play for all I care, just to ensure he would be there in case there was a rules interpretation that needed to be made.  The explanation had to be clearly made before viewers changed the channel to Jets-Pats or the NASCAR race or whatever late Sunday afternoon two star movie your local network affiliate was showing. You know why Mike Pereira has been one of the best hires by any sports network in the last five years?  Because he could explain the Saints-Bucs ending quickly, clearly and succinctly so we could all understand it.  For whatever reason, that didn't happen on Sunday until it was much too late and fans were left asking what just happened. But, on the bright side, at least nobody mistakenly declared the New York Jets the winner in Tampa Bay.
Original Story:
http://www.awfulannouncing.com/2012-a...
THE BACKYARD
BEST OF MAXIM
RELATED ARTICLES
New Orleans QB Drew Brees produced a stunning fantasy day on Sunday, throwing for 377 yards and four TDs in a win over Tampa Bay.Fantasy Spin:Brees accomplished almost all of these statistics in the first half when he threw for 313 yards and four scores. Regardless, it's his third straight 300-yard week and over his last four games, the NFL's single-season passing yards leader...
Drew Brees of the New Orleans Saints continued to lead his team in the right direction on Sunday. In Week 7, Brees carried his team to a big win over their division rival, Tampa Bay Buccaneers. Brees began with a monster first half, and was able to close it out in the second. Brees finished with 377 passing yards, 4 touchdowns and one interception. His pinpoint passing once again...
Andrew Juge of the Saints Nation stops by to discuss the Saints win in Tampa. He explains how the offense finally started to click by using great pass protection, the long ball, and Joe Morgan's super powers. He also thinks the running game is close to breaking out. Ralph and Andrew then discuss the defense and they want just want one thing from it; To stop being the worst...
WHAT DID HE SAY?
Washington Redskins rookie quarterback Robert Griffin III has proved to be a very mature, highly savvy young man that belies his age and experience, both on the field and off of it. But if he's anything like most people — which is arguable — RG3 probably cringed after recently taking part in an interview with [...]
The Buccaneers were determined to give another loss to the New Orleans Saints and Drew Brees. Unfortunately for them, the Saints found holes in the Bucs defense throughout the first half that lead to a New Orleans win, 35-28. Tampa Bay started fast with an interception by Ronde Barber off a deflection by Gerald McCoy. On the ensuing play, Bucs quarterback Josh Freeman found wide...
Not to be outdone by his quarterback counterparts, Titans RB Chris Johnson set a record in Week 7, becoming the only player in NFL history with four touchdowns of at least 80 yards.
Jonathan Vilma played for the first time while appealing a season-long suspension for his role in the Saints bounty program and Drew Brees threw for 377 yards and four touchdowns to pace a 35-28 come-from-behind victory over the Tampa Bay Buccaneers on Sunday. While it's debatable how much Vilma's return impacted the Saints defense, the unit turned back two drives near the...
Like most NFC South games, this one was a thriller.In a high-scoring affair, the New Orleans Saints were able to edge out the Tampa Bay Buccaneers in Week 7, 35-28.The Saints traveled to Raymond James Stadium and managed to steal one on the road.In each game, no matter what two teams take the field, there is someone who gets the job done, and there's also someone who could...
QB ChampsJosh Freeman: 420 pass yds, 3 pass TDs, 9 rush ydsSince the Bucs' Week 5 bye, he has 748 yards, 6 TDs, and one pick. Suddenly he's a borderline fantasy starter.Drew Brees: 377 pass yds, 4 pass TDs, INT, 1 rush yd and Aaron Rodgers: 342 pass yds, 3 pass TDsThe top two QBs in the NFL played like the top two QBs in the NFL on Sunday. Brees is averaging an insane 349.5 yards...
NFL News

Delivered to your inbox

You'll also receive Yardbarker's daily Top 10, featuring the best sports stories from around the web. Customize your newsletter to get articles on your favorite sports and teams. And the best part? It's free!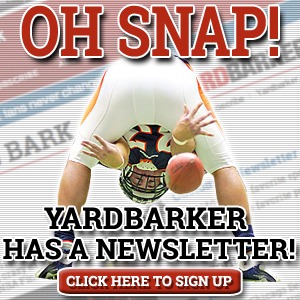 Latest Rumors
Best of Yardbarker

Today's Best Stuff

For Bloggers

Join the Yardbarker Network for more promotion, traffic, and money.

Company Info

Help

What is Yardbarker?

Yardbarker is the largest network of sports blogs and pro athlete blogs on the web. This site is the hub of the Yardbarker Network, where our editors and algorithms curate the best sports content from our network and beyond.