In addition to being a member of the Fantasy Sports Writers Association, Mike Braude is a writer for TheFakeFootball.com and Founder/Owner of APEX Fantasy Football Money Leagues. He was kind enough to give his time to provide insight on some questions and issues currently on the minds of fantasy football players. Take a look at Braude's thoughts before heading into your draft.Could you give a quick overview of Apex Fantasy Football and what it offers? Combining a skill-based format with industry-leading payouts, Apex Fantasy Football Money Leagues are designed to reward the best fantasy football owners for their prowess. As a fantasy addict who played in 16 fantasy football leagues last season, I was disappointed in my options for leagues to play in last year and decided I could create a format that provides fantasy addicts with a better platform to play on – mainly by minimizing the random luck elements of fantasy football.If Adrian Peterson is a given at #1 overall, Arian Foster or Doug Martin? Is there anyone else to consider at #2?Coming off a big rookie year with almost 2,000 total yards and 12 touchdowns, Doug Martin is my guy. With David Joseph and Carl Nicks returning, the Buccaneers will bolster an even stronger offensive line and Martin will return a year older and more experienced. Most underrated running back heading into the season?I debated between answering Shane Vereen and Giovani Bernard for this question but I'm going with Bernard. After watching BenJarvus Green-Ellis plod his way to 3.93 yards per carry last season, the Bengals knew they needed some playmaking ability in their backfield. As the first running back selected in the 2013 NFL Draft, there's certainly a lot the Bengals like about Bernard. A natural pass catcher with quickness, I predict Bernard will be seeing more touches than Green-Ellis by season's end.What is the earliest pick that you could justify using on Calvin Johnson? PPR League?I'm a proponent for taking a running back in the 1st round this season but it's never too early to take Calvin Johnson – especially in a PPR league. I wouldn't blame someone for taking him after Peterson and Martin this year, although that's not the route I would take.Just in case it is not Amendola, who leads Patriots in receptions?I'd have to go with Rob Gronkowski. Although he isn't currently healthy, Gronk is the only reliable name left in New England after this offseason. After that it comes down to a crap shoot between Julian Edelman, Aaron Dobson, and Shane Vereen.Top 3 receiving corps in order?1.     Broncos – Demaryius Thomas, Wes Welker, and Eric Decker. Need I say more?2.     Packers – Jordy Nelson, Randall Cobb, and James Jones combine for one of the most consistent receiving tandems in football. All are young, solid players who help Rodgers move the ball.3.     Falcons – The Falcons don't have a great 3rd wide receiver but I included them on this list because they field arguably the best receiving duo in football, pairing together longtime stud Roddy White and the electrifying Julio Jones.Who is your top ranked QB?My top quarterback is Aaron Rodgers, just a hair above Drew Brees. I give Rodgers the nod because of his consistent ability to add a few scores on the ground every year.Brees still over Matt Ryan?  Brees Wilson or Kaepernick?  Kaepernick Peyton or Eli?  PeytonWho will take most snaps under center for Chip Kelly and the Eagles? Should we even care at this point?I'd put my money on Nick Foles at this point but it's still very much up in the air. For fantasy purposes, the only reason worth paying attention is to see if Michael Vick starts. Vick has proven in the past that he can be a valuable fantasy football commodity.Jimmy Graham appears to be the consensus top TE, who is next?Rob Gronkowski is still 2nd; even if he misses some time over the course of his career he's scored 38 touchdowns in 38 starts. He'll continue his dominance when he returns.Defensive player to take first in an IDP league? When?The best defensive player for IDP leagues is J.J. Watt; the man is a machine and could go as early as Round 5 of a 12-team league.Top ranked DST at season's end?I see the Seattle Seahawks being a dominant defensive force throughout the season. They allowed the fewest points per game last season and they've added defensive ends Cliff Avril and Michael Bennett.What type of scoring format do you personally prefer for defense/special teams? Why?I typically play in leagues that just allow one spot for defense/special teams – I've never played in an IDP league. I prefer to predict offensive stats to defensive stats.What would be your immediate impulse if asked to name an under the radar sleeper? My favorite deep sleeper is Emmanual Sanders. The Steelers have a lot of targets up for grabs with Mike Wallace gone and Heath Miller still recovering for a devastating injury. Sanders will be a big part of the Steelers' attack and is currently undervalued in fantasy drafts.Super Bowl Winner?I have to go with the Seattle Seahawks. They are the best team in terms of being able to deliver in all four facets of the game – passing the football, rushing the football, stopping the pass, and stopping the run. Along with allowing the fewest points per game last season, the Seahawks led the NFL in rushing. This year they've added dynamic playmaker Percy Harvin.
Original Story:
http://www.wetalkfantasysports.com/20...
MORE FROM YARDBARKER
NFL News

Delivered to your inbox

You'll also receive Yardbarker's daily Top 10, featuring the best sports stories from around the web. Customize your newsletter to get articles on your favorite sports and teams. And the best part? It's free!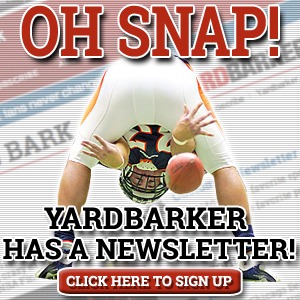 Latest Rumors
Best of Yardbarker

Today's Best Stuff

For Bloggers

Join the Yardbarker Network for more promotion, traffic, and money.

Company Info

Help

What is Yardbarker?

Yardbarker is the largest network of sports blogs and pro athlete blogs on the web. This site is the hub of the Yardbarker Network, where our editors and algorithms curate the best sports content from our network and beyond.