Found June 05, 2012 on Thoughts from the Dark Side:
The Raiders addressed a major need with the 129th pick in the 4th round of the 2012 Draft when they took Miles Burris out of San Diego State. Burris, a redshirt senior, was extremely durable in his four years playing at San Diego State as he was in 12 or 13 games each of 4 season. He had more than 75 tackles in both his junior and senior season and those two seasons combined also yielded 17.5 sacks and 2 forced fumbles. Burris earned acolades for more than his on-field achievements, too, being named a Mid West Conference all-academic honoree multiple times. Burris will start his Raiders career at OLB, per head coach Dennis Allen, but has the versatility to be able to play both outside and inside. Burris was kind enough to take some time and answer questions for TFDS.  You can follow him on Twitter @MilesBurris   Questions: Q: What is your home town/state?
Burris: Granite Bay, CA
Q: Did you root for a particular NFL team growing up? Who? Why?
Burris: Of the Bay Area teams I followed the raiders an went to quite a few games growing up, always loved watching them play. I also followed the Tennessee Titans because I was a big Steve McNair fan.
Q: Did you have an idol growing up? Who?
Burris: I've been a Christian since junior high so my biggest idol and example I try to live by is Jesus Christ. My father has had a huge influence on me as well in all aspects of life.
Q: What are your strengths as a player? What do you bring to the team?
Burris: I'd say my strength and explosion from a physical standpoint. I also bring versatility and a great work ethic.
Q: Did you meet with anyone from the Raiders coaching staff prior to being drafted or come to Alameda for a visit? Did you know they had
any interest in you?
Burris: I met with the coaching staff at the combine. They expressed interest and said the like the way I play the game. Q: Prior to being drafted, did you know anyone currently on the squad or coaching staff? What did they tell you about the team?
Burris: Other than meeting the coaches at the combine, I did not know anyone affiliated with the team. Q: What was your major at San Diego St? What do you like about that field?
Burris: My major was Business Management. I liked being able to learn about people and the different ways to manage and motivate different people with different personalities.
Q: What hobbies do you have away from football?
Burris: I like to work out, I play the guitar a little bit and love to watch movies.
Q: If you're a gamer, what system and (if you don't mind) what is your ID so Raider Nation can play against you?
Burris: I actually kind of fell out of playing video games, I'll have to pick it back up next off season when I have more time on my hands.
Q: Which NFL player do you compare your skill set with?
Burris: I don't really know, I just go out there and at my best game and compete with myself.
Q: Is there anything you'd like to say to Raider Nation?
Burris: I'm 100% committed to helping this team win.
Original Story:
http://www.tfdssports.com/2012-articl...
THE BACKYARD
BEST OF MAXIM
RELATED ARTICLES
The Oakland Raiders announced earlier today that Dez Bryant has signed the tender they had offered Bryant as a restricted free agent.  According to ProFootBallTalk, it is a one year contract worth $1.927 million for the season.  Bryant would then become an unrestricted free agent, unless he and the team come to an agreement before [...]
The Oakland Raiders have formally announced that Marcel Reece has signed his "exclusive rights" tender.  Up to this point Reece has missed some voluntary training, and a few workouts along with the first wave of OTA's (organized team activities).  Raider fans were getting pretty antsy, wondering why Reece had yet to sign.  In reality, though, [...]
A team spokesman clarified the terms of last year's blockbuster trade between the Oakland Raiders and the Cincinnati Bengals, which was orchestrated by then head coach/de facto general manager of the Raiders, Hue Jackson.  The deal shipped Carson Palmer to Alameda for a couple of draft picks.  At the time, it was believed that the [...]
What's up RaiderNation? Well, last week we spoke about the offensive juggernaut that is developing on the Raiders. This week I thought I would talk about the new defense that will be on the field this year. As we all are quite aware, the defense was our Achilles heal last year, folding in many games [...]
A 2nd round pick in 2011, Stefen Wisniewski didn't have the best rookie year for the Oakland Raiders in 2011, but he had an excuse. According to a report by the Oakland Tribune this season, Wisniewski played the entirety of last season with a torn labrum. Moving to his natural position, center, and with new offensive coordinator Greg Knapp installing a zone blocking scheme he fits...
Exclusive rights free agent fullback Marcel Reece re-signed with the Oakland Raiders on Monday afternoon. Reece, 26, had been absent from OTAs this past month in search of a more long-term lucrative deal, but decided to sign his one-year tender of $540,000 to remain with the team.  The 6-3, 240-pound Reece will be eligible for restricted free agency in 2013. Easily the most athletic...
Mike Goodson didn't get a carry last season, but he has some experience and he's still young, so the Raiders traded a reserve offensive lineman to get him from the Carolina Panthers. Now he is getting the bulk of the 1st team reps in OTAs at running back. This is not an indictment on Darren McFadden, who is simply absent while leading a youth football camp, but it is something...
Getty Images According to Jason LaCanfora of CBS Sports, Oakland Raiders fullback Marcel Reece has signed his restricted free agent tender and will now report to the team facility to participate in OTA's. Reece was holding out hope of scoring the long-term contract that he desires.  But with the acquisition of Owen Schmidt, he's in jeopardy of possibly losing his starting job.
Getty images Philadelphia Eagles cornerback Nnamdi Asomugha made an appearance on WIP in Philadelphia with Anthony & Glen (via SportsRadioInterviews.com) and claimed that going 8-8 in Philly is a lot different then when he went 8-8 during his time with the Raiders. "It's true. The 8-8 in Oakland? We were perennially the last team in the AFC West. We would win maybe two...
Raiders restricted free agent Marcel Reece signed his exclusive rights tender yesterday and will be practicing with the team beginning today, the team announced yesterday. Reece had little leverage and a hold out seemed very unlikely as no team had made him an offer and his choice was to either sign his tender or hold out for the season. There are rumblings that the Raiders and...
With their sixth round, 189th pick overall, of the 2012 draft, the Raiders tabbed DT Christo Bilukidi from Georgia State to join their roster.  Bilukidi became the first player ever selected from the Division II school.  Bilukidi played in basketball in Ottawa, Ontario, Canada and has only somewhat recently become a football player as a Senior in High School.Bilukidi played for...
Every NFL Franchise has it's own pantheon of football gods. That group of players who are not only historic in terms of talent, but even more than that, these are the players who you have to talk about when you tell the story of your team. This is part of a 32 article series where I tell you who I would put among that elite group. For this, it's Mt. Rushmore. 4 players only....
NFL News

Delivered to your inbox

You'll also receive Yardbarker's daily Top 10, featuring the best sports stories from around the web. Customize your newsletter to get articles on your favorite sports and teams. And the best part? It's free!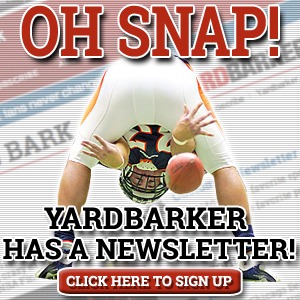 Latest Rumors
Best of Yardbarker

Today's Best Stuff

For Bloggers

Join the Yardbarker Network for more promotion, traffic, and money.

Company Info

Help

What is Yardbarker?

Yardbarker is the largest network of sports blogs and pro athlete blogs on the web. This site is the hub of the Yardbarker Network, where our editors and algorithms curate the best sports content from our network and beyond.