Found August 17, 2012 on RotoAsk:
PLAYERS:
Peyton Manning
,
Michael Vick
,
Roddy White
,
Ahmad Bradshaw
,
Adrian Peterson
,
Greg Jennings
,
Calvin Johnson
,
Demaryius Thomas
,
Reggie Wayne
,
Tom Brady
,
Jacob Tamme
,
Dallas Clark
TEAMS:
Philadelphia Eagles
,
Atlanta Falcons
,
New York Giants
,
Minnesota Vikings
,
Green Bay Packers
,
Denver Broncos
,
Indianapolis Colts
,
New England Patriots
,
Tampa Bay Buccaneers
I make 12 Player Predictions going into the 2012 Fantasy Football season! Quarterback: Prediction: Manning starts all 16 games in 2012 Peyton Manning plays in all 16 games – At first I doubted the idea that Peyton Manning could return to his 2010 form of 4,700 yards and 33 TDs in his first year back, but I am starting to come around. As the title states I believe Manning will start all 16 games for the Broncos this season. He looked very accurate in his first preseason action, as he was putting the ball into the hands and chests of almost every target who looked at. Thomas, Decker and Tamme all caught passes from their new QB in the game. With the league shifting towards a pass-first approach from more and more teams, I like Manning's chances of matching, if not creating career highs despite his neck. Thomas looks to be the perfect candidate for an athletic deep threat, while Decker looks like a great slot receiver. Tamme and Peyton have a history from Indianapolis and should start clicking right away. I am going to lock Manning in for 4500 yards and 35 TDs in 2012. Michael Vick rushes for at least 6 TDs in 14+ games – Vick took a huge step back in the running game last year, netting only one rushing TD after having 9 the year before. I am expecting Vick to play a little smarter this year and not get as unlucky, allowing him to play in at least 14 games this season. I was going originally going to split the difference and say that Vick would rush for 5 TDs, but I think he will be able to steal a few of McCoy's 20 total TDs from last year and rush for at least 6. I am going with about 3600 yards and 21 TDs in the air, with about 600 yards and 6 TDs on the ground. Matt Ryan throws for 4000+ yards and 30 TDs – Considering that Mat Ryan now has two WRs ranked inside the majority of analyst's top-10 at wide receiver, he must be a solid QB. Despite an impressive young career and a lethal WR combo of Roddy White and Julio Jones, Matt Ryan is still struggling to join the conversation of top-10 QBs. He is coming off a career best season of 4100 yards and 29 TDs; in 2012 I am expecting closer to 4500 yards and 33 TDs. For those who are afraid of Peyton Manning's neck issues, Ryan currently possesses similar fantasy potential going into the season. Running Back: Darren McFadden does not suffer season ender, plays 13+ games – While I am predicting that DMC doesn't suffer a season ending injury, I am not ruling out the chance of him still missing a game or two due to minor injuries. But since I am predicting that McFadden will play in 13 or more games, I am also predicting that he finishes as one of the top fantasy RBs in the league. McFadden has shown every time he steps on the field how dominate he is, he just needs to stay on it. I am looking for DMC to play in 14-15 games, finishing with around 1400 yards and 12 rushing TDs while adding 500-700 yards and 2-4 TDs passing. If Bradshaw gets the 250 carries he deserves he can be a great choice in a shallow RB draft pool Ahmad Bradshaw gets 250+ carries, going for 1100+ yards – In 2010 while getting 276 carries Bradshaw ran for more than 1200 yards with 8 TDs. In 2012, with hopefully healthier ankles and no Brandon Jacobs, Bradshaw will get at least 250 carries again this year. Rookie David Wilson will be getting a few touches each week, but as long as Ahmad can keep his ankles together he will be able to use those 250 touches to amass at least 1100 yards with double digit TDs. Adrian Peterson finishes inside the top-10 running backs – There are countless reports out about how good Peterson has looked in his knee rehab so far, but it is Peterson himself who is the main supporter of his own return to the field for week one of the regular season. While I am not banking on him being a starter for the Vikings on week one, I am looking for him to be the starter by week three. The Vikings don't have much going for them on offence, so they are going to need Peterson back as soon a they can get him and are going to resume giving him the ball 20+ times per game without much delay. It is hard to find RBs who are locks to get 20+ touches a week, which Peterson will be once he is healthy. I am expecting Peterson to end the season with more than 1200 rushing yards and 12 TDs. Wide Receiver:  White is still Matty Ice's go-to-guy and should hold off Julio for another season as the Falcon's top fantasy wideout Veterans outperform youngsters in key WR duos – There is a lot of hype surrounded talented young WRs Jordy Nelson, Julio Jones and Victor Cruz, with many people arguing they should be drafted ahead of their veteran counter part. I myself feel that Greg Jennings, Roddy White and Hakeem Nicks to be the players to target. Even if you don't agree that the vets will outdo the young guns, you have to look at the draft day value. I have seen Julio Jones go into the 2nd round in many drafts, while Roddy falls to the 3rd. Jones MAY beat White, but not by enough to warrant taking him a full round earlier; I feel the same goes for Nelson and Cruz. Nelson will be hard pressed to catch another 15 TDs this year, while Jennings is going to be healthier than lat year. Cruz had an NFL high last year in terms of TD plays of 60+ yards, something I guarantee he does not do again this year. I have pointed out several times that Cruz was so electric largely due to massive plays such as his 80-yard and 99-yard TDs from last year. Those two plays alone account for 179 yards and 2 TDs of his production, or 2 solid days of fantasy points. I worry that Cruz won't be able to create plays like this in 2012. Greg Jennings 1200 & 11 TD Roddy White 1300 & 10 TD Hakeem Nicks 1300 yards & 9 TD Andre Johnson catches 85 or more passes – before missing the majority of 2011 with an injury, Johnson had 1500, 1500 and 1200 yards receiving in his previous 3 seasons, resulting in him being considered the top WR in the league. Last year's injury and the emergence of Calvin Johnson have dropped him from the top spot, but should not drop him from the elite. I have seen many rankings that have Andre Johnson in the 5-10 range among WRs; I have seen him ranked as low as 14 at the WR position. In 2012 I am predicting that Johnson reels in 85 or more passes once again and returns to the 1200-yard range while getting the first double digit TD total of his career. Thomas should be the main benefactor of Peyton Manning's return to the NFL Demaryius Thomas finishes as a top-12 WR – With Peyton Manning returning to the league and my prediction that he starts all 16 games, I love the potential for Thomas. He is extremely tall and athletic, creating a match up problem for most DBs in the league. He was able to make in impact in 2011 with Tebow as his QB and should thrive with Manning throwing him the leather. I am looking or Thomas to take a massive step up and have a season similar to the ones Reggie Wayne had with Peyton, catching around 1300 yards and 10 TDs. Kenny Britt calms down, gets healthy, becomes steal of 2012 fantasy drafts – It is being rumored that the Kenny Britt suspension isn't going to be a tough a originally though, and has people talking about Britt once again. I have done my best to not get to down on Britt as I am aware of his EXTREME talent and want him to be a star in this league, so yeah, maybe I am biased on this one. Still, I Kenny Britt has been a guy I have been targeting in drafts throughout the summer. I have often been able to get him as a WR3 or WR4 even on occasion. Britt has the talent to be one of the leagues top WRs, he just needs to keep his head on straight and stay healthy. I am going to predict he does both this season upon returning from suspension and becomes one of the 2012 most talked about break out players, finishing with 1000+ yards and 10+ TDs in 12-14 games. Tight End: Rob Gronkowski is going to be a touchdown goldmine again in 2012 Rob Gronkowski finishes as the #1 TE again – Despite all the hype surrounding Jimmy Graham and the inevitability of Gronk regressing a bit, I still think Gronk is going to be the #1 TE at the end of the season. Even if he does drop from his 17 TDs, he is still capable of hauling in 12 at a MINIMUM. Gronkowski is too much of a matchup nightmare and redzone target for Tom Brady to not be a stud again this year. Many people are ranking Graham ahead of Gronk going into the 2012 season, but I am locking him in as the top TE with 1100 yards and 14 TDs. Jacob Tamme emerges as a top-10 TE – Peyton Manning and Tamme played together in Indy, where Tamme was Dallas Clark's backup. Coming into the 2012 season Tamme is now the starting TE in Denver, where he will once again be catching passes from Manning. Tamme didn't miss a beat when replacing Clark, becoming one of the year's waiver market commodities, and it should be much of the same in Denver. Tamme has the potential to go for 800+ yards and 7-9 TDs this season. Keep in touch with me on Twitter: @Blackie_Mike
Original Story:
http://rotoask.com/fantasy-football/g...
THE BACKYARD
BEST OF MAXIM
RELATED ARTICLES
Peyton Manning looked healthy in the Broncos' preseason opener and appears to be taking everything in stride as he prepares for his first game at Sports Authority Field on Saturday night against Seattle. Manning has continually emphasized the need to take advantage of every minute of practice and film time to get ready for the season. The Broncos wrap up training camp Friday...
Peyton Manning led two scoring drives but threw two more interceptions in his home debut for the Denver Broncos in a 30-10 preseason loss to the Seattle Seahawks on Saturday night. The Broncos turned the ball over on half of their six first-half possessions with Manning under center, including an interception in the red zone for the second straight week. Their 2-minute drive stalled...
Denver Broncos quarterback Peyton Manning is expected to play into the second quarter during Saturday's Week Two preseason game. (BroncoTalk.net photo) BRONCOS VS. SEAHAWKS TV SCHEDULE The Denver Broncos enjoy their 2012 preseason home opener Saturday as they host the Seattle Seahawks in Week Two preseason action. Kickoff at Sports Authority Field at Mile High in Denver is set...
(AP Photo/Michael Conroy) We got our first look—albeit brief—at Peyton Manning in orange (white) and blue last week when the veteran quarterback played one series in Denver's preseason opener against Chicago.  On Saturday, we'll get a larger sampling size to disect. Coach John Fox noted earlier in the week that the starters will play into the second quarter against the...
The Denver Broncos are saying that QB Peyton Manning will get plenty of snaps in tonight's game against the Seattle Seahawks, as he and the rest of the starters will play the entire first half. We should get a good glimpse of Manning and how his arm (and neck) holds up for a complete half. Manning made news this week after admitting that his arm is not a strong as it was when...
When I wed my beautiful bride nearly a decade ago, I married into her rabid fanaticism for the Denver Broncos. I have adopted the team as my own. But never in our eight year marriage have both of us been so unexcited about an upcoming season at Mile High Stadium. Peyton Manning is just not our guy. I know he had a stellar career with the Indianapolis Colts, a Super Bowl champion...
It's Peyton F'ing ManningPhoto Credit: Jeffrey Beall In 2011, somewhere between 800 and a 100 billion dollars was gambled on the NFL. I don't know what this tells you, but it tells me that the people in our great nation like having a little action on their football. And guess what? So, does this guy.Last year my wife took half. This left me owning two things. My dog and...
Denver Broncos News One writer puts together a seething fake letter from John Elway to Denver Broncos fans regarding Tim Tebow.  Much of it rings true, but the fading Tebowmaniac in me would have responded with, "Yeah, but he wins.  He took a team that lost 20+ games in two seasons and went deep into the playoffs."  2011 is a season I'll cherish forever. [New York Times...
NFL News

Delivered to your inbox

You'll also receive Yardbarker's daily Top 10, featuring the best sports stories from around the web. Customize your newsletter to get articles on your favorite sports and teams. And the best part? It's free!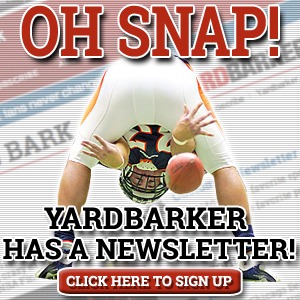 Latest Rumors
Best of Yardbarker

Today's Best Stuff

For Bloggers

Join the Yardbarker Network for more promotion, traffic, and money.

Company Info

Help

What is Yardbarker?

Yardbarker is the largest network of sports blogs and pro athlete blogs on the web. This site is the hub of the Yardbarker Network, where our editors and algorithms curate the best sports content from our network and beyond.