Found April 03, 2012 on Fox Sports Tennessee:
PLAYERS:
Peyton Manning
,
Matt Hasselbeck
,
Jake Locker
,
Mike Munchak
,
Cortland Finnegan
,
Asante Samuel
,
Kenny Britt
,
Patrick Bailey
,
Jordan Babineaux
,
Jason Jones
,
Donnie Avery
,
Tim Shaw
,
Dave Ball
TEAMS:
Tennessee Titans
,
St. Louis Rams
,
Philadelphia Eagles
,
Indianapolis Colts
,
Detroit Lions
Just as he had done the previous week when asked about the Peyton Manning saga that was still unfolding, Titans quarterback Matt Hasselbeck gave polished and professional answers regarding his return to the team after the Titans lost out on Manning. Hasselbeck had spoken of being "comfortable" with whatever decision was made in an interview with TitanInsider.com in the days before Manning made his eventual choice to go to Denver. But with the situation solved and Hasselbeck clearly back with the Titans, competing with and tutoring quarterback of the future Jake Locker, the veteran sounded much more, well, comfortable regarding the 2012 season. He said that he has quickly gotten accustomed to Nashville and the Titans after just one season in Tennessee. "I think for me there was no guarantee that I was gonna be back here. If Peyton Manning had decided to come to Tennessee, I would not be playing for the Titans next year, and that would have been unfortunate," said Hasselbeck, who spoke to three beat writers and the Titans website. "I haven't been here long, but me and my family have kind of fallen in love with Nashville. It's wonderful. It kind of has that reputation. Going back to last year when we were deciding which team to go to, knowing that Mike Reinfeldt, Ruston Webster and Lake Dawson were the guys in the front office, and another positive was knowing that Jake Locker was the quarterback of the future, and what type of guy he was. "The thing that was unknown to me was Mike Munchak, and my first conversation with him kind of sold me on him philosophically." Hasselbeck said he appreciated the fact that the Titans coaches and front office were as up front as they could be about the situation, and said such a predicament could happen to any player on any team once free agency and the draft come around. "All I can say was that they were being honest with me in the process and I think that's all you can really ask for. Teams can always pursue someone in free agency," Hasselbeck said. "That can happen on any team, anywhere, at any time. I guess for me at the end of the day, with the Peyton thing, I get it, but I'm excited that I get a chance to finish what we've started here. And I'm very confident in my ability to get it done as a quarterback. I think, bottom line, we're just happy we're getting a chance to stay in Nashville." He also added that he wasn't shocked when 89-year-old owner Bud Adams decided the Titans needed to make a play for the future Hall of Famer, as Adams hopes to win a Super Bowl, something the franchise still has not done in 52 years of existence. "He's probably one of the top five quarterbacks to ever play the game. I've got a ton of respect for him that way, and with Tennessee being rumored I expected that with him being who he is. I get it. It wasn't a shock to me," Hasselbeck said. Hasselbeck added that he remained confident in his own abilities throughout the entire situation, and that he wouldn't change his decision on joining the Titans. "Sure, as a competitor you feel, 'Hey, you get that - I don't even know what you call it, but I got this,' I'm a competitor," he said. "I've been fortunate to play a long time, and I feel like we've got a good thing going here in Tennessee. I guess I would just say, if I could choose again, and I had to make the choice again this year, like I did last year, I would still choose to be in Tennessee." NOTES, QUOTES -The Titans need help at the cornerback position, after losing Cortland Finnegan as a free agent. Tennessee could use a draft pick or two at a position that is deep to replenish the corner spot, as the Titans' general philosophy has been to select at least one cornerback in nearly every draft. However, the possibility of acquiring Pro Bowl cornerback Asante Samuel is at least an option the team is willing to consider. TitanInsider.com reported that Tennessee has "at least some interest," in Samuel, 31, who is being dangled by the Philadelphia Eagles as trade bait. The Eagles are believed to be seeking at least a third-round pick, but the Titans are more likely not to bite there, but perhaps wait until a little closer to draft time to see if the asking price becomes more favorable the longer the wait goes on. Samuel would have to be willing to lower his price tag as he has a 9.9 million base salary for 2012 and an 11.4 million base for 2013, numbers too high for the Titans, or perhaps most any team, to swallow. -Wide receiver Kenny Britt, trying to make a comeback from a torn ACL and MCL, is pleased with his progress, telling the Nashville Tennessean that he has spent more time with the Titans' training staff than he has with his new wife. "I've spent more quality time with trainers than with my wife. That's no lie," Britt told the paper. "She doesn't like that at all, but she understands, she really does." Britt suffered the injury last September against Denver and underwent surgery in October. He hopes to be ready by the start of the 2012 regular season. -The Titans have not shown much inkling to bring back many of their own free agents thus far in the early stages of free agency. The Titans retained special teams linebacker Patrick Bailey and safety Jordan Babineaux on the first day of free agency. Since that time, Tennessee, of course, lost cornerback Cortland Finnegan and defensive lineman Jason Jones, and this past week saw the Indianapolis Colts pick up wide receiver Donnie Avery, who was not a priority to re-sign. But deals for other players believed to still potentially be in the Titans plans had been slow to materialize. Linebacker Tim Shaw, whom the Titans want to keep, had been courted by the Detroit Lions and re-signed Monday (April 2). Defensive end Dave Ball could be an option to return as well, but the Titans have yet to do much in the way of reaching out to him either. QUOTE TO NOTE "I wish I hadn't gotten so close to Munch." - QB Peyton Manning, now with Denver, on developing a friendship with Titans coach Mike Munchak during his free-agent tour.
Original Story:
http://www.foxsportstennessee.com/04/...
THE BACKYARD
BEST OF MAXIM
RELATED ARTICLES
Even before it was announced that the Denver Broncos were going to put Tim Tebow on the trading block, the Denver Broncos were "quietly shopping" Tebow around at the NFL Scouting Combine in Indianapolis, according to a report from the Florida Times-Union.This would indicate that after the Broncos lost to the New England Patriots in the 2012 NFL Playoffs, the team didn&...
POLICE BLOTTER (X2)
Former NFL quarterback Ryan Leaf was arrested in Montana on Monday—the second time in four days—and faces charges of burglary, theft and two counts of criminal possession of dangerous drugs.
The Colts seemingly are incredibly interested in Robert Griffin III in the upcoming draft or are at least doing their best to convince us they're interested. Nate Dunlevy tackles this possibility with his usual deft touch: Sorry, not buying it. If they were making a late-in-the-game push to go after Luck then that means they didn't have enough information back in March...
The Super Bowl champion New York Giants will face Tim Tebow, Mark Sanchez and the New York Jets in Week 2 of the NFL preseason. The league is releasing the full exhibition schedule Wednesday. Peyton Manning's first chance to suit up in a game for the Broncos comes in Week 1, when Denver plays at Chicago sometime from Aug. 9-13. Manning, cut after 14 years with the Indianapolis...
Peyton Manning's arrival in the AFC West apparently has put the Denver Broncos' rivals on notice, as the need to acquire quality defensive help is now at a premium. In line with that thinking, the San Diego Chargers have re-signed defensive end Luis Castillo to a one-year contract. Castillo has been a valuable contributor to the Chargers front seven over the years, helping...
Chicago Bears fans could see both Peyton Manning and Robert Griffin III in their initial starts for their new teams. The club released its 2012 exhibition schedule Wednesday, and the first two games are home dates with Manning's Broncos and the Washington Redskins, who are fully expected to tab RGIII later this month in the NFL draft. The preliminary timeframe, [...]
With the addition of Peyton Manning, the Broncos are now considered to be the front runners in the AFC West, and likely to repeat as division champions for the 2012 season.  Acquiring safety Mike Adams and cornerback Tracy Porter add starting potential in the secondary, while the signings of wide receiver Andre Caldwell, tight ends Joel Dressen and former Manning target Jacob Tamme...
Win a custom commissioned sports athlete portrait – valued at $300! Top Stories 'What if' game relevant in AFC West | ESPN The AFC West was the tightest division in the NFL in 2011.The Broncos, Raiders and Chargers finished 8-8 with Denver prevailing as the division winner via a tiebreaker. Kansas City was a game behind at 7-9. The Chiefs were a blocked field goal attempt...
  With all the hubbub about Peyton Manning, Andrew Luck, RGIII and others, Tim Tebow has become the forgotten quarterback this offseason and after coming off the bench and winning seven of 11 games to take his team from 1-4 to division champs, Tebow was cast aside as yesterday's news once Manning came to Denver as a free agent. Even though the thought of getting traded probably...
The NFL just released the preseason schedule for the 2012 season. Who do the Seahawks have on the schedule? According to @ByTimBooth, the schedule shakes out like this: https://twitter.com/#!/ByTimBooth/st...17240571588608 Game 1 the Seahawks will face Matt Hasselbeck, Jordan Babineaux, Steve Hutchinson and the rest of the Tennessee Titans in Seattle. Game 2 pairs Seattle with...
NFL News

Delivered to your inbox

You'll also receive Yardbarker's daily Top 10, featuring the best sports stories from around the web. Customize your newsletter to get articles on your favorite sports and teams. And the best part? It's free!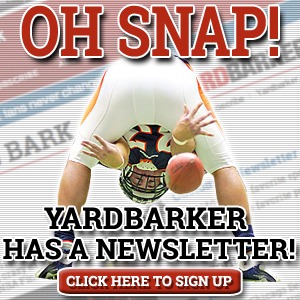 Latest Rumors
The Backyard

Today's Best Stuff

For Bloggers

Join the Yardbarker Network for more promotion, traffic, and money.

Company Info

Help

What is Yardbarker?

Yardbarker is the largest network of sports blogs and pro athlete blogs on the web. This site is the hub of the Yardbarker Network, where our editors and algorithms curate the best sports content from our network and beyond.