Found September 06, 2012 on isportsweb.com:
During this, our 1st week of the NFL regular season. The Houston Texans host the Miami Dolphins and rookie QB Ryan Tannehill to start the year. During the 2011 campaign the Texans made the playoffs for the 1st time, won a playoff game for the 1st time, and tallied and franchise record 44 sacks along with setting many other defensive records last year. Now they look to not only build on the franchises first really successful season, but to take what they learned from last year and use the knowledge to win the city it's first Super Bowl title ever. The Texans are hoping to start off by beating a team that they and many others think they should to start this year off right. Texans CB Jonathan Joseph returning a INT during last years game against the Dolphins. Houston Texans ILB Brian Cushing had this to say about Ryan Tannehill playing in his first NFL game against the very aggresive Texans defense: Everyone kind of has that welcome the NFL moment, and we're looking to bring it (to Ryan Tannehill). I think that Cushing is not just right about rookies having those "moments" but I believe that the Texans are more than capable of making the rookie QB make mistakes. Last Season when these 2 teams met the Texans won the game 23-13 getting after then QB Chad Henne. The Texans defense allowed only 306 total yards that game and came up with 2 turnovers. 186 of those yards came froWR Brandon Marshall with 79 yards recieving and then rookie RB Daniel Thomas who had 107 yards rushing that game. Tannehill doesn't have the luxury of Brandon Marshall and though he does have Reggie Bush at RB now, the Texans will actually gameplan against just him. A treatment I'm sure Thomas didn't get last season. Here's a quote from Texans defensive coordinator Wade Phillips on RB Reggie Bush: "He's a 1-on-1 nightmare. If he gets you out in space, he can make a play & make you look bad." The Offense looks to get going big against a Dolphins team that they usually are really good against. Matt Schaub also had a great game going 21-29 with 230 yards and 2 TD's. I don't know how many people remember the start Schaub had to last season, but when he got hurt against the Bucs he had 2,479 yards, 15 TD's and only 6 INT's. He's looking to have the same kind of strong start to this season to help the Texans make the push to become an elite team in this league. I'm thinking we see a lot of Schaub's favorite targets getting some touches early and often. A decent if not a heavy dose of WR Andre Johnson and TE Owen Daniels to open up the passing attack this Sunday. Schaub also knows it takes patience and hard work to become a winner in this league from his years with the Falcons. He says this of focus and staying dedicated even while being picked as a favorite to make the Super Bowl:"It was my rookie year, and we went to the NFC Championship Game," Schaub said. "The next year, we started 6-2 and came out of our bye week and lost pretty handily to Green Bay. Things started spiraling downhill, and we went 2-6 to finish 8-8. We missed the playoffs. I learned that every year is a grind, a marathon, and, as a team, you have to keep one focus. If things start to fracture, it can go south really fast." The veteran QB will look to be a piece of stability for a offense with a lot of young talent. Texans TE Owen Daniels after catching TD from Matt Schaub against Miami last year in Week 2 match up. Last season during the game between these 2 RB Arian Foster reinjured a hamstring injury putting back up Ben Tate in the lineup early in the game. Tate didn't dissapoint either with 23 carries for 103 yards filling in for the All Pro RB. Foster will look to make a big difference in this game considering he missed last years match up. Look for Foster to get around 20-25 carries on Sunday. Along with Foster getting those carries look for Ben Tate to see 10-15 carries himself. If all goes right the Texans will be handing the ball off a lot to preseverve an early lead. WR Andre Johnson will be at 100% against the Dolphins this week. Over the course of his career Johnson has feasted while playing against his hometown team. To start his NFL career Johnson played the Dolphins, it only seems fitting he would open up his 10th year in the league against them as well. In 5 career games vs his hometown Miami Dolphins, Andre Johnson has 37 rec, 519 yards & 4 TDs (7.4 rec/103.8 yds per). Johnson has heard analysts and other say all off season he's getting old and is injury prone now in his 10th proffesional season. He had this to say about the situation:"Everybody's saying I'm old, probably can't play no more, injury-prone… People can say what they want. I really don't care. The real games are finally here. I'm excited about it, and I'll be ready to go on Sunday." Johnson will look to silence the critics this weekend with another strong performance on the field similar to last years meeting. He had 7 catches for 93 yards and 1 TD. Texans WR Andre Johnson celebrating after a TD catch against the Dolphins in Miami. For the first time since I can remember as a Texans fan, and a football fan it's actaully worth mentioning the special teams play for the Texans. Safety Daniel Manning had a good game returning kickoffs with 2 returns for 77 yards and a long of 43 yards. With new return man Trindon Holliday back taking kicks that 43 yards run from last season would be a TD now. There's no better way to explain it other than the guy is really fast. If he gets out in front of the return team it's pretty much a done deal. With Holliday also returning punts I'd be watching for him to have at least one solid punt return as well. Holliday had this to say about making the team as the new returner for the 2012 season: "I came back this year wanting to be the best player I could be," he said. "I wanted to grasp the offense and be a special returner. I just told myself that I'm going to come out every day and work hard and try to be that special guy.Holliday did just that, he had 3 TD returns during a 4 game preseason. He showed some mistakes against the 49ers fumbling twicw as well, but the 49ers have a great special teams coverage unit. And well, the Dolphins just don't. If the defense forces the Dophins to punt enough, eventually Holliday should break one out. He's a special athlete and it's possible for him to make a big play on every return.
Original Story:
http://feedproxy.google.com/~r/isport...
THE BACKYARD
BEST OF MAXIM
RELATED ARTICLES
Houston Texans running back Arian Foster was held out of practice today as a precaution after suffering what is being called a minor knee injury. According to a report by Texans beat writer John McClain, Foster was held out of a quarter of practice due to a sore knee, but the team believes he will be fine for Sunday's opener against the Dolphins. The consensus number overall pick...
Texans running back Arian Foster is dealing with knee pain, but according to coach Gary Kubiak he's "optimistic" about Foster's Week 1 status.Fantasy Spin:The team sent him for an MRI after Thursday's practice and fantasy owners should be a little bit concerned. Hopefully, Foster owners handcuffed Ben Tate and will be able to make a game-time change to the Texans...
Texans running back Arian Foster left practice early Thursday with a sore knee, according to the Houston Chronicle.Fantasy Spin:Foster's injury is not believed to be serious. Houston coach Gary Kubiak sent Foster to the locker room as a precaution and he thinks he'll be able to play Sunday.
According to John McClain of the Houston Chronicle, Texans running back Arian Foster left practice early on Thursday with some soreness in his knee. "Running back Arian Foster and outside linebacker Brooks Reed left practice early today because of injuries. "Neither is believed to be serious, however, both were added to the injury report as being limited in practice," wrote...
According to Adam Caplan of TheSidelineView.com, both linebacker Brooks Reed and running back Arian Foster will be game time decision for the Texans on Sunday. #Texans HC Gary Kubiak said OLB Brooks Reed (hip) and RB Arian Foster (knee) are both game-time decisions for Sunday vs. #Dolphins. — Adam Caplan (@caplannfl) September 7, 2012 Foster did say that he expects to play, per...
Everybody's top pick in their fantasy draft was likely Arian Foster whether we are talking about PPR or non-PPR, and that is because the superstar is a horse and then some. Foster really means, "Australian for Touchdowns" and many are unaware of how great a job the offensive line does in zone blocking. Foster does not get arm tackled and he can run over linebackers with his...
No team is a bigger favorite this week than the Texans, who are 12 point favorites at home over the Miami Dolphins. This is with good reason. The Texans won 10 games and made it to the AFC's divisional round, despite Andre Johnson missing 9 games and Matt Schaub missing the final 7, including playoffs (they were 8-3 and had the league's best Pythagorean Expectation when he went...
HOUSTON (AP) -- Houston Texans coach Gary Kubiak says running back Arian Foster and linebacker Brooks Reed sat out Friday's practice and will be "game-time" decisions for the season opener against Miami. Foster, the NFL.'s leading rusher in 2010, has a sore knee and Reed has a sore hip. Kubiak is "optimistic" that both players will be ready, but he'...
Houston Texans coach Gary Kubiak says running back Arian Foster and linebacker Brooks Reed sat out Friday's practice and will be ''game-time'' decisions for the season opener against Miami. Foster, the NFL.'s leading rusher in 2010, has a sore knee and Reed has a sore hip. Kubiak is ''optimistic'' that both players will be ready, but he'...
For the entire summer, a topic that seemed to come up a lot among Texans fans was the idea of trading running back Ben Tate, who almost rushed for 1,000 yards in a backup role last year. Most state the reason because they will lose him for nothing in a couple of years anyway, due to being stuck behind Arian Foster. On paper, that sounds true, but one has to remember that Tate was...
I knew the Texans were going to be competitive in the AFC South in 2011, but their being the dominate team was a surprise.  Even with RBs Arian Foster and Ben Tate battling injury in different parts of the season and NFL Star WR Andre Johnson dealing with health issues yet again last season, the Texans were able to rely on defense for once to take advantage of a "Peyton Manning...
Texans News

Delivered to your inbox

You'll also receive Yardbarker's daily Top 10, featuring the best sports stories from around the web. Customize your newsletter to get articles on your favorite sports and teams. And the best part? It's free!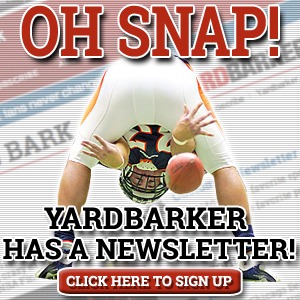 Latest Rumors
Best of Yardbarker

Today's Best Stuff

For Bloggers

Join the Yardbarker Network for more promotion, traffic, and money.

Company Info

Help

What is Yardbarker?

Yardbarker is the largest network of sports blogs and pro athlete blogs on the web. This site is the hub of the Yardbarker Network, where our editors and algorithms curate the best sports content from our network and beyond.