Found December 14, 2011 on Fox Sports:
PLAYERS:
John Lynch
,
Ben Roethlisberger
,
Patrick Willis
,
Maurkice Pouncey
,
Jim Harbaugh
,
Mike Tomlin
,
Larry Grant
,
James Harrison
,
Justin Smith
,
Ray McDonald
TEAMS:
Pittsburgh Steelers
,
San Francisco 49ers
,
Cleveland Browns
Each week, John Lynch breaks down a dynamic NFL offensive playmaker, devises a game plan and discusses a strategy for success. This week, Lynch examines the unique challenges the 49ers defense will face against quarterback Ben Roethlisberger and the Pittsburgh Steelers offense. Monday night's key matchup between the San Francisco 49ers and Pittsburgh Steelers at Candlestick Park may hinge on what the medical staffs decide this week: What should the 49ers do with linebacker Patrick Willis, who missed the Week 14 loss at Arizona with a hamstring injury? Should San Francisco, which already has clinched the NFC West title and is focused on playoff positioning, rest its playmaking All-Pro another week? How effective will quarterback Ben Roethlisberger and Pro Bowl center Maurkice Pouncey -- both of whom are suffering from Grade 1 high ankle sprains -- be in this important contest? Each sustained the dreaded high ankle injuries in last week's victory over the Cleveland Browns, and while Roethlisberger returned in the second half, Pouncey remained on the sideline. All three players say they'll be ready on Monday night, and this should come as no surprise. These decisions must come from the coach, trainer and medical staff, because every player who is injured is going to want to play. Even if there is indecision in your mind, your competitiveness trumps that. And you're going to say, 'I'm fine, I'm fine.' That why it's Jim Harbaugh's job and Mike Tomlin's job to decide whether they are right. That makes my assignment this week very difficult: How will the 49ers' fifth-ranked defense match up against Roethlisberger and the Steelers' 11th-ranked offense without Willis in the middle? The loss of Willis definitely affects the 49ers. Last week in the St. Louis game when Larry Grant came in for Willis and played very well, the Niners made a big deal about that. I think there is some psychology to that -- saying what you need to say to the media, what you say publicly that hey, we're not going to miss a beat. But the reality is, you're missing Willis who, in my mind is not just one of the better middle linebackers in this league, I think he's one of the best football players in this league. Missing a guy like that is so huge. In saying that, I do think the 49ers have to be very careful because it is a hamstring injury. If it's a broken thumb, you play. But so much can go wrong with a hamstring injury. As important as this game is, the Niners have to look at the big picture because they don't want to lose him into the playoffs. This obviously is a huge game, but they have to make sure he's right. As for Pittsburgh, three of their best players are question marks. One is out for sure -- James Harrison, who has been suspended -- and then you're talking about Big Ben and Pouncey. I know Tomlin very well and I know a lot of people on that team very well; they felt Pouncey brought something to that team last year that they hadn't had in awhile - just a dominant, mean, nasty offensive lineman. He's a very good football player who is important to what they do. If Ben and Pouncey do play and they're hobbled, that's tough against a defense as good as the 49ers. But Ben, on one leg against the Browns last week, was managing not only to complete passes but to extend plays. He's just got such a knack for working within the pocket, sliding a little to the right, stepping up. And then, he's just so ... big. I've been there before. Throughout my career, when I hit quarterbacks, they typically went down. Not so much with Ben. Not only is he so strong, but he's very elusive. He has tremendous vision, so he sees everything. He leads you in. He knows you're coming, but he takes a little step to the side and you just fly right by. Traditionally, the Steelers are a ground-and-pound team, but they have so many weapons at receiver this year. They're very unconventional. They have been for a long time. When you think of what the San Fran fans know on offense -- the Bill Walsh-quick timing, West Coast offense -- when you watch Big Ben, he would represent the opposite of how you should play the quarterback position in Walsh's mind. Walsh always wanted an athlete, but he always wanted the ball out on time. With Ben, he holds onto the ball. He takes a lot of sacks. But he makes so many plays with his ability to extend plays, it's just tough on a defense because you're used to covering for three, maybe four seconds. Against Ben, there are plays where you have to cover maybe eight, nine, 10, 11 seconds. They call it "plastering" downfield -- some players have their backs turned, and once he breaks the pocket, people will yell "Plaster! Plaster! Plaster!" which means stay with your guy. But that's tough to do. And the Steelers have become very well-schooled because the receivers know where Ben likes them to go. The defender doesn't know that. So it's a huge advantage for Pittsburgh. The one thing the Niners do very well though -- and I studied them because I called their game in Week 14 for FOX -- is coordinator Vic Fangio is known as a pressure guy; he's an all-blitzing type of coach. I think he looked at the talent he has with this team, had some questions initially and a lot of those questions have been answered at the back end in terms of cornerbacks and safeties. Still, this is not a group you want man-to-man all game long and if you're blitzing, that's what you're going to be doing. So instead, Vic has said, "You know, we're pretty darn good up front; let's rush with four for the most part, blitz when want to and need to." The 49ers have great edge rushers but then they've got that great push from Justin Smith and Ray McDonald up the middle. They are suffocating quarterbacks because it's hard to find anywhere to go. Whether the Niners can do that to Big Ben -- hobbled or not -- and whether that will happen with or without Patrick Willis, those are factors that will make this game very interesting to watch.
Original Story:
http://msn.foxsports.com/nfl/story/Jo...
THE BACKYARD
BEST OF MAXIM
RELATED ARTICLES
There are just 5 days left in the 2011 Pro Bowl voting and the latest update of votes shows that Pittsburgh Steelers wide receiver Mike Wallace has fallen out of the top 10 since we last updated on December 1st. Quarterback Ben Roethlisberger remains in the top 10, but has slipped down to 10th place in overall votes with 745,835. Center Maurkice Pouncey still leads the AFC center...
Pittsburgh Steelers quarterback Ben Roethlisberger watched practice on Wednesday wearing a walking boot as opposed to cleats. Roethlisberger was brandishing a noticeable limp after suffering a high ankle sprain late in the first half of Thursday's 14-3 win over the AFC North rival Cleveland Browns. He was able to return and play the entire second half. Backups Charlie Batch...
Pittsburgh Steelers quarterback Ben Roethlisberger has yet to practice with the team this week and his status for Monday's game against the San Francisco 49ers is up in the air. His high ankle sprain suffered in last...
The Pittsburgh Steelers were back on the practice field Thursday in preparation for their week 15 Monday night game against the San Francisco 49ers at Candlestick Park. The first official injury report of the week was released on Thursday and it shows that quarterback Ben Roethlisberger (ankle), center Maurkice Pouncey (ankle), wide receiver Emmanuel Sanders (foot), linebacker Chris...
Quarterback Ben Roethlisberger was a limited participant in Friday's practice, according to Scott Brown of the Pittsburgh Tribune-Review. Fantasy Spin: Roethlisberger is among the toughest players in the NFL and will raise his odds of suiting up for Monday Night Football at San Francisco if he can practice through his sprained ankle tomorrow. Mike Wallace and Antonio Brown would...
Steelers quarterback Ben Roethlisberger did not practice Wednesday, and it's possible he might not step on a field until Pittsburgh visits the 49ers on Monday night. Roethlisberger suffered a high ankle sprain in the...
We knew Ben Roethlisberger's latest injury would create a little drama. Big Ben didn't practice Thursday and isn't expected to on Friday. He's aiming for Saturday's practice, but told reporters that his ankle feels worse than it did when he was playing on it against the Browns. "The second half of that game you were…
Scott Brown is reporting via Twitter that Pittsburgh Steelers offensive coordinator Bruce Arians announced today during his session with the media that veteran Charlie Batch would start Monday night at quarterback against the San Francisco 49ers should starter Ben Roethlisberger not be able to play with his sprained left ankle. Arians also said that Trai Essex would get the start...
Pittsburgh Steelers quarterback Ben Roethlisberger watched practice on Wednesday to rest his sprained left ankle, and backups Charlie Batch and Dennis Dixon say they are preparing to play next Monday against San Francisco.
With quarterback Ben Roethlisberger already in a walking boot, news broke Tuesday that Pittsburgh linebacker James Harrison probably will be on an unplanned pre-Christmas vacation when the Steelers visit the 49ers on...
Season 2, Episode 55 of The Terrible Podcast is up and David Todd and have a little shorter show than normal, but do cram quite a bit of talk in the 30 plus minutes. We start with some recent injury updates today on quarterback Ben Roethlisberger and Maurkice Pouncey and how it looks like both are trending towards playing next Monday night against the San Francisco 49ers. We caution...
Pittsburgh Steelers coach Mike Tomlin says injured quarterback Ben Roethlisberger and center Maurkice Pouncey have a ''shot'' to play in the regular-season finale against Cleveland. Both players sat out last Saturday's 27-0 victory over St. Louis with high ankle sprains. Veteran Charlie Batch passed for 208 yards in place of Roethlisberger, while a series of...
NFL News

Delivered to your inbox

You'll also receive Yardbarker's daily Top 10, featuring the best sports stories from around the web. Customize your newsletter to get articles on your favorite sports and teams. And the best part? It's free!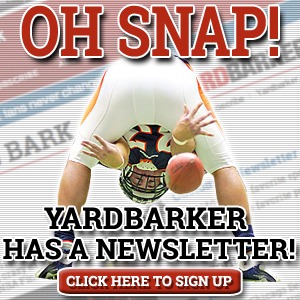 Latest Rumors
The Backyard

Today's Best Stuff

For Bloggers

Join the Yardbarker Network for more promotion, traffic, and money.

Company Info

Help

What is Yardbarker?

Yardbarker is the largest network of sports blogs and pro athlete blogs on the web. This site is the hub of the Yardbarker Network, where our editors and algorithms curate the best sports content from our network and beyond.