Found February 19, 2013 on isportsweb.com:
  The Indianapolis Colts had a highly successful 2012 season, to be sure. The team, led by a rookie quarterback and filled with inexperienced and cast-off players, won 11 games and made the playoffs one year removed from a 2-14 season. However, like any team, there is room for improvement. And, in the NFL, improvement comes in the form of roster moves/changes. This two-part post will cover the likelihood of the Colts signing their own free-agents, and what their potential targets in free-agency from other teams. Part I will focus on the team's in-house targets. First, we should cover some basics about free agency. In the NFL, there are a few different designations. First, you have "unrestricted free agents (UFAs)" – players who have amassed 4 or more years of service and whose contracts have expired. They are free to sign with any team they wish, save being "franchised" (a one-year contract worth the average of the top five salaries of their position) by their current employer. Secondly, you have "unrestricted free-agents (RFAs)." These are players who have fewer than 3 years of service, but whose contracts have expired.  RFAs are free to negotiate with any team up to a certain deadline (generally a week before the NFL draft), but their current team has the right to match any offer. If the team matches or the player receives no offers, their rights revert back to the current team. If the player signs an offer sheet from another team and it is not matched by their current one, the player goes to the offering team. In this instance their former team may receive compensation in the form of a draft pick, depending on the offer made. Lastly, there are "exclusive rights free agents (ERFAs)." These players have fewer than two years of service, and whose contracts have expired. These players cannot negotiate with other teams. Their only options are to either re-sign with the team, or be out of the NFL. The offer they would receive should the team decide to make one is the veteran 3-year minimum. With that out of the way, we can move on to the current Colt free agents. I've separated them into 3 different groups: Priority (greater than 50% chance of re-signing), secondary (25 – 50% chance) and expendable (less than 25% chance). Please note this list is based only on the chances of re-signing. "Priority" does not necessarily mean they are a star player or crucial role player, and "expendable" does not mean that the team will not make any attempts to re-sign them at all. On to the list: Priority Free Agents With as much help as the Colts need in all areas, it shouldn't be surprising that there are only three players that I've designated as "priority." Much of the roster turnover this off season will likely come from the offensive line and cornerback spots, which is why none of those guys make this list. 1. Pat McAfee, P (UFA) – He is the current player on the team that has the highest likelihood of re-signing. McAfee is hugely popular with the fans (canal swim notwithstanding), and has ingrained himself deeply into the city of Indianapolis. I don't know about anyone else, but until McAfee, I've never heard or seen a punter do radio shows and/or TV commercials. It would be a huge blow to fan morale to let another well liked player go. And besides, punters come fairly cheap. 2. Donnie Avery, WR (UFA) – There are some rumblings around Indy that because of Avery's penchant for the dropsies, he will be allowed to sign elsewhere. While that yet may be true, I see them keeping him on for a little while to continue developing chemistry with quarterback Andrew Luck. Most of Avery's drops came on deep passes (though not all of them did). With new offensive coordinator Pep Hamilton's take on the West Coast offense (featuring "shorter, more accurate passing and a tough ground game"), Avery could be a crucial player. If the Colts do keep him, I expect him to be replaced in the starting line-up by rookie sensation T.Y. Hilton, moving Avery into the slot, which may entice him to sign elsewhere anyway. 3. Drew Stanton, QB (UFA) - The Colts made a huge error in past years paying little mind to the back-up QB spot (see: Curtis Painter). That is a mistake they aren't likely to make again. Stanton isn't a great talent – if he were, he'd be starting somewhere by now – but is serviceable. Yes, the Colts signed QB Chandler Harnish to a reserve/futures contract (meaning he will have a contract for next season), but Stanton will provide more stability. Secondary 1. Deji Karim, RB (RFA) – Karim could be brought back to help the return game continue its improvement from 2012. Karim returned a kick 101 yards for a score late in the season against Houston, the longest such return in team history. 2. Winston Justice, OT (UFA) – Justice faced a myriad of injury problems in 2012, but with a quality offensive tackle unlikely to fall to them in the draft, the Colts could bring him back to man the right side again in 2013. Or he could be replaced by another free-agent signing. 3. Antonio Johnson, DL (UFA) – Another player who faced injury issues all year, Johnson is probably the best player on a not-so-great defensive front. If nothing else, the team could bring him back for depth. 4. Fili Moala, DL (UFA) – See above. 5. CB Darius Butler, CB (UFA) – Butler is better than Cassius Vaughn, and could be in play for the nickel spot next year if the team brings him back. Expendable This list is obviously the last of the bunch, the ones most likely to leave. This originally included WR Austin Collie and DE Dwight Freeney, but both have since been let go by the organization. The reasons these other guys might not be back span from injury issues (Jerraud Powers), age and/or production (Cassius Vaughn), or just a total overhaul of a position (the offensive line). It's possible that the Colts bring a few of these guys back since they have the cap space, but there are younger, better, and/or cheaper options out there. Here's the full list: 1. Mewelde Moore, RB (UFA) 2. Tony Hills, OT (UFA) 3. Jeff Linkenbach, OT (RFA) 4. Seth Olsen, OG (RFA) 5. Joe Reitz, OL (RFA) 6. Martin Tevaseu, DL (ERFA) 7. A.J. Edds, LB (ERFA) 8. Mosie Fokou, LB (UFA) 9. Jamaal Westerman, LB (UFA) 10. Josh Gordy, CB (RFA) 11. Jerraud Powers, CB (UFA) 12. Cassius Vaughn, CB (RFA) Keep an eye out for part 2, where we focus in on the external free agents the Colts could (should?) be focusing on. Follow me on Twitter @IrishColt1
Original Story:
http://feedproxy.google.com/~r/isport...
THE BACKYARD
BEST OF MAXIM
RELATED ARTICLES
Indianapolis Colts fans are fortunate, if early indications are a true preview of future returns. No matter which way you slice it, Andrew Luck's rookie season outpaces that of the then-record setting rookie season by former Colts quarterback Peyton Manning. And as I have stated all along, this has been with a smaller pool of talent than what Manning had his first go-around (mainly...
Dwight Freeney time in Indianapolis is over. Freeney, the Colts all-time sack leader, was informed last week that he would not be brought back. The new caught the eleven-year veteran off-guard. "I'll be honest with you, I was surprised the way it happened," Freeney said in a telephone interview today with the Indianapolis Star. "I figured they would offer me something low...
According to Peter King of SI.com, the NFL has been "buzzing" since the Colts told defensive end Dwight Freeney they won't be re-signing him this offseason. I think the Dwight Freeney release had the league buzzing over the weekend. One GM who was very interested already in former Giant pass rusher Osi Umenyiora told me Freeney would leapfrog Umenyiora on his free-agent board...
Impending free agent DE Dwight Freeney joined Pro Football Talk Live on Wednesday and mentioned that Peyton Manning has already been recruiting him to sign with the Broncos. While this seems like an interesting idea given that Manning spent several years with Freeney in Indianapolis, it's unlikely that they would pursue him as a 3-4 outside linebacker. The Colts asked Freeney...
Dwight Freeney had a disappointing season in 2012 with the Indianapolis Colts. Freeney had just 5 sacks and 12 tackles in 14 games last season but was hampered by an ankle injury that lingered during the season. He also didn't seem to be a good fit with the 3-4 defense that the Colts made the switch to in 2012. Even with a poor 2012, Freeney has averaged eight sacks per season...
With franchise-sack leader Dwight Freeney on his way out of Indianapolis, the Colts move a step closer to a complete rebuild from their Super Bowl teams. Scott Kacsmar examines the era-changing process.
Free agent defensive end Dwight Freeney is looking for a team right now, and judging from his list of suitors, teams are looking for him. Freeney is not sure where he'll end up, but if one NFL team called him, it would be a living out a dream.  Freeney was on Sirius radio with Adam Schein and admitted playing for the New York Giants would be a dream come true. Freeney grew up...
New York Jets fans, Dwight Freeney was recently cut by the Indianapolis Colts after 11 seasons and 107.5 sacks. He is the edge pass-rusher the Jets have never had in the Rex Ryan era! When looking at Freeney, think Michael Strahan, more on that thought in a moment. The Jets have tried and missed on previous edge rushers in the way of Calvin Pace, who in essentially the same number...
Miami Dolphins cornerback Sean Smith was preparing for life under the franchise tag while "rooting strongly against it," according to Ben Volin of the Palm Beach Post.Apparently, Smith has nothing to worry about in that regard. The Miami Herald's Armando Salguero reported Monday that the Dolphins "will NOT use their tag on Sean Smith. Period."That's the...
Seven-time Pro Bowler Dwight Freeney never expected to be released where he's spent his entire ten-year NFL career.  The 33-year-old defensive end didn't fit well as a 3-4 outside linebacker in the Colts new scheme.  
Colts News

Delivered to your inbox

You'll also receive Yardbarker's daily Top 10, featuring the best sports stories from around the web. Customize your newsletter to get articles on your favorite sports and teams. And the best part? It's free!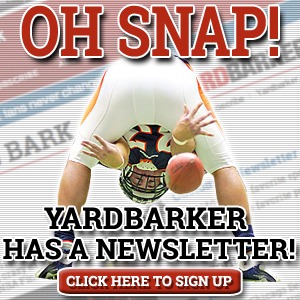 Latest Rumors
Best of Yardbarker

Today's Best Stuff

For Bloggers

Join the Yardbarker Network for more promotion, traffic, and money.

Company Info

Help

What is Yardbarker?

Yardbarker is the largest network of sports blogs and pro athlete blogs on the web. This site is the hub of the Yardbarker Network, where our editors and algorithms curate the best sports content from our network and beyond.