Found December 08, 2012 on isportsweb.com:
PLAYERS:
Andrew Luck
,
Vick Ballard
,
Jake Locker
,
Winston Justice
,
Joe Reitz
,
Ben Roethlisberger
,
Dwight Freeney
,
Robert Mathis
,
Steve Hutchinson
,
Michael Roos
,
Reggie Wayne
,
T.Y. Hilton
,
Dwayne Allen
,
Coby Fleener
,
Chris Johnson
,
Matt Hasselbeck
TEAMS:
Indianapolis Colts
,
Tennessee Titans
,
Pittsburgh Steelers
The Indianapolis Colts take the field Sunday in a rematch game from week 8 that saw the Colts win their first road game at LP Field in the Ryan Grigson/Andrew Luck era. In that game, the Colts trailed the Titans 13-6 with 10:26 to play. Andrew Luck led the Indy offense on a 14 play, 80 yard touchdown drive that consumed 7:02. That tied the game at 13-13. The Colts defense was able to get a stop, and a punt and an Indy kneel down later, the game went to OT. The Colts won the coin toss, and promptly went 76 yards and scored the game winning touchdown on a 16-yard pass to running back Vick Ballard who dove into the end zone in one of the most memorable plays of the season. Since that game, things have gone vastly different for the two teams. The win put the Colts at 4-3, and the Titans at 3-5. The Colts have now won 4 out of their last 5 games to get to 8-4, and the Titans have consequently lost 3 out of their last 4 and stumbled to a 4-8 record. With the different results since their last meeting, the teams will now be focused on vastly different things. The Titans will be focused on getting the most out of what now has to be considered a lost season. They will want to keep developing 2nd year quarterback Jake Locker, who has played only seven games in 2010. In those seven games, Locker has completed 120 passes on 210 attempts (56.6%), for 1,473 yards, 8 touchdowns and 7 interceptions. That's good for a quarterback rating of 77.0. The Titans are going to want to see much more out of their young quarterback to justify their 8th overall draft pick investment in the 2010 NFL Draft. They will also want to see if any improvements can be made to a defense that ranks no higher than 22nd in the NFL in the six major statistical categories. Of particular import in this game for both teams is the Titans 25th ranked pass defense, allowing 257.5 yards per game, and 24 touchdowns, good for 29th in the league. In the teams' first game, the Titans allowed Colts quarterback Andrew Luck to have one his highest completion percentages of the year, going 26-38 (68.4%) with 297 yards. But they also only allowed him one score (that being the one in overtime) and intercepted him once as well. For the Colts the focus has to be on improvement and positioning themselves for a playoff berth. Luck specifically needs to start playing better and making better decisions, though I still contend that the majority of his interceptions haven't been just bad throws (though some definitely were), but more of a product of poor blocking. The Colts offensive line has not only been inconsistent in play, but in their health as well. That will manifest itself yet again as starting right tackle Winston Justice is questionable, and guard Joe Reitz has already been ruled out. But Luck has shown time and again this year his ability to make defenders miss and keep plays alive, ala Ben Roethlisberger. With the Titans poor defense, there is big play potential that the Colts must take advantage of. Another issue is the defensive secondary. Half of the starting line-up at the beginning of the season is out (for the remainder of the season). If there is a game that Jake can put up Peyton Manning-esque number in, it's this one. To keep that from happening, the Colts need to get constant pressure on Locker, something that they have not been able to do consistently. That responsibility obviously lies on the shoulders of Dwight Freeney and Robert Mathis. The two star DE/OLBs have put up OK numbers in their first (and maybe Freeney's only) season in the new 3-4 scheme, but haven't been able to stay healthy enough to make the type of impact we are used to seeing them make. One thing that might make that easier against Tennessee is that the Titans offensive line will be without starters Steve Hutchinson and Michael Roos. My 5 Predictions Andrew Luck – Luck has started to develop some good chemistry with receivers other than Reggie Wayne, and that is huge. Fellow rookies T.Y. Hilton and Dwayne Allen have all started making some big contributions the last few weeks, and it was nice to see Luck's Stanford teammate Coby Fleener get in on the action also in Detroit last week. If Luck can consistently (notice how that word keeps popping up – the biggest key to success in the NFL, that word) find other targets, it will open the passing game up to new heights and maybe start allowing the run game to break some big plays as well. Luck has thrown an interception in all but 3 games this year, and multiple picks in 4 games. This may be the third or fourth week I have been calling for a massive game from Luck, but I am going to go for it yet again because you can just see the breaking of the wall for him is so close he can almost taste it. I say he gets a full dose at the Friendly Confines going 24/31 for 345 yards, 3 touchdowns, and an interception. T.Y. Hilton – The rookie wide receiver is third on the team in receptions with 39, but leads the team in receiving touchdowns with 5. He has developed into a deep threat that the offense lacked early on in the season, and the confidence that Luck has begun to show in him has blossomed into what could become a long-term devastating combination in future seasons. In the teams' first game this year, Hilton caught 5 passes, but for just 35 yards. In the 5 games since then, Hilton has caught 21 more passes for 335 yards and 3 scores, and has run a punt return for a touchdown as well. With Luck chucking the rock so well, Hilton will have to be a multiple recipient, catching a season/career high 7 passes for 110 yards and a touchdown. Chris Johnson – The Titans running back started off slow this year, but has rebounded well. He has run for 993 yards on 204 attempts, averaging 4.9 yards per carry. Against the Colts in week 8, Johnson tallied 99 yards on 21 carries (4.7 average), but was held out of the end zone. With all the injuries the Colts have experienced on the defensive line and in the secondary, I would highly expect the Titans to use Johnson early and often. Especially after his *****-fit about not getting the ball as much as he thought he should have last week in a 24-10 loss to the Texans. Look for a big game for CJ2K, amassing 140 yards and a score. Jake Locker – If anyone remembers my old blog I used to write on FanNation ("The Expert Fan" blog), I did a mock NFL draft every year (which I will be doing here on iSportsWeb as well). For the 2010 draft, I remember thinking Jake Locker was way over hyped and I was absolutely stunned when Tennessee took him 8th overall. So far, Locker has done little to prove me wrong, but I will say he has played a bit better at this stage than I would have thought. But against the defense the Colts will be able to field Sunday at the Luke, the Lock should have a big game. For those who don't recall – Locker didn't play in the first meeting, Matt Hasselbeck did. Hasselbeck had no issues, completing nearly 76% of his passes for 236 yards and a touchdown. While I don't see Locker matching the 76% completion rate, I will say he goes 25/35 for 295 yards and a touchdown. Final Score – With a big game from Andrew Luck and the defense playing just well enough to win, the Colts clinch an unexpected winning season with their 9th victory, a 28-20 win over the reeling Titans. Follow me on Twitter @expertfan1
Original Story:
http://feedproxy.google.com/~r/isport...
THE BACKYARD
BEST OF MAXIM
RELATED ARTICLES
The Indianapolis Colts have seemingly been blessed. Or, if you prefer, Luck-y. See what I did there? In all seriousness though, if you could show me one single person – press or fan – who thought the Colts would be 8-4 with a decent chance at 11 wins in the pre-season, then I could show you a big fat liar. There's no way anyone, even the most diehard fan (of which I unshamefully...
Quarterback Andrew Luck helped the Colts win their ninth game of the season Sunday against Tennessee but didn't produce fantasy-worthy numbers after tossing four TDs in a miracle victory in Week 13 at Detroit.Fantasy Spin:Luck only had 196 yards on 16-of-34 passing with one touchdown and two picks after throwing for nearly 400 yards last week. He'll try to rebound in a tough...
Andrew Luck, who has often received credit for the Colts' unlikely success, was (statistically) terrible on Sunday. He completed 16 of his 34 pass attempts, on his way to a 196-yard performance. His lone touchdown pass was accompanied by two interceptions.One of those two interceptions came in the closing seconds of the first half on a hail mary-style pass. The other was a blatant...
INDIANAPOLIS -- Andrew Luck and Adam Vinatieri are at it again. The rookie quarterback led the Colts back from a 13-point second-half deficit Sunday, and the veteran kicker made a 53-yard field goal in the fourth quarter to give Indianapolis the lead and a 40-yarder a little later to seal a 27-23 victory over Tennessee. Luck has now engineered six fourth-quarter comebacks this...
It's not always pretty, but the Colts are the masters of the fourth-quarter comeback this season.Indianapolis did it again on Sunday, coming back late to top the Tennessee Titans 27-23. Andrew Luck surpassed Vince Young & Ben Roethlisberger (5) en route to his sixth fourth-quarter comeback on the season, the most by a rookie quarterback since the AFL-NFL merger in 1970....
Andrew Luck led Indianapolis back from a 13-point second-half deficit and Adam Vinatieri made two fourth-quarter field goals as the Colts rallied for a 27-23 victory Sunday over the Tennessee Titans. Luck has now engineered six fourth-quarter comebacks this season for Indy (9-4). It wasn't all Luck. Delone Carter cut the deficit to 20-14 with a 1-yard TD run on Indy's...
Indianapolis took a small step toward a far bigger goal Sunday - making the playoffs. All they need now is one more win. With Chuck Pagano watching inside Lucas Oil Stadium for the third straight home game, and a sold-out crowd ready to celebrate, the Colts rallied behind Andrew Luck's stable play and Adam Vinatieri's strong right foot to rally from a 13-point halftime...
Tennessee Titans (4-8) vs Indianapolis Colts (8-4) The Titans travel to Indianapolis with revenge on their mind from an overtime thriller with the Colts, in what started Andrew Luck's run of brilliance over the course of the last few weeks. If you recall, Luck executed a swing pass to fellow rookie Vic Ballard in overtime, who torpedoed his way through tackles to catch the pylon...
It's time for another installment of my pre-Colts game Q&A with Nate Dunlevy. This is our fifth season doing this, and in that time, Nate has moved from his own site 18 to 88 to bigger and better things as Lead Writer for Bleacher Report at their AFC South blog. He's also written two books, including Blue Blood, a history of the Colts in Indianapolis, and Invincible,...
Indianapolis Colts rookie QB Andrew Luck is building himself quite a reputation around the league as 'the comeback kid.' This season, he's orchestrated a whopping six 4th quarter comeback victories. Sunday, we saw Luck (16/34, 196 YDS, 1 TD, 2 INT) in comeback form, but he certainly didn't do it alone. Down 20-7, Indy came out in the second half determined to...
  For another look at the 2012 Indianapolis Colts, I went ahead and watched last week's Colts game. Last week, the Colts went to Detroit and defeated the Lions, 35-33, to improve their record on the season to 8-4. They were down for most of the game, but Andrew Luck threw two touchdown passes in the final three minutes, including the game-winner as time expired, to lift...
The Tennessee Titans will play at the Indianapolis Colts this weekend at Lucas Oil Stadium. Scheduled for a 1 p.m EST kickoff the game will be aired on CBS. Indianapolis struggled until the end of last season to find a win. This year the team has 8 and appear headed to the playoffs despite losing head coach Chuck Pagano early in the season to leukemia cancer. Andrew Luck is clearly...
NFL News

Delivered to your inbox

You'll also receive Yardbarker's daily Top 10, featuring the best sports stories from around the web. Customize your newsletter to get articles on your favorite sports and teams. And the best part? It's free!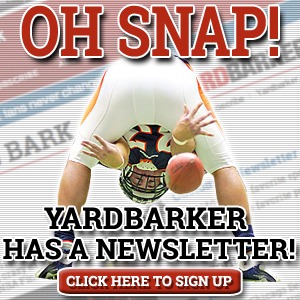 Latest Rumors
Best of Yardbarker

Today's Best Stuff

For Bloggers

Join the Yardbarker Network for more promotion, traffic, and money.

Company Info

Help

What is Yardbarker?

Yardbarker is the largest network of sports blogs and pro athlete blogs on the web. This site is the hub of the Yardbarker Network, where our editors and algorithms curate the best sports content from our network and beyond.