Found December 04, 2012 on Purple Jesus Diaries:
We've been fooled, every last one of us. Ever since the Vikings drafted "Christian Ponder" and let former Minnesota Vikings starting quarterback, Tarvaris Jackson, walk in free agency to sign with Seattle, we haven't seen any type of improvement in quarterback play. You would think we would, or at the very least that we would notice some type of differences in style, or numbers, or approach to the game, ANYthing. As Vikings fans, we were clamoring to have Tarvaris (or TarVar, as he was always affectionately called around here) run out of town and to bring in the new franchise quarterback. It seemed we had our wish when the Vikings picked Ponder. But we should have seen it coming, we should have seen the signs. We never got a new quarterback after Brad Childress left. We just got Tarvaris Jackson in White Face. Vikings blog Daily Norseman brings some compelling evidence to our attention. Take a look at these numbers comparing "Christian Ponder" and TarVar in their starts as quarterback of the Vikings. The results ... May be shocking: "Christian Ponder" Stats Tarvaris Jackson 22 Starts in Minnesota 20 3,984 Passing Yards 4,086 24 Passing Touchdowns 26 22 Interceptions 22 58.7 Completion Percentage 59.4 76.6 Passer Rating 76.7 But this isn't all. We should have seen the other signs too, the more obvious ones. We were expecting a prototypical passer with Christian Ponder, a quarterback who would stand in the pocket and throw the ball down field. But no. We ended up with, oddly enough, a white running quarterback, a "scrambler" if you prefer to use the Caucasian term for running quarterback, very similar to TarVar's style. And the number of times both of these "different quarterbacks" have run into or banged knees with Adrian Peterson? Too numerous to count. There is simply no way there could be TWO separately people on this earth dumb enough to do that. And the number seven jersey. It was so obvious. "Ponder" couldn't even pretend he was trying to be double the quarterback he was as TarVar by picking 14 or something. Instead, he remained the status quo and drove this team to the ground while wearing the same, cursed, number. He's like Batman. TarVar is like Batman for the Vikings, but an evil one. Not one that protects fans from failures and harm, but one who inflicts it. It's the only answer. Have you ever seen "Ponder" and TarVar in the same place together? Of course not, because it hasn't happened. It will never happen. He has to spend too much time in the chair to apply his White Face to pass as "Christian Ponder," young, franchise quarterback of the Vikings. But it won't work, Pondaris Jackson, we're on to you. We've seen how you both like to take your shirts off. That was the first giveaway. The interceptions and poor play was just the final straw. But we've learned our lesson. We kicked you to the curb and your alter ego is next, buddy, no doubt. So don't expect to see a number seven jersey on the field next year. We won't allow it. And wipe that White Face off, you look ridiculous. [follow]
Original Story:
http://www.purplejesusdiaries.com/201...
THE BACKYARD
BEST OF MAXIM
RELATED ARTICLES
FOR BETTER OR NORSE
Minnesota Vikings quarterback Christian Ponder and ESPN reporter Samantha Steele are now engaged, a few months after they went public to reveal they were dating.
Christian Ponder has 22 starts for Minnesota in his NFL career. Many of his peers have enjoyed far more success in a similar amount of time, but Ponder said Wednesday he's not comparing himself to other quarterbacks around his age. He said he hopes he doesn't need much longer to find his rhythm on the job. Ponder blamed himself for the Vikings' 23-14 loss at Green Bay...
Minnesota Vikings fans who blame ESPN sideline reporter Samantha Steele for Christian Ponder's dip in production this season are not going to be happy. According to Sports Illustrated's Richard Deitsch, Steele confirmed on Tuesday that she and Ponder are engaged. Unless the two were dating for a long time and did a great job of keeping it a secret prior to Ponder confirming it...
Spoke to ESPN's @samantha_steele today. She confirms she is engaged to @vikingsfootball quarterback Christian Ponder. — Richard Deitsch (@richarddeitsch) December 4, 2012 Sports Illustrated's Richard Deitsch confirmed on Tuesday that ESPN reporter Samantha Steele and Minnesota Vikings quarterback Christian Ponder are officially engaged to be married. After some speculation...
EDEN PRAIRIE, Minn. Leslie Frazier stood at a podium Monday, taking repeated questions from the media regarding Minnesota Vikings quarterback Christian Ponder and Frazier's resolute stance that Ponder is, and will be, Minnesota's starter. Before standing up and explaining his and the team's position on Ponder, Frazier had already thought long and hard about a vastly...
The Minnesota Vikings' playoff chances are slipping away with each missed opportunity, such as Sunday's 24-13 loss at the Green Bay Packers. Green Bay and the Chicago Bears (8-4) are tied atop of the NFC North, with the Packers owning a tiebreaker advantage against Chicago. Minnesota (6-6) is a game out of the playoffs after the Seattle Seahawks (7-5) beat the Bears Sunday...
Minnesota Vikings quarterback Christian Ponder is scoring both on and off the field. The second-year signal-caller from FSU is engaged to ESPN reporter Samantha Steele. Sports Illustrated's Richard Deitsch confirmed it on Twitter "Spoke to ESPN's @Samantha_Steele today. She confirms she is engaged to @VikingsFootball quarterback Christian Ponder," Deitch tweeted. Steele...
Despite two immensely costly interceptions from Christian Ponder, the Vikings were still in the game … until an epic Packers drive drained the clock and drained the life out of the Vikings.
Leslie Frazier said he believes in Christian Ponder as the Vikings' best option at quarterback, for now and for developing long-term. Meanwhile, he said his approach at quarterback is different than other positions.
This is Mark Swanson. I'll bet his friends called him "Swanny" in high school. Or Marky. Or ... Well, he's allegedly 39 years old, so maybe he's young enough to have gone by Marky Mark? I don't know. Either way, he's a Minnesota Vikings fan who recently attended a Vikings/Packers game at Lambeau field. In retrospect, he probably wishes he wouldn'...
By Andrew Gruman FOXSportsWisconsin.com GREEN BAY, Wis. When Vikings coach Leslie Frazier approached a dejected Christian Ponder at his locker just moments after the young quarterback struggled yet again, it wasn't to make a change. Instead, Frazier's intentions were to let Ponder know that he stood by him and won't be changing quarterbacks despite another dismal showing...
NFL News

Delivered to your inbox

You'll also receive Yardbarker's daily Top 10, featuring the best sports stories from around the web. Customize your newsletter to get articles on your favorite sports and teams. And the best part? It's free!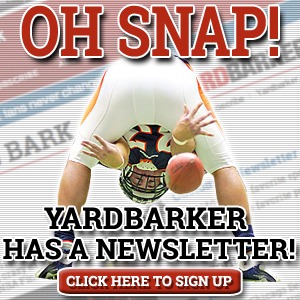 Latest Rumors
Best of Yardbarker

Today's Best Stuff

For Bloggers

Join the Yardbarker Network for more promotion, traffic, and money.

Company Info

Help

What is Yardbarker?

Yardbarker is the largest network of sports blogs and pro athlete blogs on the web. This site is the hub of the Yardbarker Network, where our editors and algorithms curate the best sports content from our network and beyond.