Found May 25, 2012 on Know Your Dallas Cowboys: The Blog:
Jerry needs to learn the difference between "moving in the right direction" and "urgently need to win right now." (Photo credit: Wikipedia)
When a team talks about a window of opportunity, it is usually in the context of a team that has fallen short in the playoffs. For instance, the Baltimore Ravens might talk about their window of opportunity after reaching the AFC title game in two of the last four seasons and coming within a dropped pass of going to the Super Bowl last year.
When a team has done what the Cowboys have done, there isn't much of a basis to say that a window has been open, let alone to say that it has begun to close.
Let's put it this way: would anyone dare say that the Cincinnati Bengals have recently had a window of opportunity to win a title? No. What have the Bengals done recently? They have had two winning seasons in the last three years, and two playoff appearances in the past seven.
The Cowboys? They have won one more game than the Bengals in the past two years and have not had a winning record since 2009. Dallas has been to the playoffs three times in the past eight years.
With this as background, Jerry Jones' recent statements about how urgent it is for the Cowboys to win it all right now is somewhere between sad and laughable. The quote from ESPN was this:
Well, my window is getting shorter. Time goes by. I do feel real pressure because we do have players not only in Tony Romo, but Jason Witten (and) DeMarcus Ware, to leave out several that are (also) in the prime of their career. And we need to strike and strike soon with those guys.

(Coach) Jason Garrett feels exactly the same way about it and understands how urgent it is. Candidly, you're looking through rose-colored glasses if we all don't realize that now is the time to compete on the field.
This is a team that has taken steps in the right direction. It has become younger overall and has some exciting young talent. That is reason for optimism.
But this is also a team with a bunch of holes, including question marks on the offensive line, wide receiver, and safety. And as good as Romo, Witten, and Ware have been, they have not helped this team win more than a single playoff game, let alone three or four in a row in the same season. Realistically, this team looks like it could be a solid contender as early as 2013, but there are too many question marks to expect too much in 2012.
Fox's Matt Mosley wrote:
Other than Wade Phillips' 2007 campaign with a lot of Bill Parcells carryovers, it's been years since the Cowboys could reasonably expect to make noise in the playoffs. Now, Jones is forced to roll out the tired rally cry of how the Green Bay Packers and New York Giants were able to win Super Bowls after 9-7 records in the regular season. Of course, those teams actually built momentum down the stretch and remained hot in the postseason. The Cowboys seem to peak in October and then slump when the stakes become higher.
Exactly. And my point here is not that this team doesn't have potential or even that I am unhappy with the moves made this offseason. However, "moving in the right direction" and "urgently need to win right now" don't seem to be very comparable.
As for Jerry, this seems to be just more proof that he is a bigger part of the problem than he is a key to any solution.
Related articles
Original Story:
http://feedproxy.google.com/~r/ThinkY...
THE BACKYARD
BEST OF MAXIM
RELATED ARTICLES
Cowboys coach Jason Garrett says there are no plans to trade cornerback Mike Jenkins. Jenkins has been recovering from offseason shoulder surgery in Florida and isn't at the team's first week of voluntary organized team activities. There have been numerous reports that Jenkins, who is going into the final year of his contract, wants to be traded. Garrett said Wednesday...
IRVING, Texas Dallas Cowboys owner Jerry Jones says he feels the "window closing" on his team making a run at the Super Bowl. But it seems like a window has to open at some point before it can begin to close. Other than Wade Phillips' 2007 campaign with a lot of Bill Parcells carryovers, it's been years since the Cowboys could reasonably expect to make noise in...
Getty Images Dallas Cowboys quarterback Tony Romo doesn't agree with owner Jerry Jones that their window to win a Super Bowl is closing.   "It's not closing," said Romo, per ESPNDallas.com. "I think there's a sense of urgency every year that you play, whether it's your first year in the league or your 22nd. You never know when all that stuff is going to happen, so...
A day after disgruntled Cowboys cornerback Mike Jenkins, who lost his starting job this offseason as the Cowboys brought in two new cornerbacks, demanded a trade, Head Coach Jason Garrett is adamant that they will not be trading him. He's not owed a ton of money this season and provides solid depth at a position of high importance between new starters Brandon Carr and Morris Claiborne...
ARLINGTON, Texas The Dallas Cowboys found out Wednesday that hitting receivers is a lot easier than hitting a little white ball. Nine members of the NFL team plus coach Jason Garrett participated in a home run derby for charity at Rangers Ballpark in Arlington. Former Cowboys great Troy Aikman, who's also a spokesman for event sponsor Reliant Energy, took a few swings as...
One of the juicier storylines surrounding OTAs this year is the standoff between the Cowboys and disgruntled CB Mike Jenkins. Jenkins, a 2008 1st Round pick, is unhappy with the organization because of the recent additions of CBs Brandon Carr and Morris Claiborne. Both of these players are expected to be starters, and Orlando Scandrick [...]
Earlier today, ESPN's Adam Schefter reported that the Colts are in heavy pursuit of acquiring Cornerback Mike Jenkins of the Cowboys. The Cowboys said last week that they do not intend on trading Jenkins, as they say you can never have enough good corners, and they view Jenkins as such. After going out to grab Brandon Carr in free agency and moving up in the draft to select LSU's...
ESPN's Adam Schefter (not Adarn Schefter, we checked) is reporting that the Indianapolis Colts are attempting to acquire Dallas CB Mike Jenkins. Jenkins, a 2008 1st-round draft pick by the Cowboys, reportedly became available after Dallas traded up to draft LSU CB Morris Claiborne. Check back with Colts Authority for updates as the story develops, and fir analysis on the trade...
While browsing deadspin.com I came across this story about Jon Kitna becoming a high school math teacher. First I think its an amazing story. I can't speak about Kitna's post career finances, but I am greatly proud to see a guy who did not allow the NFL to define him, and who actually had a plan after football. I struggle to understand why so many college educated former NFL...
NFL News

Delivered to your inbox

You'll also receive Yardbarker's daily Top 10, featuring the best sports stories from around the web. Customize your newsletter to get articles on your favorite sports and teams. And the best part? It's free!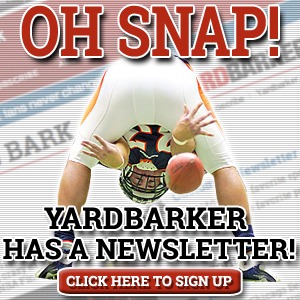 Latest Rumors
The Backyard

Today's Best Stuff

For Bloggers

Join the Yardbarker Network for more promotion, traffic, and money.

Company Info

Help

What is Yardbarker?

Yardbarker is the largest network of sports blogs and pro athlete blogs on the web. This site is the hub of the Yardbarker Network, where our editors and algorithms curate the best sports content from our network and beyond.