Found March 11, 2013 on Legend of Cecilio Guante:
Don't stop being youPhoto: NY post I really do love Jets fans. We are such a miserable bunch. Ever the ultimate pessimists. You know what, though? It may actually be warranted this go-around. I'm pretty sure our 2013 Jets are going to be even tougher to watch then last year. That's is a frightening thought. The good news is that Gang Green fans are very much looking forward to free agency and expressing great hope in how a few key moves could make a difference. In fact, the Jets asked their faithful on Facebook just what they were most pressing needs. To be more specific, they asked Jets fans to fill in the blanks on the following: Free agency begins tomorrow. The Jets most pressing need should be             . The responses were predictable, yet still awesome. In the first seven hours, we're up to about 3,200 comments or so. What follows are some of my personal favorites. Granted, I haven't had the time to peruse them all. Oh, you clever Jets fans! "fire management" (many shared a similar sentiment) "relocation" "An enima ( I can't spell , but I think you get the picture )" "Everything but u guys will be idiots and do nothing" "every position" (many variants on this one) "finding love in a hopeless place" "Offense, defense and special teams" (not original, but said so succinctly) "A quarterback that doesn't suck" (a good idea) And my favorite, because it's simple, straightforward and so very true. "Suck less." Yes, Jets. I know there are so many priorities. Picking one is quite the challenge. I say go with this last one, though. It's a good jumping off point.
Original Story:
http://legendofcecilioguante.com/2013...
THE BACKYARD
BEST OF MAXIM
RELATED ARTICLES
Mike Devito and Sione Pouha are gone. Laron Landry is visiting the Colts and the impending doom that Revis Island is on his way out hangs over the fan base like a guillotine. David Garrard is now a Jet. Affordable "Upside potential" players like Mike Goodson and Brandon Gibson are coming to visit. That may not enough for some Jet fans but they better get used to it. Rebuilding...
According to Manish Mehta of the New York Daily News, the Jets are expected to trade away cornerback Darrelle Revis within the next week or so. The Daily News has learned that Gang Green is poised to trade the Pro Bowl cornerback in the coming days at the right price in its first significant step to re-build the franchise. Sources have told the News for weeks that owner Woody Johnson...
The New York Jets have a handful of issues lying at their front door. In addition to having a lackluster offense, they're major concern seems to be focused around the quarterback position. With a new offensive coordinator in town, along with Rex Ryan confirming at the NFL Combine there would be an open competition for a starting quarterback, it didn't take long before Tim Tebow's...
The New York Jets announced today that they've signed veteran David Garrard. #RL The New York Jets have announced this afternoon they have signed 9-year veteran QB David Garrard. — New York Jets (@nyjets) March 11, 2013 I'm sure Garrard will have a chance at competing for the Jets' starting quarterback job, but there's a report out that says Mark Sanchez has a leg up on...
The Tim Tebow talk is at an all time low, but those in the business still feel the need to offer their opinion.   Bill Polian was a successful NFL general manager for many years, and now as an analyst for ESPN, knows a thing or two about football. Polian told ESPN that "Tebow is not an NFL quarterback, and his career might be done unless he switches positions.' "Tim Tebow's...
Just a year after signing Sione Po'uha to a three-year, $15 million contract the Jets have released the 34-year-old nose tackle.Back issues were a constant problem for Po'uha last season and when he was actually able to get on the field he didn't resemble anything close to the Po'uha of year's past, as he constantly got pushed around.Releasing Po'uha frees...
According to Jeff McLane of Philly.com, a rumor has been circulating that the Eagles are getting ready to make an offer to the Jets for cornerback Darrelle Revis. There's already a rumor brewing in certain NFL circles that Eagles general manager Howie Roseman has been crunching the numbers and putting together an offer to bring the 27-year-old Revis to Philadelphia. Others around...
Receiver Santonio Holmes is staying with the Jets after restructuring his contract, according to Adam Schefter of ESPN.Fantasy Spin:Holmes has been a malcontent over the last two years had only played four games in 2012 before a foot sprain ended his season. New York will have the same QB issues in 2013 so we aren't high on Holmes' fantasy prospects.
Former Jaguars quarterback David Garrard has officially signed with the Jets.Fantasy Spin:Garrard hasn't appeared in an NFL game since 2010. Incredibly, he actually has a decent chance to win the starting job over Mark Sanchez. The 35-year-old Garrard has thrown for 89 touchdowns and 16,003 yards over the course of 86 NFL games.
The AFC East is in need of receivers, and former St. Louis Ram Brandon Gibson might join the party.Gibson will take a trip to Florham Park Wednesday to visit with the New York Jets, according to Manish Mehta of the New York Daily News.Gibson hauled in 174 receptions for 2,090 yards and nine touchdowns in four seasons with St. Louis.The Jets reportedly are working on a restructured...
After a busy first day of free agency, the Miami Dolphins are not slowing down.  Adam Schefter reported this morning that free agent tight end, Dustin Keller will meet with the Dolphins today.  Keller is believed to be the 2nd best tight end available in free agency.  The Dolphins missed out on the best tight end available, when Jared Cook signed a 5 year deal worth $35 million...
BY NICK ST. DENISIn not-so-news-to-us, Mark Sanchez will enter the New York Jets' 2013 quarterback competition as the favorite.When speaking to the media Monday via conference call, new Jets offensive coordinator Marty Mornhinweg put Sanchez at the pole position."Mark will probably have just a little bit of a leg up it would appear," he said, via Brian Costello of the New...
Jets News

Delivered to your inbox

You'll also receive Yardbarker's daily Top 10, featuring the best sports stories from around the web. Customize your newsletter to get articles on your favorite sports and teams. And the best part? It's free!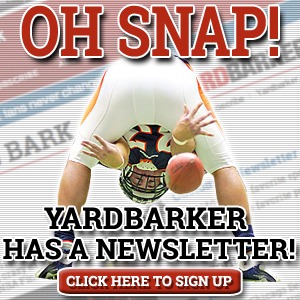 Latest Rumors
Best of Yardbarker

Today's Best Stuff

For Bloggers

Join the Yardbarker Network for more promotion, traffic, and money.

Company Info

Help

What is Yardbarker?

Yardbarker is the largest network of sports blogs and pro athlete blogs on the web. This site is the hub of the Yardbarker Network, where our editors and algorithms curate the best sports content from our network and beyond.