Posted January 08, 2013 on AP on Fox
Rex Ryan continues to leave an indelible mark on the New York Jets. But the head coach also took time at the team's news conference on Tuesday to address his much-discussed tattoo of his wife wearing a Sanchez jersey, something photographers documented while he was in the Bahamas. The coach said he has had it on his right arm for nearly three years, and was able to joke about all the commotion. ''I know what you're thinking: Obviously, if Sanchez doesn't play better that number is changing,'' Ryan said, smiling. ''I've been married 25 years and, in my eyes, my wife is the most beautiful woman in the world.'' Ryan, kept on board despite owner Woody Johnson firing general manager Mike Tannenbaum last week, had no Super Bowl guarantees -- but he's certainly back to being the brash Ryan from before. ''We are going to be a dangerous football team,'' Ryan warned Tuesday. ''I can promise you that. I'm going to tell you: You're not going to want to play the Jets.'' During a nearly 40-minute ''season-ending'' news conference that came nine days after the Jets' 6-10 season ended, both Johnson and Ryan - each decked out in green ties - spoke about being excited for the team's future. And, as far as Johnson is concerned, that future begins with Ryan, who acknowledged he was concerned he might be fired after the season because he ''failed'' to leave his imprint on all aspects of the team. But Johnson said that was never a scenario in his mind. ''I think Rex Ryan is perfect for the New York Jets,'' Johnson said. ''He is 100 percent this team.'' It sounded a bit the way Ryan's introductory news conference did four years ago, when the talk was about how the Jets would meet President Obama soon and how the franchise was going for the Super Bowl. ''I'm approaching this day like it's the first day. Period,'' a fired-up Ryan said Tuesday. ''Like my first day as a head coach. This is a new chance for me. This is a beginning, certainly not an end.'' While Ryan has toned down that talk during the last few seasons, he made no mistake that he is rejuvenated - after a few days in the Bahamas - and rededicated to bringing the franchise where he always has intended. ''We're not going to be bullied,'' Ryan said. ''We might not win every game, and no team does. But you've got to stand for something. We're going to be the team you don't want to play.'' That wasn't the case this season, of course, as the Jets failed to make the playoffs for the second straight year after consecutive trips to the AFC championship game in Ryan's first two seasons. While Tannenbaum was fired and the Jets continue to search for a replacement - a process Johnson said Ryan will be part of - significant changes are being made to the coaching staff. Offensive coordinator Tony Sparano was fired after one season in which the offense ranked among the league's worst. ''I want to be more of an unpredictable offense,'' Ryan said. ''As hard as we are to attack defensively, I want to be offensively.'' Quarterbacks coach Matt Cavanaugh is also out after four seasons. Neither Sparano nor Cavanaugh could get starting Mark Sanchez to make the next step in his development, and he actually regressed this season - culminating in the first benching of his career. Sanchez's 52 turnovers the last two seasons are the most in the NFL, and Ryan and Johnson insisted money wouldn't factor into any decisions on personnel - despite the fact Sanchez is owed $8.25 million in guarantees and would cost the Jets a $17.1 million salary cap hit if they cut him. The Jets also couldn't figure out a way to effectively use backup quarterback Tim Tebow, who failed to get into the end zone all season as he stood mostly on the sideline after being expected to be a major part of Sparano's offense. Tebow is expected to be traded or released - but personnel moves will largely depend on the next general manager. ''It is way too early to say what any of our players' futures are,'' Ryan said. Defensive coordinator Mike Pettine, whose contract is expiring, also won't be back. Ryan has worked with Pettine the last 10 years, but said Pettine was interviewing for the same job in Buffalo and the two felt it was time for him to look at other opportunities. Ryan hinted that Pettine's replacement would come from within the franchise, likely secondary coach Dennis Thurman, but didn't want to announce anything since ''the ink's not dry.'' Special teams coordinator Mike Westhoff retired after the season, and will be replaced by his assistant, Ben Kotwica.
Original Story:
http://msn.foxsports.com/nfl/story/ne...
THE BACKYARD
BEST OF MAXIM
RELATED ARTICLES
Not to get all TMZ-y but this story is just goddamn hilarious. While Ryan was vacationing in the Bahamas, some paparazzi grabbed a few photos of the shirtless Ryan. Those photos, of course, contained the now famous tattoo.There was much speculation on whether it was real or not, most probably didn't even care.Turns out it's real. Rex Ryan says so himself.USA Today:"There...
After being photographed shirtless on a beach resort last week, Rex Ryan finally addressed the New York media and answered questions about a peculiar tattoo spotted on his right arm, one that depicts his wife wearing nothing but a Mark Sanchez jersey in a pose that looks strangely similar to "Tebowing." What Rex said, according to Business Insider: It's real. He's had it...
Rex Ryan continues to make news — odd news at that — away from the football field, as we found out last week. Vacationing in the Bahamas, the New York Jets head coach was spotted by the tabloids sporting an interesting tattoo on his right arm. Quickly, the tattoo — featuring Ryan's wife wearing a Mark Sanchez jersey — became a viral sensation and the butt of jokes across...
Rex Ryan isn't the only one who likes to get freak nasty with the ladies and show it off. Some people get ink and others name their fantasy team after their true loves. Stoke City players, including Jermaine Pennant who is currently on loan with Wolves, participate in an internal fantasy soccer league as a way to build team camaraderie. The oft-troubled winger's career has been...
Give em the 'X' Juan… Dez Bryant is finally getting that pesky finger taken care of.  I have already given out the trophy for Breakout WR Of The Year to Dez, so you know I think highly of him from a fantasy perspective.  The fact that he played through a broken finger and went off doing so is unbelievable from a teammate perspective.  He's going to be in my top 3 for 2013...
Last week Rex Ryan took a quick vacation to the Bahamas to escape the Jets mess as I like to proclaim it.  During the quiet vacation, things got really noisy again for Rex when he was photographed on the beach, and on his right arm was a tattoo of his wife wearing nothing but a Mark Sanchez jersey.   Ryan took it all in stride like he does everything, and knew he would have to...
Rex Ryan took the podium at Jets headquarters on Tuesday dressed for success. The Jets head coach, who has lost a ton of weight over the last year or two, addressed the media wearing a sharp white shirt with a green and black tie. The news conference, in terms of Rex Ryan, was, well, lame as hell. Just a few hours later, we only wish his brother could have had a news conference of...
Mark Sanchez's 2012 New York Jets season was full of interceptions and fumbles—and he even threw in an unprecedented buttfumble for good measure. Week after week, Jets Nation watched in horror as our starting quarterback severely underperformed, and even more alarmingly, was not benched. Rex Ryan stuck by his guy, saying that "Mark gives us the best chance to win." We all...
After returning from his 8 day vacation in the Bahamas Rex Ryan is back to doing what he does best, which is confusing the hell out of everyone in the general vicinity. He was quoted, in an End of the Year press conference as saying he wanted to have his offense be an "a more aggressive style, all-weather offense instead of a ground and pound kind of offense." He also stated...
ANDREW THEODORAKIS/NEW YORK DAILY NEWSNew York Jets head coach Rex Ryan  told the media today that if quarterback Mark Sanchez doesn't improve next season, he'll probably have to change the tattoo he has of his wife wearing Sanchez's jersey."Obviously, if Sanchez doesn't play better, that number's changing," said Ryan per Manish Mehta of the NY Daily News.If I were...
Not sure if this is out there but I just heard the Cowboys have fired Rob Ryan. Brian Costello (@BrianCoz) January 9, 2013That's how it all started.  Within minutes it had spread like wildfire.  I didn't want to believe it- this man, who held together a respectable defense in the final weeks of the season using walk-on players, had just been fired.This hadn't been...
New York Jets owner Woody Johnson and Rex Ryan finally addressed the media on Tuesday. Gang Green's owner is retooling the front office, coaching staff and on-field personnel, while Ryan is staying put as head coach. Find out why Johnson feels Ryan is part of the solution, not the problem in New york.
Jets News

Delivered to your inbox

You'll also receive Yardbarker's daily Top 10, featuring the best sports stories from around the web. Customize your newsletter to get articles on your favorite sports and teams. And the best part? It's free!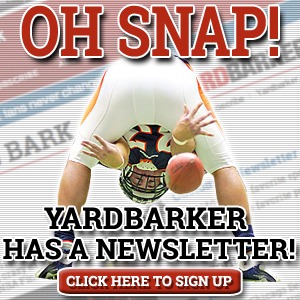 Latest Rumors
The Backyard

Today's Best Stuff

For Bloggers

Join the Yardbarker Network for more promotion, traffic, and money.

Company Info

Help

What is Yardbarker?

Yardbarker is the largest network of sports blogs and pro athlete blogs on the web. This site is the hub of the Yardbarker Network, where our editors and algorithms curate the best sports content from our network and beyond.