Found November 15, 2012 on NorthWest Sports Beat:
PLAYERS:
Marshawn Lynch
,
Adrian Peterson
,
Sidney Rice
,
Golden Tate
,
Zach Miller
,
Russell Wilson
,
Brandon Browner
,
Jeremy Kerley
,
Richard Sherman
,
Mark Sanchez
,
Jason Jones
,
John Moffitt
,
Doug Baldwin
TEAMS:
Seattle Seahawks
,
New York Jets
Grounded The Seattle Seahawks hosted the New York Jets Sunday in what was considered a must-win game for both teams. While there is great parity between the two teams' records, a lot was on the line for both. Seattle is fighting for a playoff spot while the Jets are fighting themselves and the media circus they've created. With that playoff spot in mind, Seattle players seem to be clicking at the right time and it can only get better from here. With a much more manageable schedule approaching, this team has the possibility to do something big. With all that being said, a lot of good things happened on Sunday. Let's shed some light on those who did well and did poorly for the Seahawks against the Jets. Love 'em Marshawn Lynch How can you not love Marshawn Lynch? Beast Mode makes watching the Seahawks fun and he continued to put on a show on Sunday. With his physical running style, Lynch bruised his way to a 100+ yard game. In turn, that put him over 1,000 yards on the year, eclipsing the century mark in the 10th games of the season. As of now, Lynch is the second best running back in football. After a few more performances like the one he had Sunday, Lynch will easily challenge Adrian Peterson for that #1 spot.  Sidney Rice It is nice to see Sidney Rice healthy. What we have seen from Rice in the last few weeks is exactly why the Seahawks went out and got him. Despite his lack of blazing speed, Rice uses his exceptional knowledge of the game and his ability to read defenses and finds himself open behind the secondary. How can you not love Marshawn Lynch? Besides coming into the #1 role that he was brought to take over, Rice has done some pretty good things to help this team win games. He is finally becoming a better blocker, allowing Golden Tate to make moves on a quick screen pass. He is throwing off defenses, because he can throw the ball, too. Sidney Rice is finally showing us his arsenal…and it's paying dividends for the Seahawks. Golden Tate Golden Tate has become an important player on this team. By using his athleticism, Tate has been out-jumping opponents all season long and continued to do so Sunday with his leaping grab over a Jets defender before a brisk step or two into the endzone for the score. Like Rice, Tate is bringing different weapons to the table too. His speed has allowed Seattle to add more quick outs to him to allow Tate to make plays happen. He is making people miss on a consistent basis and it is freeing him up to do even more. Zach Miller How happy is Zach Miller? After being primarily known as a pass catcher, Miller's role quickly changed when he got to Seattle. He has taken lots of criticism due to his lack of receiving numbers, but many don't give him credit for changing his role and play style to help the Seahawks protect Russell Wilson. This week, Miller got used a lot more in the passing game. It was a breath of fresh air after seeing the Seahawks tone down the importance of Tight Ends in their offense. With Miller finally making catches instead of blocks, this team is adding more and more weapons to make a late season run. Brandon Browner Brandon Browner won't quit. He is silently playing one hell of a defensive season, overshadowed by the other members of the Legion of Boom. His no quit play style, though, has saved this team 2 weeks in a row. After getting beat on a play, Browner puts his head down and hits a full on sprint in order to catch players before they hit the endzone. Browner did that on Sunday, stopping Jeremy Kerley just short of the endzone. That stop allowed Seattle to force a turnover when Richard Sherman intercepted Mark Sanchez. Richard Sherman How can you not love the game that Richard Sherman had on Sunday? Despite the Jets not having a true #1 stud receiver, Sherman still managed to make some headlines with his play. Besides picking the ball off in the red zone, Sherman turned up several more times to make some plays. He made a couple big pass deflections as well as a big sack fumble on Sanchez, allowing Jason Jones to recover the fumble and turn it over to Seattle. Some people hate cocky players because they don't back their talk up. We all know Sherman backs his up. Hate 'em John Moffitt I love John Moffitt, don't get me wrong. On Sunday, though, Moffitt got flat out beat all game by the Jets defensive line. And it hurt the Seahawks a few times with sacks and losses in the backfield. I realize Moffitt has been frequently injured since being drafted by Seattle, but if he continues to allow people to turn him into a revolving door, he may serve better use on the bench until he finds his way again.  Russell Wilson I honestly wasn't sure I was going to be able to put Russell Wilson on the hate 'em list this season. Unfortunately after Sunday, I had no choice. I know you probably think I'm crazy, because Wilson had a pretty good game.  Golden Tate has become an important player on this team. My problem , though, is what I saw in the first half, and almost the first 3 quarters of the game. With all the progress that Wilson has made this season, he seemed to take a few steps back on Sunday. He held onto to the ball way too long. He made some poor decisions when doing his checkdowns and reads on his receivers and their coverage. He did not have his head on a swivel. Instead, he had on blinders. Had he been more able, Wilson would've played even better. I recall one play in particular where Doug Baldwin was streaking past a block on the field with his hand held out in front of him, signaling to Wilson he was getting open. This happened directly in front of Wilson as he was making his reads during the play. Instead of seeing Baldwin and hitting him down field, Wilson instead scrambled to the outside and got sacked by the linebacker who finally busted through the line. These are the kind of plays that can make and break games. CLICK HERE TO CHECK OUT THE SEAHAWKS BLOG PAGE IN OUR CLUBHOUSE SECTION AT NWSB!
Original Story:
http://www.nwsportsbeat.com/seahawks/...
THE BACKYARD
BEST OF MAXIM
RELATED ARTICLES
We wrote earlier today about Green Bay Packers CB Tramon Williams taking it upon himself to take ownership of the name "Optimus Prime" after Seattle Seahawks CB Richard Sherman already used it a few weeks ago. Williams told the Milwaukee Journal Sentinel "I'm definitely Optimus Prime," adding that  "guys like Brandon Browner and Richard Sherman, they...
Pete Carroll knows a little about the media pouncing on their prey. He took every attack the Boston media threw at him while he was head coach of the New England Patriots. After his dismissal from New England, he went back to sunny Southern California and built a powerhouse USC program that turned him into an icon in those parts. Carroll also knows young quarterbacks and Mark Sanchez...
Last week: 10 (+1) Record: 6-4 Remember two weeks ago when everyone thought the sky was falling for them when they were 4-4 after losing to Detroit. And two weeks before that everyone thought they were great when they were 4-2 and coming off a win against New England. Well, now they're 6-4 and everyone thinks they're great following a blowout win over the Jets. What happened...
Two in a row baby! Yes that's right, your Seattle Seahawks have won two games in a row, and now take that momentum heading into their bye week. Up next for the Seahawks is a show down in Miami against the Dolphins against another ex Pete Carroll star, Reggie Bush. With 6 games remaining, the Hawks look to be in a great spot, and should be able to get into the post season barring...
Seahawks win it in second half Seattle Seahawks 28, New York Jets 7 When: 1:05 PST, Sunday, November 11, 2012 Where: CenturyLink Field, Seattle, Washington What started out as an awful first half of football by both teams, lead to a second half of football that was the most complete half of the 2012 season for the Seattle Seahawks. The Seahawks showed that they are mean, they are...
I know I just talked about how much I love The Real Rob Report, but this voting edition is so hilarious. In this video, we find out which Seattle Seahawks voted, who they voted for, why some didn't vote, and who they would have voted for if they would have voted…which they didn't. Also, Brandon Browner and Richard Sherman (briefly) comment on current coverage rules vs. the...
(Note: Since I was redoing my spreadsheets anyway, I went ahead and revamped the tables I've been using for the stats articles as well.  That part took a heck of a lot longer than I thought it would, but such is life.) Entering their bye week, the Seahawks' record stands at 6-4 with six games left to play in the season.  Last year, the team was 4-6 after ten games, and...
Louis Bacigalupi posts comments on the site as LouieLouie.  He's an accountant by trade and worked in a USFL front office.  He can be reached by email at Louie@fiercelyI.com. Don't talk about playoffs. Actually, let's talk about the playoffs.  We could get all hung up on tie-breaker scenarios and the what-ifs, but if the Seahawks can get to 10-6 they should be in the...
In this article we assume that you are starting your RB1s regardless of the matchup. Each week we will analyze the defenses and provide our take on which RBs you should start and which should be benched based on matchups with stout run defenses, stubbed toes, potential weather problems, conduct code violations etc. Multiple big name RBs will be practicing their golf games in week...
NFL News

Delivered to your inbox

You'll also receive Yardbarker's daily Top 10, featuring the best sports stories from around the web. Customize your newsletter to get articles on your favorite sports and teams. And the best part? It's free!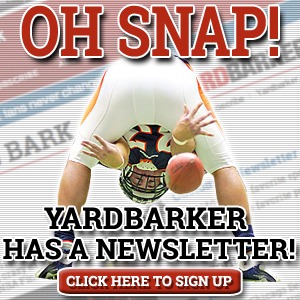 Latest Rumors
Best of Yardbarker

Today's Best Stuff

For Bloggers

Join the Yardbarker Network for more promotion, traffic, and money.

Company Info

Help

What is Yardbarker?

Yardbarker is the largest network of sports blogs and pro athlete blogs on the web. This site is the hub of the Yardbarker Network, where our editors and algorithms curate the best sports content from our network and beyond.