Found October 02, 2012 on Pro Football Zone:
Former Washington Redskins quarterback Joe Theismann went after both Dallas Cowboys quarterback Tony Romo and owner Jerry Jones today by blasting them on the radio. "Soon or later we have to come to the realization that Tony isn't a very good quarterback," Theismann told Brady & Lang on Sportsnet 590 The Fan Tuesday, via the Dallas Morning News. "He throws interceptions that (make) you shake your head. If it's all the wide receivers' fault then maybe he should get some new wide receivers, or they need to come up with some new route combinations that guys can understand." After watching Romo last night, Theismann says he realizes that he's not very good. "What hit me last night is, Tony isn't really that good," Theismann said. "Just because he wears a star on his helmet — we all think that people who are Dallas Cowboys, 'ooh they're wonderful and ooh they're terrific, ooh they're the next Roger Staubach' or whatever the heck they want to say. They're full of bologna. "Tony makes bad decisions with the football. And I'll tell you something else; he missed two wide open touchdowns last night that nobody's talking about. Forget about the five interceptions; he misses Miles Austin and Dez Bryant with easy touchdown throws, and he airmails the ball over their heads. "You can say, 'well, everybody has a bad game.' Tony has too many bad games. Tony Romo is not a very good quarterback. Somebody has to say it so I just did. He should be a lot better, or the reputation he's carried should have him play a lot better." Theismann didn't stop at ripping Romo, he also went after Cowboys owner Jerry Jones. "It took him five years too long to change the offensive line, which isn't very good. It took him three years too long to change his secondary. He'll do the same thing again. This is what happens when you're not a football guy. "You have to ask yourself, 'is the owner holding back this football team with football decisions?' And I think yes. "I think you have a couple issues in Dallas. Number one, I think you have a team, they think they're pretty good. They're not. Number two, their quarterback thinks he's pretty good. He's really not. Number three, their owner is their general manager and he doesn't make good decisions from a personnel standpoint." Theismann says Romo doesn't get when it comes to being a quarterback. "Tony Romo continues to do things to hurt his football team," Theismann said. "He doesn't understand how to play the quarterback position. Somebody had to say it, and I just said it. Tony, you have to start proving to everyone you understand football. You're doing things that Pop Warner kids would get benched for." I do believe that Romo is a talented quarterback that puts up nice numbers, but is prone to making dumb mistakes that costs his team games. So I do agree with Theismann to a degree. But at the end of the day, I think Theismann needs to worry more about his former team than the Cowboys. Both teams do have a 2-2 record, so it's not like the Skins are tearing apart the NFL right now.
Original Story:
http://feedproxy.google.com/~r/ProFoo...
THE BACKYARD
BEST OF MAXIM
RELATED ARTICLES
The more things change, the more they stay the same for Tony Romo and the Dallas Cowboys. Drops by Dez Bryant, plenty of INTs by Romo, and stout defense by the Bears all equal a scathing 34-18 Dallas Cowboys loss to the Chicago Bears. There is very little to say that can be positive for this game. The defense allowed 20 points, albeit 7 in garbage time, and the inept offense continued...
Thanks to @_Happy_Gilmore we got a picture of what Dallas Cowboys quarterback Tony Romo see's on the field compared to what a typical NFL quarterback see's. Check out the picture below.  
Dallas Cowboys quarterback Tony Romo admits that he's going to have to "reassess" some things after Monday night's blow out loss to the Bears. "It's going to sit there in your stomach and just eat at you," Romo said of having to wait 13 days before the team plays again. "In different situations out there where you're trying to do too much and help out different...
CHFF's Justin Henry examines Tony Romo's most brutal loss of his polarizing career as the Bears exploited Dallas' many mistakes, winning 34-18.
If we all enjoyed our job as much as Jon Gruden, the world would be a much better place. Or much crazier. Or both. The former NFL coach turned Monday Night Football analyst has developed a reputation for really, really loving football and really, really loving those who play that game. He's not afraid to show that, either, as he's proved time and time again during ESPN telecasts...
ARLINGTON, Texas (AP) -- Lance Briggs and Charles Tillman returned interceptions for touchdowns and the Chicago Bears beat the Dallas Cowboys 34-18 on Monday night. Tony Romo threw five interceptions, matching the most in his career. Major Wright had two of the picks, and the one by Briggs came on a wild two-play exchange of turnovers midway through the third quarter. Chicago&...
One thing that we have learned in my few years of writing this blog is that most of our readers have other sports affiliations besides just Virginia. I know, it's not that much of a stretch, but we all watch NFL on Sundays, MLB on weeknights, and NHL whenever they want to play again. Yours truly is a Chicago Bears fan, and that allegiance is a tale for another time. As I was watching...
Andy Dalton, Cincinnati Bengals vs. Miami Dolphins: This should be an interesting game. Is Miami better than we thought or can Cincy handle their business? Well either way you should use Andy Dalton here.
Monday night in "Big D" proved to be rather unpleasant for the host Dallas Cowboys as they welcomed in the NFC North's Chicago Bears. Billed as the battle of the two "almost elite" quarterbacks, the Monday night matchup featured Chicago's controversial Jay Cutler and his revamped receiving corps against the Cowboys' charismatic Tony Romo and his promising...
Philly Sports World is proud to bring you the WatchDawg Fantasy Football Show with your host Chris Butler. Watch Dawg Fantasy Football airs live on Thursday evenings at 6 PM on AM 1600 WKKX in the Ohio Valley. Philly Sports World will bring you the show as a syndication partner every week.This week on the WatchDawg Fantasy Football Show, Chris & Travis cover the NFL Week 5 MUST...
Go Binns drinkingPhoto Credit: Navin75 And Booooooom goes the dynamite! That wasn't the sound of Tony Romo coming back to earth, but instead the sudden outburst of fantasy points. They were plentiful this weekend. Garbage touchdowns galore (Brandon Lloyd and Dwayne Bowe) and points through the air we have been waiting for all season. The presence of Ed Hochuli's massively...
Coming off a dominating performance in prime time, the Chicago Bears defense could be in for another big effort against a team that might have the worst offense in the NFL. The visiting Bears look for a third consecutive victory as they face the offensively challenged Jacksonville Jaguars on Sunday. Though Chicago's offense has been inconsistent in 2012, its defense has a league...
NFL News

Delivered to your inbox

You'll also receive Yardbarker's daily Top 10, featuring the best sports stories from around the web. Customize your newsletter to get articles on your favorite sports and teams. And the best part? It's free!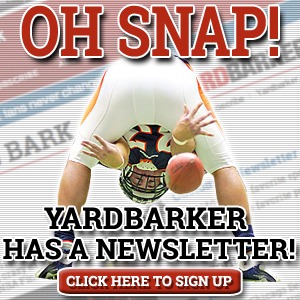 Latest Rumors
Best of Yardbarker

Today's Best Stuff

For Bloggers

Join the Yardbarker Network for more promotion, traffic, and money.

Company Info

Help

What is Yardbarker?

Yardbarker is the largest network of sports blogs and pro athlete blogs on the web. This site is the hub of the Yardbarker Network, where our editors and algorithms curate the best sports content from our network and beyond.