Found January 21, 2013 on Patriots Life:
With everyone saying Bill Belichick and Tom Brady were sore losers, I was glad to see this headline. Belichick caused a stir last night when he didn't interview with CBS, a customary thing to do after a game, win or lose. As a result of this, Bill was labeled as unprofessional and a sore loser. I think John Harbaugh has the biggest say in whether or not Bill is classy or not and I think his quotes puts the critics in their place. "Coach Belichick after the game was so classy with what he said. I'll treasure that conversation forever. He was so classy, so gracious. Complimentary about how we played, about our game plan, about how tough it is to play us. I told him how much we pattern our organization around theirs, how much we study them." The Patriots vs Ravens rivalry is still heating up and its nice to see the coaches can keep it classy while the players(cough cough Terrell Suggs) can't. Criticize me on twitter, please, I LOVE IT @joeloobs Sources: nfl.com
Original Story:
http://www.nepatriotslife.com/2013/01...
THE BACKYARD
BEST OF MAXIM
RELATED ARTICLES
CBS analyst Shannon Sharpe had some harsh words for New England Patriots coach Bill Belichick following the Patriots 28-13 loss to the Baltimore Ravens in the AFC Championship Game.Belicheck blew off an interview with sideline reporter Steve Tasker. That set off Sharpe:  
Bill Belichick was understandably disappointed with the Patriots' performance on Sunday, and his frustration got the best of him after the game. Belichick, who was somewhat defensive and succinct in his postgame news conference, skipped out on an interview with CBS following Sunday's AFC Championship loss, which Shannon Sharpe called "unacceptable." Sharpe said that you can't...
Shannon Sharpe of CBS ripped Bill Belichick last night for being a "poor sport." After the game there is always an interview with the losing coach, an interview that Belichick did not do. So, Sharpe decides he needs to give his much-sought-out-for(sarcasm) opinion. Heres what he said: "There's something to be said about being gracious in defeat," Sharpe...
It is standard that the losing coach in the Championship game give a quick interview with the media, Belichick doesn't do that and Shannon Sharpe doesn't like it.
Bill Belichick gave fair warning Monday — even when no one asked — that he and his gray hoodies will still prowl the sidelines of the New England Patriots or at least another season. At the head coach's season-ending press conference Monday— a day after the Patriots got trounced by the Baltimore Ravens in the AFC Championship Game — a glum Belichick told the media:...
For reporters who have stared at the face of the franchise since he was 47-years young, the coach Belichick will return, to some's dismay, for his fourteenth season. According to WEEI.com, Belichick announced that he plans on staying. "I'll be here," Bill Belichick announced toward the end of his season-ending press conference with the media at Gillette Stadium. "You'll...
Jim and John Harbaugh have exchanged a handful of text messages, and they plan to leave it at that. No phone conversations necessary while the season's still going. No time for pleasantries, even for the friendly siblings. There is work to be done to prepare for the Super Bowl, prepare for each other, prepare for a history-making day already being widely hyped as ''Harbowl.''
Baltimore Ravens linebacker Terrell Suggs is finally headed to the Super Bowl after seven playoff appearances.  He celebrated the Ravens' 28-13 victory over the New England Patriots with some trash talk. Suggs: "Tell them to have fun at the Pro Bowl. Arrogant F---ers." — Dan Wetzel (@DanWetzel) January 21, 2013 Terrell Suggs: "These are the most arrogant pricks...
Call it the Harbowl if you like; we'll all admit that both the name and the story line have a certain appeal – but Super Bowl XLVII is about much more than the battle between Jim and John that has been raging since boyhood. What's more impressive is how each of them led their teams this year. The bloodline story is compelling and media friendly, so it will be told often in...
If it ain't broke, don't fix it. The Ravens are doing just that. Coach John Harbaugh said the Ravens will be keeping Jim Caldwell as offensive coordinator for next season. Since Caldwell has taken over, the Ravens are 4-2 and are in the Super Bowl. Joe Flacco also looks like an entirely different quarterback. Additionally, the Ravens hired Eagles former defensive coordinator...
NFL News

Delivered to your inbox

You'll also receive Yardbarker's daily Top 10, featuring the best sports stories from around the web. Customize your newsletter to get articles on your favorite sports and teams. And the best part? It's free!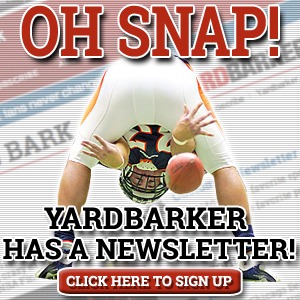 Latest Rumors
Best of Yardbarker

Today's Best Stuff

For Bloggers

Join the Yardbarker Network for more promotion, traffic, and money.

Company Info

Help

What is Yardbarker?

Yardbarker is the largest network of sports blogs and pro athlete blogs on the web. This site is the hub of the Yardbarker Network, where our editors and algorithms curate the best sports content from our network and beyond.