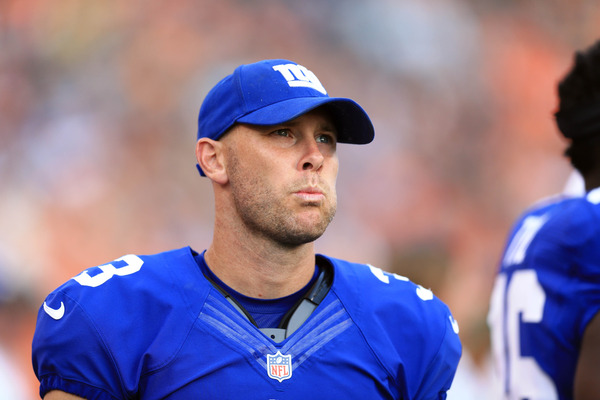 Former Giants kicker Josh Brown reportedly has finalized his divorce.
Andrew Weber-USA TODAY Sports
Former New York Giants kicker Josh Brown and his ex-wife Molly recently finalized their divorce after eight years of marriage.
According to court documents obtained by TMZ, a judge signed off on the divorce on Dec. 28. Josh and Molly had been separated since May 22, 2015, which was the day Brown was arrested on a domestic violence charge. Brown has been ordered to pay Molly $15,000 a month in spousal support for 24 months and another $4,000 per month in child support. Josh and Molly have a 6-year-old daughter together.
As part of the divorce settlement, Brown has been ordered to continue to seek counseling for his history of domestic abuse. In a letter to friends that Brown allegedly wrote in March 2014, the 37-year-old admitted that he abused his ex-wife "physically, emotionally and verbally." Similar things were written in a personal journal entry from 2013 that was attributed to Brown.
Brown was not convicted of domestic violence, and he later claimed he never physically abused his wife but admitted to verbal and mental abuse. He was released by the Giants in October.
MORE FROM YARDBARKER:
How to fix the San Francisco 49ers
MORE FROM LARRY BROWN SPORTS:
MORE FROM YARDBARKER
Giants News

Delivered to your inbox

You'll also receive Yardbarker's daily Top 10, featuring the best sports stories from around the web. Customize your newsletter to get articles on your favorite sports and teams. And the best part? It's free!