Found September 16, 2012 on Checkdown Chatter:
I don't follow 'lists' all too well. I'd struggle to name 10 plays that I thought were truly the best in NFL history; 10 all time games, etc. nor could I tell you the 10 worst penalties in the history of the league, but, in no uncertain terms I could tell you that I witnessed [...]
Original Story:
http://checkdownchatter.info/blog/jos...
THE BACKYARD
BEST OF MAXIM
RELATED ARTICLES
FLAGGED DOWN
Josh Morgan is one of the biggest goats in D.C. after costing the Redskins a shot at victory by committing an incredibly dumb penalty against the Rams on Sunday. The Redskins were down 31-28 and had a 3rd and 8 at the St. Louis 36 with less than two minutes left. Morgan caught a pass from Robert Griffin III and the ball would have been down at the 29 after a gain of seven. Washington...
My biggest problem with Josh Morgan's bonehead move yesterday was not the penalty or even the action itself. The issue is that I sat on my couch and watched a player on my favorite team act like a 7-year-old getting called out in kickball — and I was not surprised at all. It's been going on for a while in DC. It seems every week we are in someones face, shoving players,...
Missed field goals and quarterback gaffes can be forgiven. Losing your cool and chucking a football at an opposing player? Well, that's something else -- especially if the hothead move costs your team 15 yards, a chance at a first down and maybe even the game. But Redskins coach Mike Shanahan, who is not known for taking much foolishness on his football teams, was pretty even...
Josh Morgan may have cost the Washington Redskins a chance at starting the 2012 NFL season 2-0. It is that easy. With that being said, could the Redskins send a message to the rest of the team that stupid penalties will not be tolerated and cut their new wide receiver? Stranger things have happened, especially when it comes to Mike Shanahan and Daniel Snyder making decisions. Morgan...
Washington Redskins wide receiver Josh Morgan may have cost his team a win during Sunday's loss to the Rams. Trailing 31-28 with 1:27 on the clock, Redskins quarterback Robert Griffin III completed a third-and-8 pass to Morgan for 7 yards. It wasn't enough for the first down, but Morgan's grab would have positioned Billy Cundiff for a 48-yard field-goal attempt. That all floated...
Here's one of the things NOT to do when your team is behind and driving with a chance to tie late in the game. Here's the situation.The Washington Redskins trailed the St. Louis Rams 31-28 with under two minutes to play in the fourth quarter when quarterback Robert Griffin III flicked a third-down pass to WR Josh Morgan. Morgan eventually was tackled short of the first down...
Josh Morgan commits 15 yard personal foul penalty by throwing the ball at Cortland Finnegan Yesterday in the Redskins loss to the Rams, Josh Morgan made one of the worst boneheaded plays I have ever seen. Down 3 with 1:19 to play, the Redskins offense managed to get themselves in field goal range on a third down pass to Josh Morgan (we will excuse the fact that he should have...
On Sunday, Redskins wide receiver Josh Morgan made a big mistake by getting called for a 15 yard unsportsmanlike penalty after throwing a football at Rams cornerback Cortland Finnigan for pushing him down.  It was a big mistake because it was during a potential game winning drive within the final few minutes of the game.  The penalty ended up pushing the Redskins out of field goal...
Who would've thought one of the most exciting games on Sunday would've been between the Washington Redskins and the St. Louis Rams. It looked as if the Rams were going to lose this one after the refs blew a 1 yard touchdown but Rams RB Steven Jackson. Jackson spiked the ball in frustration and received [...]
  That's right Josh, a Wide Receiver catches the ball he doesn't throw it. Now you've got it. Just a brief update on Redskins WR Josh Morgan who lost his cool after  Cortland Finnegan slapped him on the head. Redskins Coach Mike Shanahan said he won't punish Josh Morgan for the mistake. He also said that he didn't even pull Josh aside to talk about it rather addressed...
The Washington Redskins were losing to the St. Louis Rams by half time, even though they led 21-16. The Rams scored 10 points in the last two minutes, riding a tailwind of momentum as they ran to the locker room. By the end of the half, the Rams dominated in the most offensive way, by running 38 offensive plays to the Redskins' 24, by gaining 179 yards to Washington's 101...
NFL News

Delivered to your inbox

You'll also receive Yardbarker's daily Top 10, featuring the best sports stories from around the web. Customize your newsletter to get articles on your favorite sports and teams. And the best part? It's free!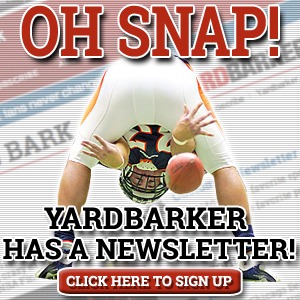 Latest Rumors
Best of Yardbarker

Today's Best Stuff

For Bloggers

Join the Yardbarker Network for more promotion, traffic, and money.

Company Info

Help

What is Yardbarker?

Yardbarker is the largest network of sports blogs and pro athlete blogs on the web. This site is the hub of the Yardbarker Network, where our editors and algorithms curate the best sports content from our network and beyond.