Found May 03, 2012 on Football Nation:
I became a believer today.                  Not in the potential of a draftee.  Not in the justice system of Roger Goodell.  Not even in the beauty of the game of football. No…I became a believer in the sheer power of head trauma in the NFL.  I became a believer in the bad side of the NFL, for maybe the first time in my life. I've always been a fan of hard-hitting football.  I love the sound of pads crunching, the helmets scratching against each other, and the cleats taking off across the grass, the shoes of a predator hunting its prey.  All these sounds were simply my senses demonstrating how tough of a game football actually is. With the death of Junior Seau today, everything changed.  Whether or not his death by apparent suicide can be linked definitively to a deteriorating mental state caused by head trauma from his days in the NFL remains to be seen.  But nobody can deny that it is a possibility, and a strong one at that. Seau's tragic death is the second such death in le
Original Story:
http://www.footballnation.com/content...
THE BACKYARD
BEST OF MAXIM
RELATED ARTICLES
Junior Seau died of a self-inflicted gunshot wound, the San Diego County Medical Examiner confirmed on Thursday. The medical examiner's office said in a news release it is awaiting a decision by Seau's family to release the deceased linebacker's brain for study. Boston University researchers reportedly have requested an opportunity to examine Seau's brain to further...
Hearing the shocking news today about Junior Seau, many thoughts ran through my mind. Besides the obvious questions of how and why, I wondered how much this had to do with concussions and other crazy football related stuff. (Ed.Note Junior Seau was never listed on an injury report as having a concussion) To read the rest of this article and watch a news report on Junior Seau, please...
Today the world found out the tragic news that the beloved and respected man known as Junior Seau was found dead at the age of 43. Uncharacteristic for a linebacker in the NFL, it seems like everyone enjoyed Seau and the way he played. Not only his teammates and opponents, but the fans also seemed
It is with heavy hearts that we have to report, former NFL linebacker Junior Seau is dead according to reports coming from TMZ and other sources. While initial details are still vague it is believed Seau committed suicide, in his home in California. Junior Seau was an All-Pro linebaker who made his name with the San Diego Chargers even taking them to a Super Bowl.  He ended his...
TMZ is reporting that Junior Seau was found dead and may have committed suicide.   Seau spent 20 years in the NFL (1990-2009), the first 13 with the San Diego Chargers. He was a member of San Diego's 1994 AFC champion team and a member of the undefeated 16-0 New England Patriots of 2007, who lost to the Giants in Super Bowl XLII. He also spent three seasons with the Miami Dolphins...
I am no longer an NFL player, now what do I do with my life? No more practices, no more sitting on the training table nursing this injury or that injury. No more sitting in the film room watching film of this week's opponent. Running out of the tunnels to thousands of cheering fans is no
Some stories transcend division rivalries… our heartfelt sympathies to Chargers nation and Junior Seau's family. Here are a collection of comments from Broncos players, current and former. John Elway – I had the pleasure of playing against Junior for many years. He played the game the way it was meant to be played… — John Elway (@johnelway) May 2, 2012 (continued) "We...
"Everyone in the Padres organization is deeply saddened by the news of Junior Seau's passing," said Padres President Tom Garfinkel.  "He was a great San Diegan and an inspiration, not only on the playing field, but in how he positively impacted people's lives. Our thoughts and prayers are with the Seau family, friends and the Chargers organization during this difficult time."
Retired New York Giants player Tiki Barber on the emotional challenges that could have faced Junior Seau before his death. VIDEO LINK Barber says, "You're shocked because of the sudden nature of the death but you're not shocked that you see these things happen. There's a lot of factors that contribute to depression. One is stress, money stress, family stress…. You're...
– Vin Diesel recently spoke about the release date for Riddick, which co-stars Batista. Diesel posted some updates to his Facebook page suggesting that the film may see a release date as soon as January, and added that sequels may be under consideration by the studio. Diesel posted: The studio said the earliest they could release the new "Riddick" is in January… was hoping...
NFL commissioner Roger Goodell suspended four Saints players for their roles in "bountygate," with LB Jonathan Vilma receiving the stiffest punishment.
Len Pasquarelli discusses the crushing loss of Junior Seau, the myriad problems revolving around the New Orleans Saints, the injury to Baltimore LB Terrell Suggs, free agent RB Ryan Grant and more.
NFL News

Delivered to your inbox

You'll also receive Yardbarker's daily Top 10, featuring the best sports stories from around the web. Customize your newsletter to get articles on your favorite sports and teams. And the best part? It's free!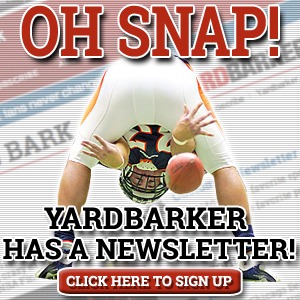 Latest Rumors
Best of Yardbarker

Today's Best Stuff

For Bloggers

Join the Yardbarker Network for more promotion, traffic, and money.

Company Info

Help

What is Yardbarker?

Yardbarker is the largest network of sports blogs and pro athlete blogs on the web. This site is the hub of the Yardbarker Network, where our editors and algorithms curate the best sports content from our network and beyond.