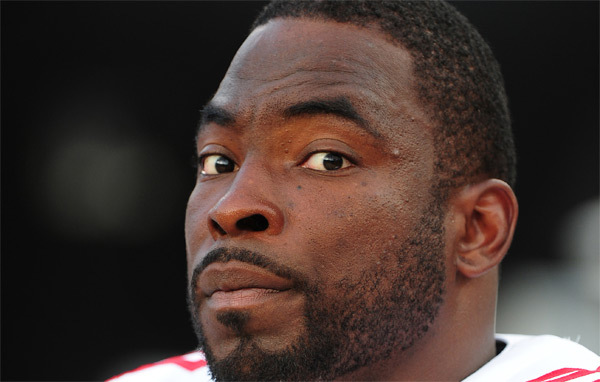 One of the best ways for the New York Giants to beat the Pittsburgh Steelers this weekend would be to put some pressure on Ben Roethlisberger — something very few teams have had success doing this season. Roethlisberger has been sacked only 13 times through the first seven games, which is one of the reasons he has completely nearly 67% of his passes and has an impressive QB rating of 101.4. According to Justin Tuck, the reason Pittsburgh's offensive line has protected Roethlisberger so well is that the unit gets away with holding. "I hope we get some holding calls because they have gotten away with murder," Tuck told ESPN's Rachel Nichols. "They've done a very good job protecting Ben — they don't hold on every play. But we've seen a whole lot of it." The Steelers have only been called for holding five times this season, which means some of their seven starting lineman have yet to commit a holding penalty. That's a pretty impressive statistic. Tuck is obviously trying to work the refs over in an attempt to help the Giants' front seven break the trend of Roethlisberger keeping his jersey clean. Holding happens on nearly every play in the NFL, so I doubt Pittsburgh is doing anything more than other teams do. Could they be getting away with it more? Tuck is hoping the refs think they have. Photo credit: Jim O'Connor-US PRESSWIRE
MORE FROM YARDBARKER:
2017 NFL Mock Draft
MORE FROM YARDBARKER
NFL News

Delivered to your inbox

You'll also receive Yardbarker's daily Top 10, featuring the best sports stories from around the web. Customize your newsletter to get articles on your favorite sports and teams. And the best part? It's free!