Found July 21, 2013 on Queen City Sports:
Credit: buffalobills.com I think the most intriguing story going into training camp is Kevin Kolb. I keep thinking about the team he just left, the Arizona Cardinals and their recent Quarterback history. This is probably going to get me some hate mail, but here is a scenario I think could play out that I'm absolutely OK with. First, you know that I am not enamored with the EJ pick. It was a reach at #16 and this was not a good QB class.  To be fair I have to also admit that Kevin Kolb has struggled in his career and is injury prone. But he also has had some moments.  Let's not forget that Andy Ried who has coached some pretty good QBs in his day was pretty high on Kolb. Kolb was the first QB to throw for back to back 300 yard games in is first two NFL starts.  He also was named NFC player of the week twice. Kolb is only 28 and has all the physical tools to play the position.  I think Bills fans would be OK if a healthy Kolb wins the starting job in training camp.  In this fantasy of mine, he plays more like a 300 yard passer and offensive player of the week, and less like an injury prone journeyman.  He stays healthy and produces a solid 3500+ yard, 20+ touchdown season making steady progress throughout the year because with CJ Spillar, he has one of the best running games in the AFC.  Along the way he shows the skills and talent that once had Andy Reid so impressed and he entrenches himself as the starter for the Bills. Since he has a two-year contract the Bills don't rush to extend him at the conclusion of the first winning streak, and Kolb makes steady improvement the whole time.  After year two in Buffalo our now 30 year old QB is in the prime of his career, and we have a young second stringer who is on the trading block.  The Bills parlay EJ Manuel into some 2015 or 2016 draft picks and the Bills have their starting QB for the next five or six seasons. I think Kolb might have a lot of upside and he knows that Buffalo is the last stop.  He flames out this time and he's probably heading back to his hometown in Texas for good. If this dream sequence of mine sounds familiar it's because something similar happened a few years back in Arizona.  A supposedly washed up and broken Kurt Warner was on his last leg and was hoping to latch on with the Cardinals.  Arizona had just drafted Matt Lienart with the #10 pick however everybody knew that while Lienart was the Heisman Trophy winner, he had some flaws that he might not overcome.  Sound familiar? Warner resurrected his career because Lienart couldn't get it done. With Warner pulling the trigger the Cardinals made the playoffs two years in a row including a Super Bowl appearance.  Before everybody accuses me of NFL blasphemy, I know that Kolb has nowhere near the resume of Kurt Warner.  I get that.  Yet, I can't help but think that Kolb has a lot of ability, and if he can stay healthy could put up some pretty good numbers and resurrect his otherwise dead career right here in Western New York.  That sounds like a pretty good scenario to me.  I think Kolb has a chance to realize some of his potential and Buffalo might have stumbled into their QB fix. We'll see. The post Kolb's Last Stop appeared first on Queen City Sports.
Original Story:
http://queencitysports.net/kolbs-last...
THE BACKYARD
BEST OF MAXIM
RELATED ARTICLES
Bills Hall of Fame quarterback Jim Kelly told BuffaloBills.com that he would start Kevin Kolb over rookie E.J. Manuel at quarterback this season. "I've been to a couple of practices," Kelly said. "If I had to give a nod, I really would look more towards Kevin Kolb right now. And the reason I say that is, he's a veteran. He's been through it. He knows what to look at."...
After Buffalo Rumblings' Matt Rich Warren responded to number 6 on my training camp piece yesterday, it occurred to me that the Buffalo Bills have a rich and varied history of headgear. With the help of some of our followers, we wanted to determine the most iconic piece of Buffalo Bills headwear. Here's what we got so far: Doug Marrone's Visor Matt Rich Warren pointed out...
Bills defensive coordinator Mike Pettine told BuffaloBills.com that they plan on using Mark Anderson as a situational pass rusher as he works his way back from a knee injury he suffered lat season as he learns a new defense. "I think we'll start with third down for Mark and work our way backwards," said Pettine. "I think when he's healthy he can be an elite pass rusher...
In the day and age of social media, blogs, and roughly 5,000 sports networks on television, I've come to grips with the fact that I'm going to come across an opinion or two that I disagree with.  Most of the time I can at least see the writer's angle, respectfully disagree, and move on down the road.  But when I saw that NFL.com writer Chris Wesseling ranked Bills wide receiver...
Former Buffalo Bills quarterback Jim Kelly gives his take based on what he's seen so far in the Bills' offseason. He thinks the team should go with the veteran Kevin Kolb as their strating QB over rookie E.J. Manuel. "I've been to a couple of practices," Kelly told the team's official website. "If I had to give a nod, I really would look more towards Kevin Kolb...
We've been cranking out lots of good Buffalo Bills stuff here at Buddy Nixon, here's a chance to get caught up on any of the hard hitting coverage you may have missed. -EJ Manuel was frequently mistaken as "zone read" QB coming out of college, but that doesn't mean Manuel won't give the bills that *ahem* option in the 2013 season. -Dan Murphy's popular "Return to...
There will be ample opportunities for young players to make a name for themselves on defense for the Buffalo Bills in the 2013 season. When the team jettisoned veterans Nick Barnett, Kelvin Sheppard, George Wilson and Terrence McGee in the offseason, it lost its three leading tacklers from last season, along with 385 combined games of NFL experience. If the inexperience of those...
A Harris County state district judge Friday instructed attorneys for former Texans defensive lineman Mario Williams to turn over his cellular phone and certain financial and medical records for potential examination by attorneys for Williams' former fiancée. State District Judge Larry Weiman's ruling came during the latest episode in the legal squabble between Williams, who...
I've grown up since then Juan… Stevie Johnson is quietly a sold fantasy receiver for the Buffalo Bills and should not be ignored by you in fantasy drafts. Although the QB situation in Buffalo isn't ideal, he made it work with Ryan Fitzpatrick, yes, Ryan Fitzpatrick. Happy 27th Stevie. See more celebrity B-Days here. Stevie Johnson Hangs With His Siblings Stevie Johnson Gives Away A Vizio
BY DAN BEGNOCHEThe Buffalo Bills officially report to training camp today, with rookies beginning their workouts this week and veterans starting July 28.Here are five tasks the Bills will look to complete by the start of the regular season:Absorb Mike Pettine's defensive scheme. The Buffalo defense under Dave Wannstedt was anything but electric last season, failing miserably...
Carl Pfeiffer (Writer)   About: Colonel Carl Pfeiffer retired from the United States Army in 2009 and is the author of three books, It Never Ends, The Terrible Life of Carl and It Never Ends, Comrades, Crimes and Conspiracies. His third book Someday! is about being a Buffalo Bills fan.  Carl is also a Bills writer for Queen City Sports. Twitter: @BuffaloSomeday The post Carl...
NFL News

Delivered to your inbox

You'll also receive Yardbarker's daily Top 10, featuring the best sports stories from around the web. Customize your newsletter to get articles on your favorite sports and teams. And the best part? It's free!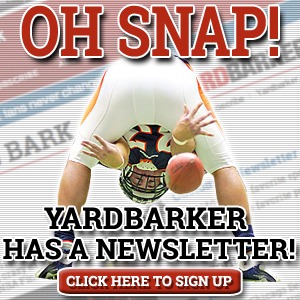 Latest Rumors
The Backyard

Today's Best Stuff

For Bloggers

Join the Yardbarker Network for more promotion, traffic, and money.

Company Info

Help

What is Yardbarker?

Yardbarker is the largest network of sports blogs and pro athlete blogs on the web. This site is the hub of the Yardbarker Network, where our editors and algorithms curate the best sports content from our network and beyond.