Found June 05, 2012 on Fox Sports North:
EDEN PRAIRIE, Minn. Returning to the Minnesota Vikings for his fifth NFL season, linebacker Erin Henderson has learned all about the harsh realities of life in the NFL. Henderson's been dealing with them since he went undrafted in 2008. He had to work himself into a roster spot and then keep himself there with continued improvement. This offseason, he discovered the business side of the game. Minnesota's starting weakside linebacker entered free agency, hoping to cash in on his breakthrough 2011 season. Henderson, 25, was a starter for the first time last season and was hoping to get paid like one this offseason. He quickly found out being rewarded isn't always so simple, as the market for linebackers was slow to develop. "It was stressful," Henderson said last week at the Vikings organized team activities. "It was a learning process too. I learned a lot from it. I learned a lot about myself and what I'm able to endure and go through. You learn a little bit more about the business, the other side of it. "Coming from where I came from, I never had to worry about it much. I was an undrafted guy who was just trying to come in here and just trying to make the roster year in and year out. So, it was a learning process for me." March was trying for Henderson. He expressed his frustration on his Twitter page. He wanted to stay with Minnesota. There was mutual interest, but the Vikings wanted to make the prudent business decision as well. So, the team waited to see how the market played out. Henderson's disappointment was evident. "I've watched every single 1 of my games from last yr 10x's over. I know what I'm worth. Not to mention they aint even give me an offer....," Henderson tweeted, later adding: "Whats crazy is I'm not even asking for big money. All I want is respectable money for what I'm asked to do." Eventually Minnesota did offer Henderson a deal, but even that didn't quite match expectations. But Henderson wanted to be with the Vikings, the team which first gave him his shot as an undrafted free agent. The desire to be in Minnesota overcame the need to wait out better deals. Henderson signed a one-year, 2 million contract. "I love being a Viking," Henderson said. "I love being in Minnesota. The fans are great. They are amazing. They always supported me since Day 1 coming in here as an undrafted free agent. It's a good fit for me. It's a good feeling to be back here and I'm looking forward to spending many more years here." Henderson didn't want to elaborate on other offers he had back in March. He's focused on having another chance with the Vikings and said he's "100 percent" committed to Minnesota. "I just want to play football," Henderson said. "When you don't have a lot of opportunities afforded to you when you first get here, every one counts and every one you want to make count. You want to hold on to it and do the best that you can when given an opportunity. So, I have another opportunity to go out there, lace up my cleats and play football. I can't complain about that." Henderson started 11 games in 2011, his first time as a starter. Even that wasn't easy. He came to training camp last season in a battle with Jasper Brinkley, a former fifth-round pick, to take the open "Will" linebacker spot. Brinkley eventually had hip surgery in the preseason leaving Henderson with his long-awaited shot. He improved throughout the season and finished with 91 tackles, eight tackles for loss, 1.5 sacks and two forced fumbles. Now Brinkley is vying for another starting job, curiously taking the middle linebacker spot previously held by Erin Henderson's brother, E.J. It's just another lesson in the business of the NFL for Erin. E.J. has been on the Vikings since the younger Erin came aboard in 2008. But E.J. is now 31 and was caught in Minnesota's appeal to become younger. E.J. also entered free agency like Erin. E.J. is still out there. "It's part of the business," Erin Henderson said. "It is what it is, you know? I keep going with it and take it from there." Erin is a quick study. He keeps preparing, hoping to have another strong season and finally earn that multi-year deal. Another quality year as a starter and the contract could come from the Vikings. A slip-up and those deals will be hard to find again. But Henderson knows the realities all too well. He said he's doesn't use his one-year contract as motivation and that he's "forgot about it already." He's got one more year to prove himself, no extra motivation needed. "You've got to improve," Henderson said. "The moment you get complacent is the moment someone's going to run you out the door." Henderson is hoping he doesn't learn that reality any time soon. Follow Brian Hall on Twitter.
Original Story:
http://www.foxsportsnorth.com/06/05/1...
THE BACKYARD
BEST OF MAXIM
RELATED ARTICLES
EDEN PRAIRIE, Minn. Antoine Winfield flashed his typical smile while walking off the Minnesota Vikings' practice field at Winter Park last week, seemingly happy to be back on the field after missing the end of last year due to a broken collarbone. Winfield's return to field for Minnesota is a bit earlier this season, but not because of any injury. The 5-foot-9 cornerback...
When choosing underrated and overrated players, many things come into play. The player's personality (on and off the field), salary and most importantly on-field performance all create the perception one way or the other if a player is underrated or overrated. With that in mind here are my picks, one in each category, for the most underrated and overrated player on the 2012...
EDEN PRAIRIE, Minn. The Minnesota Vikings have added another wide receiver to the mix in trying to upgrade the struggling unit. Minnesota signed undrafted rookie A.J. Love on Tuesday, the 12th receiver on the team's 90-man roster. Love caught 74 passes for 1,092 yards and eight touchdowns in his time at the University of South Florida. The 6-foot-2, 205-pound Love had two seasons...
The Minnesota Vikings are hoping for a speedy return on RB Adrian Peterson on the field for the 2012 season. The All-Pro back has been spending his offseason rehabbing from a serious knee injury he suffered at the conclusion of the 2012 season, sustaining a tear of both his anterior cruciate and medial collateral ligaments. Peterson underwent surgery on New Year's Eve to repair...
In an interview with the Minnesota Star-Tribune, the Vikings' Adrian Peterson said he is "locked in" on a week 1 return and can't "even entertain" the possibility of not being out there week 1. A return to the football field roughly 9 months after tearing his ACL seems ridiculous, but remember Wes Welker did it in even less time and Adrian Peterson is simply a physical...
Getty mages Minnesota Vikings wide receiver Percy Harvin was back on the practice field on Tuesday for the first time this offseason after undergoing offseason shoulder surgery. Harvin indicated that he feels great, even though his shoulder is a little sore, which is expected. If the Vikings offense is going to have a strong season in 2012, they're going to need Harvin to stay healthy.
Hey guys, remember that Chris Johnson guy? The hold-out who ran for a total of something like 13 yards in his first five games last season? Yeah, him. Well, he's "back" and more dangerous than ever, and also touting himself as the best running back in the league. From a recent Pro Football Talk article: "I feel I am still the best back in the league, and I...
This must be something that only happens to members of organizations in the NFC North. Over the weekend, Minnesota Vikings fullback Jerome Felton was nabbed for a DUI. But this wasn't your run of the mill DUI that professional athletes get. Heck, he wasn't even well over the speed limit. He wasn't even moving. He [...]
Michael Jenkins is the veteran of the Vikings' receiving corps. With a young group, including two 2012 draft picks, Jenkins stands ready to mentor the newbies and share his NFL knowledge.
Matt Kalil is in a new town, learning a new offense with a new team. Charlie Johnson can relate. He was in the same position last year and without the benefit of offseason practices and now makes the move to guard. Kalil and Johnson talked about the transitions and getting comfortable with their new roles next to each other.
We have been through this with Favre.  Hell I'm still not over it.  Not even close.  At least Wisconsin is not the only NFL state with some QB issues. We bring you some fans dealing with the loss of Peyton and Tebow.  It's tough.  I know.  Been there. The Brett Favre, "I used to Know"... Wonderful, just wonderful parody here folks. Click here to view the embedded video.  
Vikings News

Delivered to your inbox

You'll also receive Yardbarker's daily Top 10, featuring the best sports stories from around the web. Customize your newsletter to get articles on your favorite sports and teams. And the best part? It's free!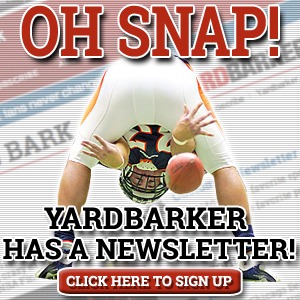 Latest Rumors
The Backyard

Today's Best Stuff

For Bloggers

Join the Yardbarker Network for more promotion, traffic, and money.

Company Info

Help

What is Yardbarker?

Yardbarker is the largest network of sports blogs and pro athlete blogs on the web. This site is the hub of the Yardbarker Network, where our editors and algorithms curate the best sports content from our network and beyond.