Found January 27, 2013 on Busted Coverage:
sports.gunaxin.com / Twitter.com Philadelphia Eagles running back LeSean "Shady" McCoy could easily be at the Pro Bowl this weekend, just like he was last season, if a concussion, a patchwork offensive line and Andy Reid's pass-heavy play calling hadn't helped keep his numbers down. Well, instead of hanging in Hawaii, Shady McCoy (@CutonDime25) spent late Saturday night and early Sunday morning in Puerto Rico feuding with his Baby Mama (@Angelface0330) over Twitter. The two parents of LeSean McCoy Jr. fired off tweets at each other for hours. It seems to have started when McCoy said 'Steph' lied about birth control: Then, after some back and forth about responsibilities, Steph alleged that McCoy's friend 'VAR' was doing some work on Shady's current GF….uh oh: Next, Steph went jugular on McCoy, calling out his manhood, his sexual performance and dropping other allegations, including one that his current girl is sending people pictures of Shady's junk (and not in a good way). And she backed it up with a text message. Just, wow. So, McCoy told the Twitterverse to tell Steph to "to get a job n stop begging for child support money she a BUM needs me to LIVE sad!!!" Of course, McCoy's followers jumped into the beef. McCoy rubbed it in a bit more, even though Steph was taking the time to tweet her side back to the masses who were hammering her on Twitter. After some more fireworks, McCoy decided it was a good time to call it a night and enjoy his vacation. Social media is a hell of a platform. Filed under: Football, NFL
Original Story:
http://bustedcoverage.com/2013/01/27/...
THE BACKYARD
BEST OF MAXIM
RELATED ARTICLES
I can respect this. We all get caught up from time to time, but you just have to man up and admit you made a mistake and keep it moving. It was unfortunate that LeSean McCoy let his personal business spill over into Social Media, but it won't be the first or last time someone has that type of lapse in judgement. LeSean McCoy & Baby Mama Twitter Battle About Child Support &amp...
Check this out: 12 TD, 10 INT, 11 FUM, 2,362 YDSThose are Michael Vick's disappointing stats, less than one year after he called his Eagles team a 'dynasty'.There is no doubt Vick is an incredible athlete, it just seems that 2012 was a mess for the entire Eagles organization, not just Vick.Though it's easy to place the blame of a under-acheiving season on one man...
With their inception in 1933, the Philadelphia Eagles are one of the longest tenured professional football franchises. In sports, such longevity brings with it storied rivalries and rich traditions. Unfortunately, when it comes to the Eagles, one of those traditions is not stellar quarterback play. Like most NFL teams, over the years the Eagles have had their share of bombers and...
Philadelphia Eagles running back LeSean McCoy got into a nasty spat over Twitter with the mother of his young son on Saturday that including mudslinging from both parties. It's difficult to pinpoint exactly what sparked the hate-filled exchange, but it seems to have been prompted by McCoy's baby mama — a woman by the name of Steph — correcting McCoy in a tweet. McCoy tweeted...
     Philadelphia Eagles fans love Quarterback controversies, and there's no way around that. No one knows why, we just do. It might be because we're just infatuated with the idea of change, which would explain fans tracking Gus Bradley's plane across the country, hopping on the "Gus Bus" and then subsequently realizing they actually have no idea who he...
Howie Roseman and the Philadelphia Eagles have a history of drafting players who participated in the Senior Bowl.  With this year's Senior Bowl week in the books, we may be able to start identifying potential Eagles targets. With Chip Kelly and a new coaching staff involved, we don't have any drafting trends to look at so we could see Howie alter his M.O.  Another thing...
Jason La Canfora of CBS Sports reports that sources have informed him that the Eagles are "unlikely" to make a decision regarding Michael Vick's future with the team before February 6. This just happens to be the date in which the $3 million of Vick's $15.5 million salary will become guaranteed. La Canfora's sources have mentioned that Vick is not willing to take a...
Philadelphia Eagles running back LeSean McCoy is known for his highlight stick jukability.  Unfortunately for McCoy, he couldn't escape from one of the most bizarre Twitter meltdowns we've seen from a professional athlete this weekend.  McCoy got in a VERY nasty spat with the mother of his child for all the world to see.  This included McCoy calling his "BM"...
Eagles News

Delivered to your inbox

You'll also receive Yardbarker's daily Top 10, featuring the best sports stories from around the web. Customize your newsletter to get articles on your favorite sports and teams. And the best part? It's free!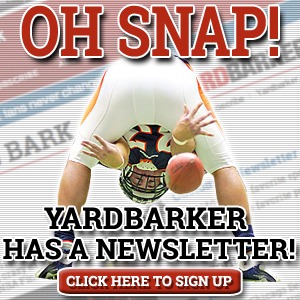 Latest Rumors
Best of Yardbarker

Today's Best Stuff

For Bloggers

Join the Yardbarker Network for more promotion, traffic, and money.

Company Info

Help

What is Yardbarker?

Yardbarker is the largest network of sports blogs and pro athlete blogs on the web. This site is the hub of the Yardbarker Network, where our editors and algorithms curate the best sports content from our network and beyond.