Found September 09, 2012 on Fox Sports Detroit:
PLAYERS:
Joique Bell
,
Calvin Johnson
,
Kevin Smith
,
Jahvid Best
,
Matthew Stafford
,
Jo-Lonn Dunbar
,
Nate Burleson
,
Jason Hanson
,
John Carney
,
Rodger Saffold
,
Jeff Fisher
TEAMS:
Detroit Lions
,
New Orleans Saints
,
St. Louis Rams
DETROIT Michigan native Joique Bell had a plan, which he was able to execute to perfection. With 9:26 left in the second quarter and the Lions at the St. Louis Rams' 1-yard line, Bell plowed into the end zone for the team's first touchdown of the regular season and the first of his career. Bell immediately ran to the stands and jumped up in his own version of the Lambeau Leap, perhaps a Lions Leap. "It was an amazing feeling," Bell said. "Growing up, watching guys jump in the crowd, I was telling my family, if I get my first regular season NFL touchdown, I'm jumping into the crowd. It was like a dream come true. At the same time, I knew it was a workday and I have to always keep my head on a swivel, just in case, whenever the team needed me." Bell, a native of Benton Harbor, Mich., who went to Wayne State University in Detroit and even served as a security guard for the Lions before, finished his first NFL game with one carry for one yard and one touchdown. "To go 1-for-1, you can't ask for anything better than that," Bell said. "Then to get the win, you definitely can't as for anything better than that." Bell, 26, said he wasn't really surprised that the Lions called upon him in that situation. "We had been practicing with me with that group all week," Bell said. "When they called my number I was ready. I was excited. Once I saw they had CJ (Calvin Johnson) double teamed, I knew they were giving me the ball. So I got my mindset, got my head down and got in." Bell also has plans for the football with which he scored his first touchdown. "It's going home with me once it comes back after they put all the writing and stuff on it," Bell said. "I'm going to put it I haven't quite decided yet. But we got plenty of time for that." Bell said he hasn't had a chance to get furniture yet so the ball may end up in the middle of the room. Smith makes big impact It's been a tough and interesting road for running back Kevin Smith. In his rookie season with the Lions, he was part of the 0-16 team. He's suffered injuries and made comebacks and been out of football. Now with Jahvid Best on the PUP list and Mikael Leshoure suspended for the first two games, Smith is the starter once again. Smith had 13 carries for 62 yards and one rushing touchdown, a 5-yard run with 7:19 left in the fourth quarter to tie the game. He also had four receptions for 29 yards, none bigger than his last one, a 5-yard score with 10 seconds left that clinched a 27-23 victory and 1-0 record. "I almost never drop the ball, but I had dropped a couple in the second half, so I made sure I had that one," Smith said. "I wasn't going to drop that ball, because I knew the game was over if I caught it. The play worked perfectly, and I saw there was no one out there, so I just had to catch the ball and get in." Quarterback Matthew Stafford said he knew the defense would be focused on Johnson. "I just watched 58, Jo-Lonn Dunbar drop right back in the end zone and knew that they were about three or four on Calvin and just had to wait for it for a second, let Kev get out there. I'm happy for him." Johnson was also happy for his longtime teammate. "I was even more happy to see him be the one with the ball, I turned around and see that 30," Johnson said. "Great feeling, good for him, glad to see two touchdowns for him today. He came up big for us." Nate Burleson had a feeling that Smith was going to be important against the Rams. "He's just a hungry individual," Burleson said. "I told him before the game that I'm going to need a play out of him. He gave me a couple of them so I'm glad he's back on the team." Another milestone for Hanson When Jason Hanson kicked the extra point after Bell's touchdown, he became the first player in NFL history to play 21 seasons with the same team. Hanson is also the ninth player in NFL history to play 21 seasons. "It's great," Hanson said. "I'm numb to the old man awards now. I'll take them without complaining. I've been saying all these years, it's been a blessing for my family to be in the same place so I think God for that, truly. We're going to be a good team so it's fun to be here at the end. Whatever that means, I'm obviously closer to the end than I am the beginning with a team that's join to be competitive and have some fun and see where we can take it." With his three PATs, Hanson moved past John Carney into seventh place on the all-time career PATs list. Rams player suffers scary injury Rams left tackle Rodger Saffold, who had to be carted off the field early in the fourth quarter with a neck injury, looks like he's going to be all right. Rams coach Jeff Fisher said Saffold was taken for a CT scan. "What I can report to you is he was conscious," Fisher said. "He was alert and he had strength and movement in his arms and legs. So I think this is more of a precautionary deal. We'll get information to you soon, but there's a chance he'll come with us."
Original Story:
http://www.foxsportsdetroit.com/09/09...
THE BACKYARD
BEST OF MAXIM
RELATED ARTICLES
Nike's new uniforms did little to help the cause of perspiring offensive linemen in Week 1 of the NFL season. Above is a screenshot of Lions tackle Jeff Backus, who sweat through his pants so hard you could see his legs, cheeks, and jockstrap. I think we can officially consider that a wardrobe malfunction. And I think Nike might need to change the kind of material they're using...
Detroit Lions wide receiver Calvin Johnson says he expects to hear lots of trash talk after being on the cover of "Madden NFL 13". "I'll probably get a little 'Madden' stuff from linebackers and linemen and stuff. They talk the most trash," Johnson said. "Those are the ones who talk the most trash. You don't have to see them, so they talk trash all day...
DETROIT -- Matt Stafford looked shaky in the first half but poised when the Detroit Lions needed him most. Stafford's 5-yard touchdown to running back Kevin Smith with 10 seconds remaining gave the Lions a 27-23 opening-day victory over the St. Louis Rams at Ford Field Sunday. Stafford overcame three first-half interceptions and passed for 355 yards to spoil Jeff Fisher'...
The Lions had one of the worst defenses in the league last year, allowing 24.2 points per game, good for 23rd in the NFL. Their awful passing defense was a big part of that and things aren't going to be much better this season, especially not week 1. Having lost starter Eric Wright to the Buccaneers in free agency alright this offseason and cutting his replacement Aaron Berry for...
Detroit Lions coach Jim Schwartz says he's seen San Francisco coach Jim Harbaugh ''a bunch of times'' since their altercation last season. Schwartz ran after Harbaugh in October after the 49ers' coach gave him an exuberant handshake and backslap following San Francisco's victory at Detroit. Schwartz says that's long in the past now, with the Lions...
Shannon Eastin is set to make NFL history. Eastin is listed as the line judge in Sunday's St. Louis Rams-Detroit Lions game, making her the first woman to be an official in a regular-season game. She became the first female official to work an NFL preseason game last month as the line judge when Green Bay played at San Diego. The Pro Football Hall of Fame has her cap and whistle...
The Detroit Lions did not make it easy on themselves Sunday, needing two fourth-quarter marches -- including one in the final two minutes -- to knock off a rebuilding St. Louis Rams Continue reading →
A replacement official left the Detroit Lions' game against the St. Louis Rams in the third quarter Sunday with a left hamstring injury. Side judge Paul Caldera was tended to on a training table on the Detroit sideline, causing a brief delay before he was replaced on the crew by alternate Curtis Adams - a replacement for the replacement. Caldera was eventually able to get up...
Josh Katzenstein of the Detroit News tweeted some smack talk from Lions DB Chris Houston. Chris Houston talked a little smack about Randy Moss today. Called him a "possession receiver" and doesn't think he can "take the top off." — Josh Katzenstein (@jkatzenstein_DN) September 10, 2012 When I first read that I had to ask myself who is Chris Houston. Seriously, I had...
NFL News

Delivered to your inbox

You'll also receive Yardbarker's daily Top 10, featuring the best sports stories from around the web. Customize your newsletter to get articles on your favorite sports and teams. And the best part? It's free!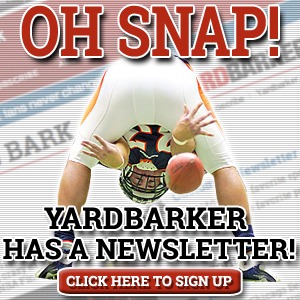 Latest Rumors
The Backyard

Today's Best Stuff

For Bloggers

Join the Yardbarker Network for more promotion, traffic, and money.

Company Info

Help

What is Yardbarker?

Yardbarker is the largest network of sports blogs and pro athlete blogs on the web. This site is the hub of the Yardbarker Network, where our editors and algorithms curate the best sports content from our network and beyond.