Found March 19, 2012 on Thoughts from the Dark Side:
PLAYERS:
Peyton Manning
,
Shawntae Spencer
,
Lonyae Miller
,
Cooper Carlisle
,
Mike Brisiel
,
Stefen Wisniewski
,
Kamerion Wimbley
,
Scott Wells
TEAMS:
Denver Broncos
,
Miami Dolphins
,
San Francisco 49ers
,
Oakland Raiders
,
St. Louis Rams
Cradle of the quarterbacks?
Some unknown player named Peyton Manning agreed to join the Denver Broncos today, ending weeks of speculation where he would end up.  Peyton's arrival in the AFC West makes the division a sudden powerhouse in the arms race that is the NFL.  With Manning, Palmer and San Diego's Rivers three of the four AFC teams have QB's that were taken in the top 4 of their respective draft classes.  Kansas City is going in a diffrent direction with a stable of running backs and improving their offensive line so expect them to run more than their AFC West counterparts. Manning, if healthy, makes Denver the favorite to repeat their AFC West win.  However, Manning's health is not a given.  Even at less than full strength, Mannng is dangerous, however.  He is not only a great leader on the field, he also calls the plays at the line of scrimmage and is adept at reading defenses.  Raiders' head coach Dennis Allen is known for being a creative defensive mind and able to adapt quickly.  He'll need to up his game going against Manning twice a year. One bad offseason Manning is expected to basically serve as Denver's offensive coordinator.  He'll be bringing in his offense so that he doesn't have to take the time to learn a new one.  This is probably not good news for Broncos offensive coordinator Mike McCoy.  Imagine, a few short months ago after the Broncos season ended with an unlikely playoffs run, McCoy was sitting in the driver's seat.  He was being courted for two different head coaching positions - the Miami Dolphins and the Raiders.  He interviewed with the Dolphins and had an interview set up with the Raiders.  However, feeling that he was the favorite to land the Miami position he pulled himself out of contention with the Raiders, which reportedly angered GM Reggie McKenzie.  Of course, the Miami position went to former Green Bay offensive coordinator Joe Philbin. Now, instead of being a head coach McCoy will be taking a backseat to the Manning show. Another CB signed The Raiders signed another former starter today, coming to terms with former 49er Shawntae Spencer.  Spencer was a 2nd round pick in 2004 and was a starter at right corner back within 4 games, starting the remaining 12.  Overall, he's played in 98 games in his 8 year career and he's started 72. Spencer is 30 years old.  He's 6'1" and 190 lbs.  He has 11 career interceptions.  He has been very inconsistent over his career but has been able to flash very good cover skills.  He was released after hardly playing at all last year.  He came into training camp pencilled in as the starter but was injured early on and never was able to recover or even get onto the field, much. He signed a 1 year deal, financial terms were not disclosed.  According to beat writer Vittorio Tafur, the agent for Spencer was "tight-lipped" on the details of the contract.  That usually means that it's a team friendly contract because if it were friendly to the player, the agent would be proclaiming it to the world as a success story.  Spencer didn't have great options and it was believed he would sign at or near the veteran minimum. Spencer wore #36 in San Francisco.  That number is currently claimed by Lonyae Miller who is a practice squad RB.  It's likely that Spencer will be able to get the number from Miller if he chooses. A familiar face The Raiders resigned OL Cooper Carlisle today as well.  He had been cut last week in a move that was likely salary cap driven.  It's likely that he resigned for a much lower salary for this season. It seems likely that he has been brought in for options on the line.  He would be a great backup and an okay starter.  If the Raiders are unable to sign or draft further depth he can be reinserted in the RG position he's held since 2007 with newly signed G Mike Brisiel moving to LG and second year player Stefen Wisniewski playing Center. Alternately, if the Raiders pick up another C or G, Carlisle can be a backup which would provide good depth for the team. Odds and Ends Former Raiders SLB/DE Kamerion Wimbley visited with the Titans who have some room in the cap and have a need at LB.  It seems likely they will make a push for the veteran. Many fans were interested in signing C Scott Wells, the free agent from the Packers.  Perhaps it will mitigate the sting of missing him to know that he wanted to be paid as a top 5 center and got his wish.  He will be making an average of $6 million per year, putting him at the fourth highest paid center in the league. I tweet throughout the day about all things Raiders.  Follow me on Twitter @AsherMathews and ask me questions - or tell me what you think.
Original Story:
http://www.tfdssports.com/2012-articl...
THE BACKYARD
BEST OF MAXIM
RELATED ARTICLES
  Nothing screams sports fanatic quite like an angry obituary. This one comes from the Columbia Tribune about a big-time Broncos fan who died Monday. James H. "Jim" Driver, 78, of Eagle, Colo., formerly of Columbia, passed away Monday, March 19, 2012, at South Hampton Place in Columbia after a brief illness. An avid Broncos fan, he abhorred Manning and evidently wanted...
The following fantasy football e-mail chain between Ryan Fowler and Joel Beall took place on March 20 and 21, 2012. The topic featured was not discussed in advance. From: Ryan Fowler Sent: Tuesday, March 20, 2012 2:29 PM To: 'Joel Beall' Subject: The Pedestal: Peyton Manning Joel - On the Pedestal: Peyton Manning It's one of those moments. Peyton Manning inking...
The Denver Broncos have won the race to sign free agent Peyton Manning following the star quarterback's release by the...
According to Mike Florio of ProFootballTalk.com,free agent wide receiver Mario Manningham has signed a two-year deal with the San Francisco 49ers. There was simply no way the Giants were going to retain Manningham. He was looking for a lot more money then they could offer. Even though I believe he didn't get the kind of pay day he was looking for. Right now we don't have...
Englewood, CO (Sports Network) - Peyton Manning is officially a member of the Denver Broncos. The four-time MVP and future Hall of Fame quarterback signed with the Broncos on Tuesday, less than two weeks after being released by the Indianapolis Colts. "I'm very excited to begin the next chapter of my playing career with the Denver Broncos," Manning said at an afternoon...
Over the course of about two weeks or so, there were multiple favorites that emerged to land Peyton Manning. The Dolphins, Cardinals and 49ers were all at one point considered logical landing points for the All-Pro quarterback. The Titans got into it as well, and the Jets were even rumored to have interest. When it was all said and done, though, it was John Elway and the Denver Broncos...
After going after Peyton Manning, and then hosting Matt Flynn and Alex Smith, the Dolphins landed a quarterback on Monday with multiple reports indicated they have come to terms with former Jacksonville starter David Garrard.
He was regarded as the second best free-agent quarterback on the market. I'm not quite sure why since he hasn't proven anything, but nonetheless many people regarded him as the No. 2 guy on the market behind Peyton Manning. The Seattle Seahawks agreed that he was a top free-agent quarterback as they signed Matt Flynn to a three-year deal worth $26 million, $10 million of...
Adam Schefter reports that Peyton Manning has called John Elway this morning and told him he is looking forward to playing for Denver.
For most Kansas City football fans, they'd be ecstatic on Monday to learn that their football team made significant noise in free agency. But when the Denver Broncos announced a pending deal with Quarterback Peyton Manning, they have to believe the Chiefs aren't done shopping.
According to Jason LaCanfora of the NFL Network, the Denver Broncos have scheduled visits with former Colts center Jeff Saturday, as well as former Colts/Broncos wide receiver Brandon Stokley. LaCanfora also mentioned that tight ends Dallas Clark and/or Jacob Tamme could end up in Denver as well. The Broncos are being smart by trying to bring in as many guys as possible that Manning...
So in one of the more strange, weird, wacky QB free agency shuffling going on right about now, the Seattle Seahawks may have struck first as the NFL waits for Peyton Manning to make up his mind already.  Peter King, among many, is now reporting that Matt Flynn has agreed to a 3-year, $26 million dollar deal with the Seahawks, but only $10 million of it is guaranteed.  And per King...
NFL News

Delivered to your inbox

You'll also receive Yardbarker's daily Top 10, featuring the best sports stories from around the web. Customize your newsletter to get articles on your favorite sports and teams. And the best part? It's free!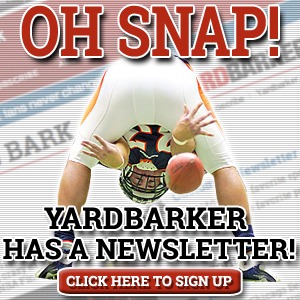 Latest Rumors
Best of Yardbarker

Today's Best Stuff

For Bloggers

Join the Yardbarker Network for more promotion, traffic, and money.

Company Info

Help

What is Yardbarker?

Yardbarker is the largest network of sports blogs and pro athlete blogs on the web. This site is the hub of the Yardbarker Network, where our editors and algorithms curate the best sports content from our network and beyond.