Found January 29, 2013 on It's Always Sunny in Detroit:
I'm not sure if you have noticed ESPN's insatiable crush on New York Jets special teams contributor Tim Tebow.  They have turned back the heat and stopped reporting when he sneezes and farts, but if he hocks a big enough loogie, they'll break into regularly-scheduled programming.  During their Super Bowl over-analyzation Tuesday, the ESPN couldn't help themselves from talkin' Tebow even when they thought the coast was clear. Mark Schlereth and Hannah Storm didn't realize they they were on the air when "Stink" was explaining to Storm that Tebow may not even have an NFL future as a tight end.  They thought they were talking among themselves, but they were really talking to anyone tuning into ESPN at the time. In case you missed any of that, here's the transcript: Storm: The what? Schlereth: It's like a tight-end/h-back? Storm: Oh yeaaaah. Well that's interesting. Schlereth: But I'm going to tell you. I talked to a bunch of Broncos coaches who said 'I just don't know if he's a fluid enough athlete to go over and play tight end … they say he doesn't catch the ball naturally either Storm: Well if that's the case. Ohh. (hears producer in ear piece) OK, OK. Sure, sure. Producer: "OK, standby guys." America: "For the love of everything under the sun, give the Tebow talk a break." Propers to Shutdown Cornervia Deadspin
Original Story:
http://itsalwayssunnyindetroit.com/20...
THE BACKYARD
BEST OF MAXIM
RELATED ARTICLES
Mike Tannenbaum told both WFAN and ESPN radio on Tuesday, that the idea of acquiring Tim Tebow was his and a move that was borne out of the need to replace Brad Smith. The chain of events that followed Smith's exit, arguably the Jets most versatile playmaker during the early Rex Ryan years, then ushered in the start of Tannenbaum's downfall as GM of the Jets Smith was lost during...
New York Jets general manager John Idzik was groomed in an organization built on the premise of competition bulding contenders, an idea he's ready to introduce in his first days on the job with his new team. Idzik, introduced last week as Mike Tannenbaum's replacement, will have control over the roster and personnel decisions. That includes the ongoing hot-button topic...
Outside of NFL Draft Prospects and potential free agent additions, the hottest debate topic circulating the New York Jets at the current time is undoubtedly the recent news that the Jets will look into trading Cornerback Darrelle Revis. When discussing a team's best player, one who is arguably the best defensive player in the entire league, debates are destined to gain intensity...
The Jets may be open to moving on from Mark Sanchez, but they're really scraping the bottom of the barrel when it comes to finding a suitable replacement. With this year's draft unlikely to produce any strong quarterbacks, the Jets have had to look elsewhere in the league — or, in this case, elsewhere in the league from several years ago. The Jets have had "some very exploratory...
The Tampa Bay Buccaneers have a desperate need to add a cornerback or two this upcoming offseason. Do they have an interest in obtaining New York Jets CB Darrelle Revis. One internet site suggests that the Buccaneers have reached out to the Jets to inquire about obtaining the talented corner. The controversial personality known as Incarceratedbob tweeted this morning that the Buccaneers...
Here's another installment of speculative trade ideas for Jets CB Darrelle Revis. ESPN's Adam Schefter joined SPN Radio Tuesday morning and tossed out a speculative trade idea that would involve the Jets sending Revis to the San Francisco 49ers in return for QB Alex Smith and a second round pick, per Jane McManus. There's no question that the Jets could use quarterback and...
Resembling Precious at a svelte 308 pounds and training to make an NFL comeback, the New York Jets have reportedly had "some very exploratory, informal discussions" regarding former Oakland Raiders quarterback JaMarcus Russell. The 27-year-old Russell, who Oakland took out of Louisiana State University (LSU) with the first overall pick in the 2007 NFL Draft, threw 18 touchdowns...
What do Barry Sanders, LaDainian Tomlinson, Tony Gonzalez, Dan Fouts and Eric Dickerson have in common?They are just a few of the greatest players to ever put on an NFL uniform and never play in a Super Bowl.In fact, there are so many great players that have never even reached the big game, you can make up an entire 53-man roster filled with Hall of Fame and All-Pro players.It is...
In a continued attempt to push starting quarterback Mark Sanchez, the New York Jets have had "exploratory, informal discussions" regarding former No. 1 overall pick JeMarcus Russell, according to a Newark (N.J.) Star-Ledger Report. Similar to the thinking that led to the deal for Tim Tebow, the team remains concerned about Sanchez, who is guaranteed an $8.25 million salary...
In the eighth paragraph of his Monday story about the New York Jets' plans to bring in competition for Mark Sanchez, Conor Orr of the Newark Star-Ledger had a small tidbit about Gang Green having "very exploratory, informal" discussions about JaMarcus Russell.So of course, ProFootballTalk brought it to the forefront. (photo: The Brit_2, Flickr)Orr later tweeted the...
When You're A Jet... Normally, I'd react to the news that the Jets are thinking about hiring JaMarcus Russell with a quick and easy honking list of Com Oh Dee, because, um, well, those things write themselves. But really, kids, I have my limits, and this just feels too much like what the kid in the special ed class soils himself, then puts his hands in it and tries to paint...
Proving you never know who you're going to see hanging out with who...keen-eyed Arizona Diamondbacks starter Daniel Hudson treated his nearly 19,000 followers with a bit of randomness Wednesday night.While it's unclear if they did any Super Bowl 47 betting or not, the duo did, obviously, chat it up while playing a little poker.And if you couldn't figure it out from Hudson...
Jets News

Delivered to your inbox

You'll also receive Yardbarker's daily Top 10, featuring the best sports stories from around the web. Customize your newsletter to get articles on your favorite sports and teams. And the best part? It's free!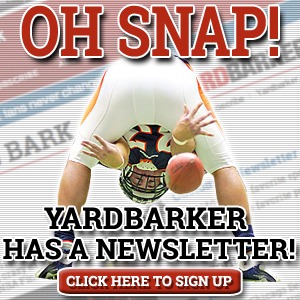 Latest Rumors
Best of Yardbarker

Today's Best Stuff

For Bloggers

Join the Yardbarker Network for more promotion, traffic, and money.

Company Info

Help

What is Yardbarker?

Yardbarker is the largest network of sports blogs and pro athlete blogs on the web. This site is the hub of the Yardbarker Network, where our editors and algorithms curate the best sports content from our network and beyond.