Found February 16, 2012 on Waiting For Next Year:
PLAYERS:
Mike Mayock
,
Colt McCoy
,
Eli Manning
,
Tom Brady
,
Aaron Rodgers
,
Drew Brees
,
Ben Roethlisberger
,
Alex Smith
,
Joe Flacco
,
Tom Heckert
,
Matt Flynn
,
Brad Childress
,
Mike Holmgren
,
Pat Shurmur
,
Andy Reid
,
Cam Newton
TEAMS:
Cleveland Browns
,
New York Giants
,
New England Patriots
,
Green Bay Packers
,
New Orleans Saints
,
Pittsburgh Steelers
,
San Francisco 49ers
,
Baltimore Ravens
,
Philadelphia Eagles
Kudos to the PD's Mary Kay Cabot who scored an interesting interview with the NFL Network's draft expert Mike Mayock about the Browns, their QB position, and the kid that seems to be universally loved both on and off the field, Baylor's Robert Griffin III. Mayock was an open book on how he feels about RGIII the player and RGIII the man off the field. He also had some very strong feelings about how the Browns should handle the entire situation. Mayock had so much to say, I want to tackle some of these quotes one by one.
"As much as I like Colt McCoy, I still think they have to look to upgrade that position and I think they have to do whatever it takes to get there," said Mayock of grabbing Griffin. "If it's me, yeah, I'm looking at that real hard. I want to go get RG3."
There is no doubt in my mind that Mayock is correct here. I am one of the Colt McCoy defenders, but in this league, if you look at the top teams in the league, nearly all of them have a top tier QB. This is not news to anyone. The two Super Bowl teams – the Giants and the Patriots – have Eli Manning and Tom Brady at the helm. Both are studs. The Packers were 15-1 with NFL MVP Aaron Rodgers under center. The Saints won the NFC South with former MVP and new single-season passing yards record holder Drew Brees. The Steelers have two-time Super Bowl champion Ben Roethlisberger. Do I need to go on? Sure, you can show me Alex Smith of the 49ers or Joe Flacco of the Ravens, but those teams are carried by their top notch defenses. This is a QB driven league and the Browns currently don't have one who would rank even in the top 20. In terms of RGIII, the player, how can you not be tantalized by his talents. Even as a Freshman, he was on radar screens all over the country because of his amazing athleticism and ability to make something out of nothing; something Roethlisberger has done to the Browns and other teams for years. In terms of doing "whatever it takes" to trade up and get him, I'm not sold. The Browns have so many holes – QB is obviously one of them – and having three picks in the top 37 coupled with Tom Heckert's solid drafting the past two seasons, I'm of the opinion that they are better off signing QB Matt Flynn in free agency and drafting skill position players with at least two of their top three picks.
 "If Cleveland moves up to get this kid, they have to make this kid comfortable. He's too explosive and too much of a playmaker to have him just sit there and read the triangle the West Coast offense is. In other words, (new offensive coordinator) Brad Childress and that group of coaches in Cleveland is going to have to change some things to make this kid the playmaker he is."
And this is where my concerns about drafting RGIII come in. Like McCoy, Griffin has spent his entire college career in the spread offense playing out of the shotgun. The Browns, as we know all too well, are completely married to the West Coast offense. This is Mike Holmgren's system, his baby. He has a head coach in Pat Shurmur who was raised under the principle. His new offensive coordinator is Brad Childress, a former Head Coach and WCO disciple. Both come from the Andy Reid tree and Reid honed his craft under Holmgren. McCoy had success as a rookie when he had a strong running game and was able to get out of the pocket and make things happen on the run. In his first year in the WCO, he struggled. Some of it can be blamed on the lack of highly skilled receivers. Some can be attributed to the league making adjustments with a "book out" on McCoy. The porous play of the offensive line and lack of running game clearly had a lot to do with it too. I saw an offense ill-suited for McCoy's strengths. I think almost everyone who watches Browns football could pick that up. They rarely, if ever, put McCoy back in the shotgun and let him do his thing. Now the Browns are considering drafting a QB who played in the exact same type of offense McCoy did in college and trying to mold him into their system? My biggest concern about the Browns and RGIII is the rigidity of the coaching staff. Nobody knows what will happen, but I think the West Coast Offense would neuter him. I am not interested in watching Griffin fade back and throw four- yard crossing routes. The Holmgren offensive thinking to me is "my way or the highway." It was not a coincidence that McCoy struggled in year one of the WCO. He isn't that kind of QB. Neither is Griffin. When the Panthers selected Cam Newton last season with the #1 overall pick, they catered their offense to him. His strengths were maximized. Sure, putting RGIII into the West Coast system and making him into their kind of QB could work, but it also could turn into a colossal failure. While Flynn is far from a sure thing, he sat and learned the West Coast Offense behind Aaron Rodgers for four years. He certainly fits the Holmgren/Shurmur/Childress mold. Mayock shared some of my concerns with RGIII in this offense as well.
 "He doesn't throw with anticipation, mostly because he doesn't have to," said Mayock. "In that offense, there's minimal footwork and they spread it out so wide. He's got some talented, gifted receivers, and he's got great touch and accuracy in medium and deep (throws). He's got arm strength, he's got athletic ability, he takes hits, but he doesn't anticipate throws. "The more tape I put on of this kid, the more fun I have watching him. I was pleasantly surprised by his pocket awareness, his eyes down the field, and his physical toughness is outstanding. He takes a lot of hits and it doesn't bother him. All of those things mean a lot to me. And again, the one "however" piece of it is just that he's going to have to learn to anticipate and get the ball out of his hands more quickly so he doesn't continue to take those kind of hits."
That has to be a concern in the WCO where the throws are so much about timing. But you have to love the toughness aspect of Mayock's comments. He would need it if he came to play here, judging by how McCoy spent most of 2011 running for his life. There is no doubt that the Heisman Trophy winner has that "it" factor that the Browns fans would love.  But I am of the opinion that the Browns shouldn't deal both of their first round picks to move up two spots to get him and its not because I don't like him as a player. It's has everything to do with the fact that I believe the Browns brass and coaching staff is so deeply entrenched in the West Coast offense that his immense talents would be wasted. They need a wide receiver, a right tackle, linebackers, another corner, a safety, AND a QB. That screams for keeping the picks at #4 and #22. (photo via Getty Images)
Original Story:
http://www.waitingfornextyear.com/201...
THE BACKYARD
BEST OF MAXIM
RELATED ARTICLES
NFL Network analyst Mike Mayock said the Detroit Lions remind him of the New Orleans Saints.
In this photo provided by the Heisman Trophy Trust, Robert Griffin III, of Baylor University, holds the Heisman Trophy award after being named the winner, Saturday, Dec. 10, 2011, in New York. (AP Photo/Heisman Trophy Trust, Kelly Kline)Baylor's Robert Griffin III, the reigning Heisman Trophy winner, could go in the No. 2 spot. Cleveland or Washington could work out a deal with...
Former Ohio State left tackle Mike Adams could replace Detroit Lions' Jeff Backus if the team drafts him in April, according to NFL Network's Mike Mayock.
To hear Mike Mayock describe it, the Panthers' coin flip with Miami at the combine could be as important as any evaluations the Panthers do next week in Indianapolis. A coin flip on Feb. 24 will determine the 8th and 9th picks between Carolina and Miami, which finished with 6-10 records and an identical .504 strength-of-schedule percentage. "I think the first seven or eight...
Mike Mayock praised the Lions offense, saying it matched favorably with the Saints. He said if they chose to draft offense with the 23rd pick, he would look at left tackle.
We already passed along some of the highlights from NFL Network Mike Mayock's marathon two hour conference call on Wednesday. Listening to Mayock is the best way to start catching up on draft preparations, so here's a quick recap of some other worthy nuggets. 1. Mayock thought the draft is deepest at defensive tackle. He…
NFL Network analyst Mike Mayock doesn't think QB-starved teams can afford to wait and trade with the Vikings at No. 3.
Entering the 2011 NFL draft, Cam Newton and Blaine Gabbert were projected to go in the first round, and Jake Locker and Christian Ponder were expected to hear their names called early in the second round. Read full article >>
Carolina could wind up with Michael Brockers in the first round, says Mike Mayock.Click to Continue »
With the NFL Scouting Combine beginning on February 22, NFL Network's Mike Mayock updates his position-by-position rankings for the 2012 NFL Draft.
Mike Mayock loves Andrew Luck but doesn't consider him a once-in-a-lifetime opportunity: NFL Network analyst Mike Mayock is a big Andrew Luck fan. Luck is the top player on Mayock's board, and Luck's passion for the game reminds Mayock of Peyton Manning and Matt Ryan. Mayock just doesn't see Luck as some sort of "once in a lifetime" prospect like others have...
Arizona State linebacker Vontaze Burfict appeared to be trending toward a future top-ten draft prospect when he was voted first-team All-American as a true sophomore. Burfict wasn't even honored as an All-Pac 12 pick as a junior, however, and his production slipped mightily across the board. NFL Network's Mike Mayock has watched Burfict's games. And…
NFL News

Delivered to your inbox

You'll also receive Yardbarker's daily Top 10, featuring the best sports stories from around the web. Customize your newsletter to get articles on your favorite sports and teams. And the best part? It's free!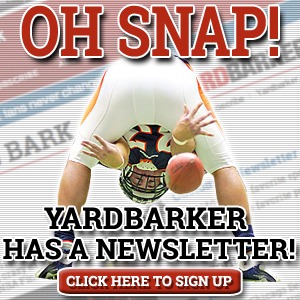 Latest Rumors
Best of Yardbarker

Today's Best Stuff

For Bloggers

Join the Yardbarker Network for more promotion, traffic, and money.

Company Info

Help

What is Yardbarker?

Yardbarker is the largest network of sports blogs and pro athlete blogs on the web. This site is the hub of the Yardbarker Network, where our editors and algorithms curate the best sports content from our network and beyond.