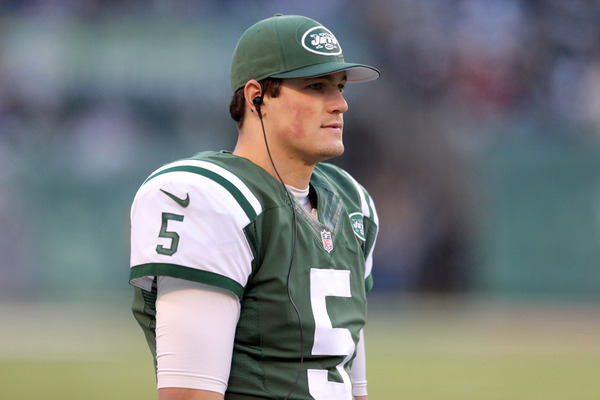 Christian Hackenberg has been bashed by his own organization on multiple occasions.
Brad Penner-USA TODAY Sports
New York Jets rookie quarterback Christian Hackenberg did not play a single snap in 2016, but but didn't stop people from bashing him like he is the reason the team fell flat on its face. With all the information leaking out about Hackenberg's development, it seems like the Jets are destined to part ways with him.
Earlier this week, ESPN's Adam Schefter revealed that he was told by an anonymous Jets coach that Hackenberg regressed during the season and "couldn't hit the ocean" with a pass. A Jets source was even more harsh when discussing Hackenberg with Manish Mehta of the New York Daily News.
"He will never make it," Mehta was told. "Never."
One Jets player — said to be a starter — was also asked about Hackenberg, specifically if he was worth the second-round pick the Jets used on him. According to Mehta, the player rolled his head, shook his eyes and said "no."
At this point, you almost have to feel bad for Hackenberg. The Jets were roasted for taking him at No. 51 in the draft, and it's safe to assume there aren't many teams that were considering picking the former Penn State signal-caller anywhere close to that high. Plus, have you ever heard a team bash a rookie publicly like this for his performance in practice?
For what it's worth, Jets head coach Todd Bowles defended Hackenberg and said this has been a "redshirt year" for the rookie. Team owner Woody Johnson tried to make light of Schefter's report.
"I guess it depends which ocean," Johnson said Thursday. "Maybe it was a small ocean. The EPA describes that as an ocean. … Anyway, no, that's not funny."
When asked about an anonymous coach ripping him, Hackenberg had a very reasonable response. Even if he is struggling to develop, you'd have to imagine he's not happy with the things that have been said.
MORE FROM YARDBARKER:
Best athlete by state all time
QUIZ: Name every New York Jets starting quarterback since 1996
Since the 1996 NFL season, the New York Jets have started 16 different quarterbacks under center.
How many can you name?
Clue: Years with at least one start as quarterback
MORE FROM YARDBARKER
Jets News

Delivered to your inbox

You'll also receive Yardbarker's daily Top 10, featuring the best sports stories from around the web. Customize your newsletter to get articles on your favorite sports and teams. And the best part? It's free!