Found November 17, 2012 on Sports-Glory:
Philadelphia Eagles quarterback Michael Vick is still suffering from concussion symptoms almost a week after he initially sustained the injury in Dallas, according to Zach Berman of the Philadelphia Inquirer. Vick said he still has headaches, fatigue, heavy eyes and fogginess.  He will spend the week in a quiet, dark area and won't be able to exercise or watch any video. "He's not very alert right now in terms of he just doesn't have that energy," head trainer Rick Burkholder said. "He's tired all the time, he's slept a lot, and he's not getting rid of that fatigue. When I talk to him, he's just not the Michael Vick I know when he's healthy." Vick will have to pass an ImPACT test to examine cognitive function and an exercise test, and then he will be examined by an independent neurologist and team physician Gary Dorshimer before he can take the field again.   "Right now, we're early on in this process," Burkholder said. "We are still in what I would consider Phase 1. I'll see Michael again [Saturday] and do some treatment stuff with him to help him out with his headache. We'll go from there. It's not even close for him to play this week." This is Vick's second career concussion, but the first time he will miss a game becuse of it.   "I know that one of his goals was, obviously, not to get hurt and make it through the season," coach Andy Reid said. "Mike is a very considerate guy. He feels like he lets people down and his teammates down, and that's not the case. He's hurt. One of the toughest guys I've been around, though." Nick Foles will start in place of Vick.  
Original Story:
http://sportsglory.com/xn/detail/6286...
THE BACKYARD
BEST OF MAXIM
RELATED ARTICLES
The remainder of the 2012 Philadelphia Eagles season should be all about whether or not Nick Foles is the future of this franchise.  Assuming he plays for the rest of the season, there are some things we can look for in order to determine if he is, in fact, the future. If there is to be anymore excitement generated by the Eagles, it will be due to the play of Foles and how it energizes...
THE BELL TOLLS FOR THEE
Three veteran Eagles players told a Philadelphia newspaper that they believe it's only a matter of time before the team cuts loose coach Andy Reid.
Philadelphia Eagles rookie quarterback Nick Foles was very unimpressive during today's loss to the Redskins.  The good news is that Michael Vick might be back next week. According to Mike Florio of Pro Football Talk, the Eagles overstated Vick's condition in order to give themselves an excuse to start Foles for the remainder of the season if he played well. The problem is that...
Michael Vick isn't expected to play tackle football this weekend, as the Eagles turn to Nick Foles while Vick attempts to recover from a concussion. It's uncertain when — or even if — Vick will return this season. If he doesn't, there's a chance that he doesn't even return to Philadelphia. He's shown flashes of brilliance at times in Philly, but the overall body of...
Apparently Andy Reid was telling the truth when he said that Michael Vick's concussion was significant. The Eagles' quarterback is experiencing some pretty shocking side effects from his latest concussion. Vick "still can't drive a car due to balance issues, sleeps all day, can't sleep at night" and he is "lethargic, nauseous, can't sit in meetings and sensitive...
Will Nick Foles be able to perform with the weight of the Eagles franchise on his back? Michael Vick is still feeling the effects of a substantial concussion, and will not be ready for Sunday, and may not be ready to play for quite some time. That leaves the Philadelphia Eagles at 3-6 with their rookie QB Nick Foles set to take over the reins. I'm sure Foles will try to say something...
All eyes will be on Nick Foles come Sunday at FedEx Field. Photo via New York Daily News. We all know that football is a team sport and that to get a win, all phases of the game must come together to propel a group to victory. But come Sunday, it's going to be all about the quarterbacks. When the Philadelphia Eagles face the Washington Redskins at FedEx field on Sunday afternoon...
When Michael Vick got concussed in the second quarter of the Eagles' 38-23 loss to the Dallas Cowboys, first it is a real shame for such a gamer. It might be a blessing in disguise for Philadelphia Eagle fans. Not that Nick Foles will definitely be a World Beater, but the dude is 6'6", 243 pounds, compared to Michael Vicks' 6-0, 215 pounds. Foles in size and stature is closest...
The Philadelphia Eagles have no doubt one of if not the most talented teams in the NFL.Well, on paper at least.From the fastest player in the league (DeSean Jackson), to the 'best' cornerback tandem in the league.After a beat down by the Washington Redskins, the Eagles have now lost six games in a row. Andy Reid had never had a team lose five in a row, much less six.Despite...
Hello, Donovan, It's Me As we wind down the 14-year cavalcade of whimsy that has been the Andy Reid Era (and I'm sorry, National Media Geishas, but having one of the five worst teams in the league and not winning a playoff game in five years is, in fact, cause for extreme guaranteed dismissal), I was struck, especially in today's train wreck, by one thought.Have we underestimated...
It's the battle of the NFC East's bottom teams for this matchup.Both teams showed a lot of promise at the beginning with Robert Griffin III leading the Redskins to a 2-2 record and Michael Vick leading the the Eagles to 3-1 record.However, a lot has changed since then as both teams currently stand at 3-6 and barely clinging to any hopes of making it to the playoffs.Come Sunday...
Eagles News

Delivered to your inbox

You'll also receive Yardbarker's daily Top 10, featuring the best sports stories from around the web. Customize your newsletter to get articles on your favorite sports and teams. And the best part? It's free!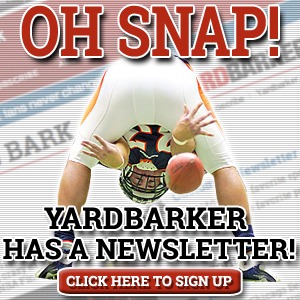 Latest Rumors
Best of Yardbarker

Today's Best Stuff

For Bloggers

Join the Yardbarker Network for more promotion, traffic, and money.

Company Info

Help

What is Yardbarker?

Yardbarker is the largest network of sports blogs and pro athlete blogs on the web. This site is the hub of the Yardbarker Network, where our editors and algorithms curate the best sports content from our network and beyond.