Found December 20, 2012 on The Broad Street Journal:
PLAYERS:
Andy Reid
,
Bill Cowher
,
Kyle Orton
,
Donovan McNabb
,
Michael Vick
,
A.J. Feeley
,
Kevin Kolb
,
Nick Foles
,
Peyton Manning
,
Jeff Ireland
,
John Fox
,
Jack Del Rio
TEAMS:
Philadelphia Eagles
,
Denver Broncos
,
Pittsburgh Steelers
,
Minnesota Vikings
,
St. Louis Rams
,
Arizona Cardinals
,
Miami Dolphins
With the end of the Andy Reid era on the horizon, many names have been floated out there as possible replacements for Reid. John Gruden, Bill Cowher, Nick Saban, Chip Kelly, Brian Kelly. We've heard all those names over and over again. Not many people are talking about Mike McCoy though. McCoy, who is currently the offensive coordinator with the Denver Broncos, has said to have been responsible in large part for the team's offensive success over the last few years, which included leading the NFL in total offense through 10 games with Kyle Orton at quarterback, and most memorably, an unimagineable playoff victory over the Pittsburgh Steelers with Tim Tebow playing quarterback. When you're scoring points and winning games with the likes of Kyle Orton and Tim Tebow, you're doing something. In both situations, Mike McCoy showed that he could make huge adjustments, and adapt to the quarterback and players that he was working with. That is one of the most important qualities a good head coach can have, and one that Andy Reid has clearly never possessed. People like to brand Andy Reid as some kind of quarterback guru, like he's developed a bunch of great quarterbacks. He hasn't developed ****. Donovan McNabb was came into the league as the 2nd overall pick. He came in with talent, and he was good (not great), but what did he really ever do? He won a lot of games, and threw for a lot of yards, but he never won anything. Michael Vick, one of the most electrifying players ever, is a turn-over machine with a 55% career completion percentage. Did Andy Reid fix that? Vick will be the Eagle's 3rd quarterback this Sunday behind a rookie, and a career journeyman. Sure, Reid flipped A.J. Feeley and Kevin Kolb for 2nd round picks, but what the hell have either of them done in the NFL besides steal paychecks? Did Andy Reid ever develop anyone? Of course not. He never even managed to play to his quarterbacks' strengths. I would trust Mike McCoy to make something out of Nick Foles much more than I would Andy Reid. Mike McCoy went from running the read-option with H-Back, Tim Tebow, (which was actually pretty effective), to a spread-em-out-and-throw-it, no-huddle system with Peyton Manning, and he's worked very well in both systems. As much as we want an elite defense in this town, it's an offensive league. The rules are set that way, and the games are officiated that way. You have to score points to win games in the new NFL, and McCoy has scored a lot of points over the past few years with three different quarterbacks. People close to Eagles owner Jeffrey Lurie have said quietly that Lurie would be looking for an offensive minded coach if replacing Andy Reid became a reality. McCoy is definitely offensive minded. Of course it's hard to judge McCoy's success with Peyton Manning, being that Manning is basically his own offensive coordinator, but working with Manning so closely has no doubt shown McCoy what a real quarterback is. He already knows what one isn't. The Broncos currently rank 5th in total offense, and maybe more importantly, even with Peyton Manning throwing the ball all over the place, they still rank 9th in rushing attempts. They run a very balanced scheme, which could never be said about Andy Reid and the Eagles. The other thing I like about Mike McCoy is that he's not some green assistant, or college coach with some outlandish scheme that won't work in the NFL. Sorry Chip Kelly. He's been courted several times already to be an NFL head coach, most recently with the Miami Dolphins. McCoy was rumored to be Dolphin's GM, Jeff Ireland's top choice, but it was believed he wasn't hired because he wanted to replace, guess who? Todd Bowles as the defensive coordinator. Joe Philbin agreed to keep Bowles and ended up getting the job. If Jeffrey Lurie is looking for the next up-and-coming assistant, Mike McCoy is about as close as it gets. I don't buy much into the whole "coaching tree" stuff, but I do like the fact that McCoy has worked with John Fox and Jack DelRio. I think starting over fresh with a guy who has worked with good coaches and a great quarterback, who is also willing and able to make adjustments in philosophy is a great idea. I'd much rather have that, than someone whose heart is really in analyzing games than it is coaching them.
Original Story:
http://feedproxy.google.com/~r/thebro...
THE BACKYARD
BEST OF MAXIM
RELATED ARTICLES
Free agent talk in December?  Yes, that's what the 2012 version of the Philadelphia Eagles has led us to.  Once the dust settles at the Nova Care Complex after this team gets blown up in January, it won't be long until the annual free agent shopping extravaganza opens up in March. There's a saying that most coaches like to be the ones to buy the groceries since they're...
Andy Reid's final stand will come at the Linc on Sunday. Image via GCobb.com Regardless of the outcome of Sunday's game at Lincoln Financial Field between the Philadelphia Eagles and the Washington Redskins, it will be significant day in the franchise's history. Why? Because it will very likely mark the last game in Philadelphia for Andy Reid, the last time he will have an...
I guess we're dealing with Andy Reid's final home game as an Eagle... This doesn't make me happy. Yes, I know Andy's time has come and gone. He's brought me more good than bad, but we all know his tenure as head coach of this franchise has burned out like a candle in the wind. So what now? Welp, we play out the schedule. There's no getting around...
In two games since Philadelphia coach Andy Reid fired defensive line coach Jim Washburn and hired veteran Tommy Brasher to replace Washburn's wide-nine scheme with a conventional front, the Eagles' secondary has suddenly become respectable. ''It's helped the defense out tremendously,'' said Kurt Coleman, who will start at safety alongside Colt Anderson...
Categories: BREAKING NEWS Eagles News SecondaryTags: Howie RosemanNate AllenPhiladelphia EaglesFor years Eagles head coach Andy Reid has gone out of way to protect his players.  He's still doing that but not nearly as much.  It could because he's on his way out or there could be another reason.  It could be a way to shine light on the poor job done by talent evaluator...
Philadelphia Eagles head coach Andy Reid told the media that running back LeSean McCoy will start this week and will end up rotating in and out with Bryce Brown. AR: LeSean McCoy will start, will rotate with Bryce Brown. — Eagles Insider (@EaglesInsider) December 19, 2012 Reid also stated that Michael Vick is the Eagles' third quarterback. Reid: Vick is the No. 3 QB. May not...
Philadelphia Eagles running back LeSean McCoy is defending his only NFL coach he's ever had, Andy Reid, who has taken most the blame for the Eagles disappointing season. "If you sat here and tried to name 5 to 8 coaches that's better than coach Reid, I would like to hear it," McCoy said. "Coach Reid's a good coach. He gets blamed for everything. Sometimes...
This Sunday's matchup between the Redskins and Eagles is a prime case of two teams on drastically different paths.Washington was supposed to struggle mightily, with Philadelphia finally on the right track after having too many new faces in town for 2011 to be a success.In reality, the Redskins are in a three-way tie for the NFC East crown while the rival Eagles are firmly cemented...
The Philadelphia Eagles will interview Broncos offensive coordinator Mike McCoy on Sunday in Denver. The Eagles, who fired Andy Reid on Monday after a 4-12 season in which they finished in last place in the NFC East, have already interviewed Atlanta Falcons defensive coordinator Mike Nolan and special teams coordinator Keith Armstrong, and also have interest in some college coaches...
Eagles head coach Andy Reid told reports that Michael Vick will be the team's No. 3 quarterback for this weekend's game against the Washington Redskins, per Jeff McLane. Vick has finally recovered from the concussion symptoms that he had been dealing with for a number of weeks now, but this decision is clearly designed to minimize distractions for the team.Philadelphia will keep...
NFL News

Delivered to your inbox

You'll also receive Yardbarker's daily Top 10, featuring the best sports stories from around the web. Customize your newsletter to get articles on your favorite sports and teams. And the best part? It's free!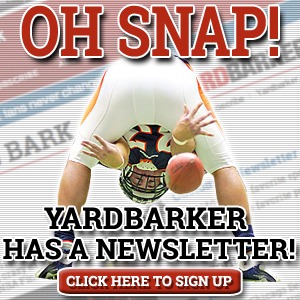 Latest Rumors
Best of Yardbarker

Today's Best Stuff

For Bloggers

Join the Yardbarker Network for more promotion, traffic, and money.

Company Info

Help

What is Yardbarker?

Yardbarker is the largest network of sports blogs and pro athlete blogs on the web. This site is the hub of the Yardbarker Network, where our editors and algorithms curate the best sports content from our network and beyond.