Found September 21, 2013 on BlackSportsOnline:
Let's think about this logically. You are a person that is upset that Michael Vick engaged in a dog fighting ring, that murdered animals, so the way you express your frustration is by threatening to kill someone's family. Now you tell me who is worst person? Joe Bartolo told me this afternoon the signing was postponed after he claims death threats were made against him, his wife Jamie — the owners of JJ Cards N Toys — and their family for organizing Vick's appearance in October at a local Buffalo Wild Wings restaurant. Those making the threats were upset the Bartolos would bring Vick to the area. Vick served 18 months in federal prison for running an illegal dogfighting ring. Bartolo told me thousands of threats were coming in from all the country. He even had to shut down the store's Facebook page. This is getting ridiculous, you don't have to like Mike Vick, but threatening to kill anyone's family because he is signing some autographs, make your a sicker person than Vick ever was.
Original Story:
http://blacksportsonline.com/home/201...
THE BACKYARD
BEST OF MAXIM
RELATED ARTICLES
According to CBS 21 News,  a Michael Vick autograph signing was canceled at Buffalo Wild Wings after the owners of JJ Cards N Toys received death threats for hosting the event. Joe Bartolo told me this afternoon the signing was postponed after he claims death threats were made against him, his wife Jamie — the owners of JJ Cards N Toys — and their family for organizing Vick's...
Michael Vick needs to come with an extended warranty when he hits the field. Only once in his career has he managed to stay healthy for the entire slate of 16 games. And that was when he was playing in a much different offense. Under rookie head coach Chip Kelly, Vick is required to be more active in the backfield, rolling out and sprinting downfield with the ball. Vick recorded...
I'm not sure test driving sports cars hours before a big game can be classified as irresponsible, but if you're the quarterback of the Philadelphia Eagles, being photographed test driving cars can definitely cause an uproar. Crossing Broad is reporting that Michael Vick allegedly was test driving Lamborghini's on Interstate 95 hours before the Eagles huge matchup against...
Marcus Vick has been encouraged to stay off Twitter, if not to protect himself from making poor choices, then at least to protect his older brother, Michael Vick, from having to deal with extra silliness (or stupidity). But seeing the Internet attack the elder Vick again during a Monday night loss was apparently too much for Marcus Vick. After going off the deep end last year in...
Michael Vick has been the guy a lot of young NFL players looked up to when they were growing up. Vick left Virginia Tech when a lot of the young players in the NFL were just early teenagers, and I'm sure it's been a dream for most of them to play with or against him. One of those players was Chiefs star defensive back Eric Berry.  The former Tennessee Vol's safety grew up...
Sit Em, Start Em – Week Three Michael Vick – By now it should go without saying that Vick should be an every week starter but many owners landed Vick as their backup QB in single QB formats perplexing the situation. We have Vick ranked as top five fantasy option this week and I will be trotting him out over QB's I selected earlier in 12 and 14 team formats. Vick, McCoy and...
Marcus Vick is known for a couple of things, besides being the little brother to Michael Vick, and neither are flattering. One, he famously stomped on Elvis Dumervil way back when in college. Two, he says stupid things on Twitter,…Read more →
San Diego Chargers outside linebacker Dwight Freeney believes that neither Michael Vick or any quarterback will last playing the position in Chip Kelly's offence.Freeney said in an interview with Erik Kuselias due to be aired Thursday night on NBCSN's Pro Football Talk, that: "The problem is with that offence, to be honest with you, is the quarterback position and...
It didn't take long for NFL defenses to figure out how to stop Chip Kelly. Actually, Philadelphia Eagles QB Mike Vick did it for them. Vick threw two interceptions, including one returned for a TD by Kansas City Chiefs DB Eric Berry. Vick was also sacked five times as Kansas City's defense disrupted Kelly's read-option offense. And Vick fumbled the ball away after being sacked...
Last night was a classic tale of a football team beating themselves.  The Philadelphia Eagles looked like the better team, offensively (for most of the night), but turnovers will kill you.  First Damaris Johnson muffs a punt and the Chiefs recover and turn it into 3 points, then Michael Vick follows that up with a Pick Six and the Chiefs jump out to a QUICK 10-0 lead.  The Eagles...
After an inspirational and action packed season opener, the Eagles have been simmering down after two consecutive loses to both the Chargers and the Chiefs. Chip Kelly's college style rush offense has been ripping right through NFL caliber defenses. Players are cramping up and playing off fake injuries just to slow down the incredible pace of the eagles offense. No one can stop...
The purpose behind Quick Hits is to catch you up on the most important news, notes, and links that you may have missed from the day prior. Without further ado, here are Saturday's quick hits: 1. DeMeco Ryans was fined $21k for his hit on Malcom Floyd last Sunday against the Chargers. 2. The Eagles went attempted a two-point conversion on their first touchdown drive and failed....
Eagles News

Delivered to your inbox

You'll also receive Yardbarker's daily Top 10, featuring the best sports stories from around the web. Customize your newsletter to get articles on your favorite sports and teams. And the best part? It's free!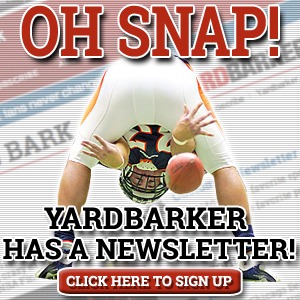 Latest Rumors
Best of Yardbarker

Today's Best Stuff

For Bloggers

Join the Yardbarker Network for more promotion, traffic, and money.

Company Info

Help

What is Yardbarker?

Yardbarker is the largest network of sports blogs and pro athlete blogs on the web. This site is the hub of the Yardbarker Network, where our editors and algorithms curate the best sports content from our network and beyond.